Football Expert & Columnist
Graeme Souness: Man United and Man City face different tasks
Graeme Souness says Man Utd can't be too reliant on their star players against Bayer Leverkusen.
Last Updated: 28/11/13 11:16am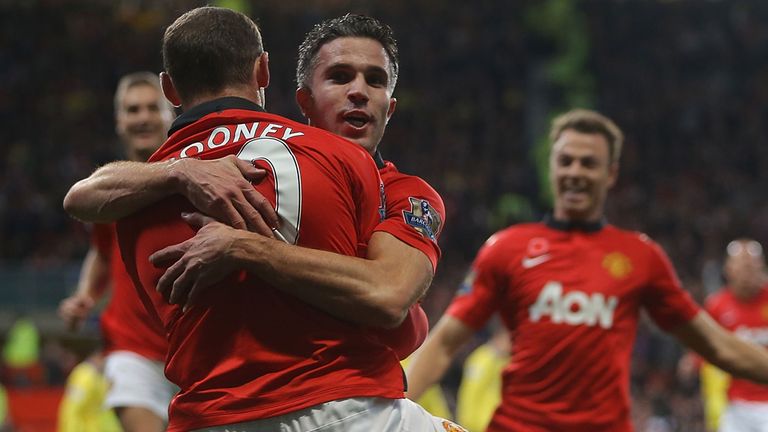 Manchester United know they must avoid defeat at Bayer Leverkusen with a home game against Shakhtar Donetsk still to come on Matchday 6.
They need four points to be sure of winning the group so they will go to Germany with the mindset of not getting beat - and that's a strange attitude for Manchester United because their approach under Sir Alex Ferguson was to try to win every game.
I expect them to be cute and cagey against a Leverkusen team who are second in the Bundesliga after beating Hertha Berlin at the weekend. This will not be an easy game for Man United and I am very interested to see their mental approach.
The first thing they need to do is go there and defend properly - and if they can do that then there's some quality in the team that can hurt Leverkusen. The big players can make a difference in any game.
I was at Cardiff on Sunday when Manchester United only had 50% of the possession against a team that has just come up from the Championship and they weren't exactly playing lots of creative, attacking football. However their special players - ie Robin van Persie and Wayne Rooney - are winning games for them.
You can't always rely on that. That approach might get you out of the Champions League group, but you're not going to win trophies playing like that. Some of the other players have got to step up to the plate.
When you look at their personnel, they don't have the strongest group any more. I think Chelsea and Man City both have a stronger group than they do and arguably Arsenal do as well. Liverpool are coming somewhere near them and so are Tottenham.
But as long as they go there with the right mental approach I think they can get the draw they need - and then I expect them to beat Shakhtar at home in the final game.
But if they lose there then they will heap all sorts of pressure on themselves before that final game. That's something they must avoid.
Manchester City v Viktoria Plzen
I would think Manchester City could field their second string and beat Viktoria Plzen, who are a very ordinary side.
In fact, I think Manuel Pellegrini will probably rest a number of players because they are going to finish second in their group. There is still a chance of topping the table, but remember they have to go to Bayern Munich in the final game - and you'd definitely put your money on the Germans at this time. Nothing is impossible in football, but I can't see them winning over there.
City were naïve against Bayern when they met in this competition a few weeks ago. They tried to take them on with an attacking brand of football and came unstuck, but I don't expect them to play the same way at the Allianz Arena in two weeks' time.
However, I think Manchester City have got the best group of players in the Premier League and they will have been stung by the criticism they received after the home game against Munich. I fully expect them to beat Plzen without playing their strongest team and the game in Munich will then be a very interesting one.
I watched City against Tottenham on Sunday and I thought it was a strange game. I didn't think they were anywhere near their best - it was the quietest I've seen Yaya Toure in a long time - and yet they won 6-0 against a team who had the best defensive record in the league before a ball was kicked.
As I said on Super Sunday, they are better than anyone else in the Premier League right now at doing the hardest thing in football - and that's scoring goals. Spurs have scored five goals at home in the Premier League this year, while Manchester City have got 26.
Where would you rather buy a season ticket?
I don't think they've been that bad on the road either.
People point to the games they've lost, but they should have won at Sunderland, they should have won at Cardiff and they should have won at Aston Villa. Plus it took a last-minute goal to beat them at Chelsea and I don't think they deserved to lose that game either.
I still think they are the team you have to finish in front of to win the Premier League - and I believe they can go in a long way in the Champions League as well.
They can get to the semi-finals with the proviso that they are a little cuter tactically when they play against the very best - they may need to sacrifice Alvaro Negredo in certain games to bolster the midfield.
You look at it and Man City wouldn't want to play either Barcelona or Bayern Munich. They are the only two teams who would cause them major problems right now.
They should fancy themselves big time against anybody else.