Football Expert & Columnist
Arsenal and Chelsea: Graeme Souness backs both to top groups
Graeme Souness is backing both Arsenal and Chelsea to top their Champions League groups.
Last Updated: 11/12/13 10:59am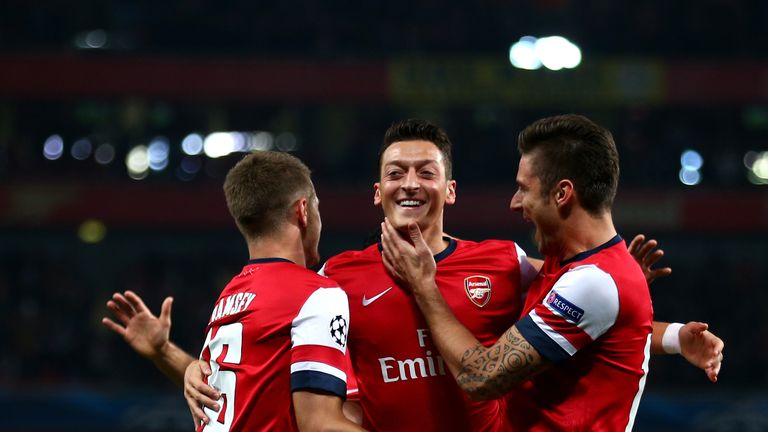 I see Arsenal going to Italy on Wednesday night and getting the draw they need to top the group.
When you get out of the group you want to avoid the biggest teams. You're not going to get an easy game no matter who you play, but you'd rather have two very difficult games in the last 16 than two very VERY difficult games.
You want to avoid the other group winners because common sense tells you the winner of this competition is going to be one of those teams.
You'd say Bayern Munich, Barcelona, Real Madrid and Atletico Madrid are the favourites right now and those sides all look set to top their groups.
So it's important Arsenal get the draw they desire and I think they are more than capable of getting it, if not a win. I expected good things from Napoli this year, but their form has dropped off in Serie A and they offered very little in the match at the Emirates.
I don't think Arsenal can approach a game cautiously. They like to out-football the other team, have most of the ball, score goals and win the game. That's how they play and that's what makes them so attractive.
They are sitting top of the Premier League by five points and even though they weren't at their best on Sunday, the draw with Everton might be quite a good thing for the manager. It will remind his players that they've achieved nothing yet.
Arsene Wenger will use it to remind them that all of the hard work is in front of them, but I see them going through to the last 16 of the Champions League as group winners.
Chelsea v Steaua
Steaua have come to Knightsbridge this week to do a bit of shopping at Harrod's.
They are already guaranteed to finish bottom of the group, so apart from a bit of shopping, I can't see them going away from London with anything.
This is definitely an important game for Chelsea though. They are playing to get the taste of Saturday out of that system. When you're a big player and you lose a game, as they did to Stoke, you want to play the very next day.
These players aren't used to the taste of losing and they want to get rid of it straight away. The have a great opportunity to do that against a team that's coming to England to do a bit of shopping.
I expect Jose Mourinho to go with a strong team to build up some momentum and confidence again because, don't forget, they've lost twice to Basel in the Champions League this season and need three points to top the group.
I was mightily impressed with Basel in both of the games they played against Chelsea. They played good football, tried to get on the front foot at all times and they deserved to win both matches.
You wonder if some of the Chelsea players weren't bang at it because it was a Swiss team and that might be a stick that Mourinho uses to hit them over the head with.
That's if he doesn't use the Stoke game instead!
Barcelona v Celtic
Celtic's season in Europe is already over and the key to their progression was always going to be what they did at Parkhead.
In their last game they were playing a Milan team who were in trouble.
They were under lots of pressure because they hadn't been performing in Serie A and yet they went to Parkhead and won 3-0.
That was a really poor result because Celtic is usually a very difficult place to go. That will have hurt Neil Lennon and I expected their home form to be much stronger than they've shown.
They now go to the Nou Camp to play for a bit of pride against a Barcelona team that could probably pass them to death with their second XI on the field.
Barcelona, for me, are one of a clutch of teams that can win this competition. Right now Bayern Munich are the outstanding side, followed by Real Madrid, Atletico Madrid, Arsenal, Manchester City and Barcelona.
After Christmas that could change. I still expect Bayern to be out in front but I expect Chelsea to join that group because you've got to believe their players will find a bit of consistency.
Barcelona's hopes largely depend on whether or not they can get Lionel Messi fit and keep him fit. I'm talking about them domestically as well as in Europe.
It's hardly rocket science to say that. He scored 50 goals last year and a similar number the year before. If you take 50 goals out of anyone's team and you'll soon start drawing and losing games you would have won otherwise.
His fitness will be key to how far they go in this competition.