Football Expert & Columnist
Bayern Munich v Arsenal: Graeme Souness can't see Gunners going through
Graeme Souness says Mesut Ozil owes Arsenal a big display - but can't see them getting past Bayern.
Last Updated: 10/03/14 3:30pm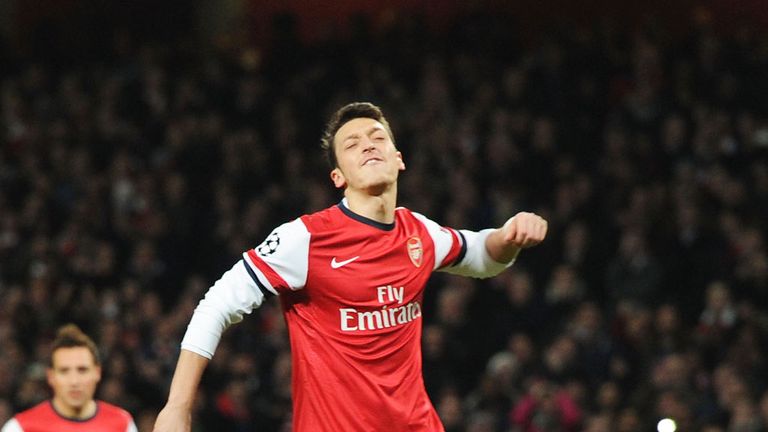 They are trailing Bayern Munich 2-0 from the first leg, which is obviously a very difficult position, but Arsenal can only play one way. They will go there to try and play their normal game and will try to win in Germany, which is admirable.
Last season they scored an early goal and Bayern - who were 3-1 up from the first leg - didn't know how to approach the game. They seemed to get caught between two stools and didn't know whether to stick or twist; whether to hold onto what they'd got or to try to win the game.
The initiative seemed to be with Arsenal for a large part of that match and they only went out on away goals. That result kick-started their season last year and seemed to give them some belief. That confidence has, I suppose, carried them up to this point and they've been doing very well domestically.
But it's a very big ask to go there and overturn a 2-0 deficit.
Arsenal have a group of players who can only play one way and when things are going for them it's great to watch. They like to get on the front foot, dominate the ball and create chances.
But there won't be any surprises for the Germans in the way they play because both sets of players know each other very well.
I would think Bayern Munich would be ready for them this time. They had a warning in the game a year ago and they also got an early warning in the game at the Emirates three weeks ago when they nearly went behind through that early penalty.
Arsenal started really well that night, but that's what they do. They like to get on the front foot and they only really have a Plan A. Any team going away from home in Europe would expect to have to withstand early pressure before getting a foothold in the game, regaining a bit of possession and getting their own game going.
It's important not to crumble in the early part of the tie - and Arsenal would point to Mesut Ozil's penalty and say it would have been a very different evening if it had gone in - but I would not necessarily say Arsenal were the better team while they had 11 men on the pitch.
The reality is that Ozil's penalty did not go in and now they go to the champions' lair 2-0 behind. That is a very big ask.
Big night
It's a big night for Ozil again and you have to remember that he was bought to be the difference in big games like these. That's why you spend more than £40million on a player.
This is a game where he has to show his pedigree. I don't know what his character is, but after he missed the penalty in the first game he seemed to go missing - so he owes Arsene Wenger a performance.
Olivier Giroud did not start at the Emirates, but I think he will play in this match. He got two goals at the weekend and scored the first goal at the Allianz Arena last year so he should be full of confidence. He's up against the very best, but I hope he gives the team more than Yaya Sanogo did last time.
I've heard it said that Wenger should prioritise the game with Tottenham at the weekend, but I don't agree. This is the glamour competition and the manager will think they can go there and get through this tie, especially after what happened last year.
But I think the damage was done in the first leg and I don't expect Bayern to get caught napping like they did a year ago.