Football Expert & Columnist
Barcelona v Man City: Graeme Souness says pressing is key in Nou Camp
Barcelona have flaws, says Graeme Souness, but their pressing should see them past Manchester City.
Last Updated: 12/03/14 9:34am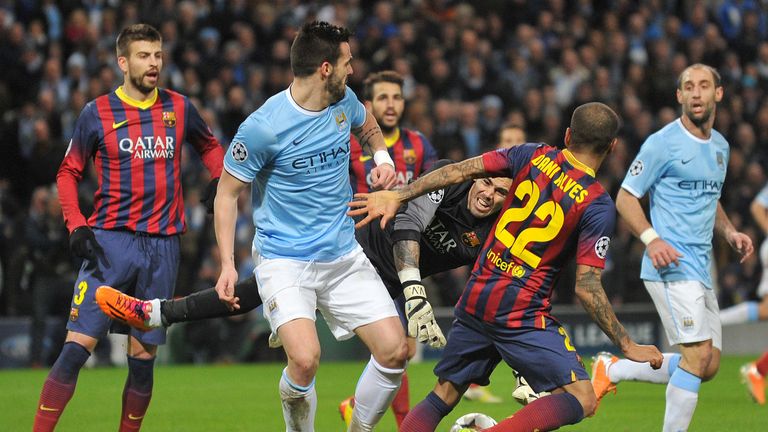 City are a side with quality throughout the team, but Tata Martino's players went there and stopped them playing. They couldn't cope with the pressing and I don't think 2-0 flattered Barcelona.
To a certain extent you can only play as well as the room you are given to play in and Barcelona on that night, without being at their best after they got the ball back, were still comfortable winners.
And I think they would have been comfortable winners even if Martin Demichelis had stayed on the field. They were on the front foot everywhere when he gave away that penalty.
Manchester City have been disappointing in their last two games in the Capital One Cup Final and the FA Cup quarter-final. They didn't start right in either game and it's not like an electric switch; you can't just flick your form on and off. You have to start right in these games and you cannot hand the initiative to the opposition.
They got away with it against Sunderland last week and won the cup, but they paid the consequences in the second game against Wigan when they lost at home.
So City are not going into this game in the best frame of mind, but neither are Barcelona, who lost to Valladolid at the weekend. It's not a game they would normally slip up in, but their passing game broke down on a bobbly pitch.
They had all of the ball, but didn't do anything with it and were very reliant on Lionel Messi to give them some spark in the final third, but he didn't have it on Saturday. Like City they will come into the game angry with themselves, but I expect Barcelona to redeem themselves in front of their own supporters.
Cautiously
I think Manchester City need to start this game cautiously because if it gets to 3-0 then it's all over. If they can play it tight for an hour - or maybe more - and then get themselves in front going into the last 15-20 minutes then they can have a real go.
I don't expect them to start with two strikers. In the first game they failed to win the battle for possession in midfield and Barcelona had the ball all the time. City will need to weather the early storm and get a foothold in the game. They also need to keep the ball better than they did at the Etihad and play more of their own game.
That's easier said than done. We know what tends to happen with Barcelona, especially at the Nou Camp; they dominate the ball no matter who they play. But that doesn't mean City can't cause them problems from a set piece or from some dodgy defending by Barcelona.
If you have the ball against Barcelona they will come after you, but if you can keep hold of it through that first press then there's gaps to be found because none of the back four are particularly good at defending.
The two full-backs for Barcelona are only full-backs in name. They play very high up the pitch because they want to dominate the ball and they play in midfield most of the time.
It's hard to be critical of the full-backs because that's how they are asked to play for three-quarters of any game, but I feel the centre-halves, no matter which pairing they go with, are not great defensively. That's something Manuel Pellegrini can look to exploit.
However, the City manager will be banned from the touchline and will not be allowed to make contact with his players or staff before or during the game. That will undoubtedly cause them a problem as well.
Overall I think the damage was done in the first game and I can only see more of the same on Wednesday night.