Liverpool must focus on their next games rather than the title, says Graeme Souness
Despite beating Man Utd, Graeme Souness does not want Liverpool to think they are title contenders.
By Graeme Souness
Last Updated: 17/03/14 11:54am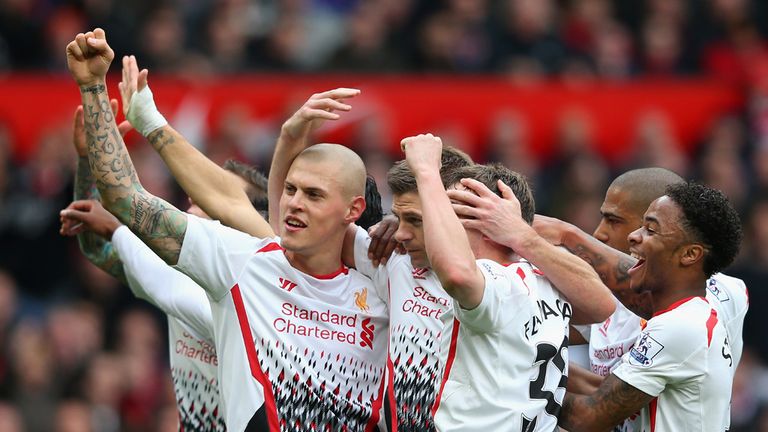 Gerrard converted from the spot in each half before missing a third penalty after Nemanja Vidic was sent off before Luis Suarez scored a late third to keep Liverpool, who have a game in hand on Chelsea, firmly in the title hunt.
A delighted Graeme Souness, who kept his emotions in check said it was an excellent display from Brendan Rodgers' men but wants them to focus on each game as they come.
"They have to approach it as if they are not going to win it," explained Souness on Sky Sports.
"Deep down the manager has to believe, deep down the players have to believe they can win it but the message they have to get out there is that they are still second favourites or third favourites and every game is vital.
"They have got themselves into a great position. Going to Old Trafford and winning in the manner they did; well they should take a lot of confidence for the next nine games. It doesn't matter if they go behind against whoever, they can come back and score goals.
"Liverpool were fabulous today. They just had too much of everything today: Too much energy, too much desire, too much class. It was a team playing at the top of their confidence, not thinking about their passing or their control against a nervy team who were searching for their control and their rhythm.
"As a Liverpool supporter I am delighted and trying to hide my emotions - going to Old Trafford is never easy but they have gone there today and made it look like an easy afternoon."
Manchester United will have to regroup quickly as they host Olympiakos in the Champions League on Wednesday, and Souness says that David Moyes has to find a way of getting Juan Mata into the game.
"Moyes needs to come up with a system to get Mata into the centre of the pitch," added the former Liverpool manager.
"We were talking off camera of maybe trying Wayne Rooney in midfield. Mata, for £40million, is lost out there, he does not want to be there. The game passes him by and they need to get him into the game.
"David Moyes has to somehow regroup and get the confidence back for Wednesday - he's going to have to earn his money between now and then because they have been completely demoralised today by Liverpool's performance."