Football Expert & Columnist
Graeme Souness: Manchester City run-in makes title tough despite derby win
Graeme Souness says Man City will find it hard to win the title, despite their derby day delight.
Last Updated: 26/03/14 8:46am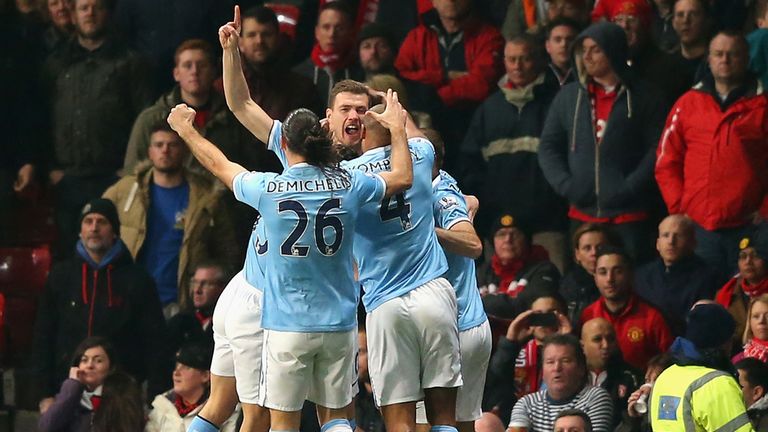 A 3-0 victory at Old Trafford saw Manuel Pellegrini's side close the gap on Premier League leaders Chelsea to three points with two games in hand, but they face tough away trips to Arsenal, Everton and Liverpool in their final nine games of the season.
Sky Sports pundit Souness feels City have the strongest squad in the Premier League, but says they should have more points on the board with so many tough fixtures still to come.
"I thought they would win it at the start of the season, but I think the run-in they've got is a really hard one," he said.
"They'll take so much confidence from tonight, though. If they'd lost they'd be damaged and I don't think they would have won.
"Mathematically they'd still be in it if they'd lost tonight, but I think they'd be damaged.
"Look at the games they've got left; they are going to go to Arsenal now and what sort of Arsenal are they going to play?
"They are certainly going to play an upbeat Liverpool and an upbeat Everton and those are certainly not easy games, no matter when you go there.
"Winning here tonight does not assure them of anything. They've still got it all to do because of these games.
"I thought by this stage they would be well in front. They're not."
Vulnerability
Souness believes City should have won the title under Roberto Mancini last year and questioned the attitude of some of their big players under the previous manager.
And he says the FA Cup Final defeat to Wigan last summer - and the subsequent defeat to the same team in this year's competition - shows that there are still weaknesses within Pellegrini's ranks.
He added: "Man City are without doubt a very good team, but they have shown vulnerability several times this year.
"They lost in the FA Cup Final in May to Wigan and they lost to Wigan again.
"That tells me something about that group. They weren't angry enough playing Wigan the second time around.
"Go back 12 months to the best team and the best group of players in the Premier League last year - and they didn't win it.
"Did the big players in the dressing room last year not do their bit?
"Maybe with the previous manager there was a little bit of unrest in there, but the big players should have carried the rest of them through that.
"That should not have been an issue, not with the quality they've got and when you see the way they can play."