Football Expert & Columnist
PSG v Chelsea: Graeme Souness asks if French side can step up in class
PSG have class up front, says Graeme Souness, but can they cope with the pace of Chelsea?
Last Updated: 01/04/14 10:34am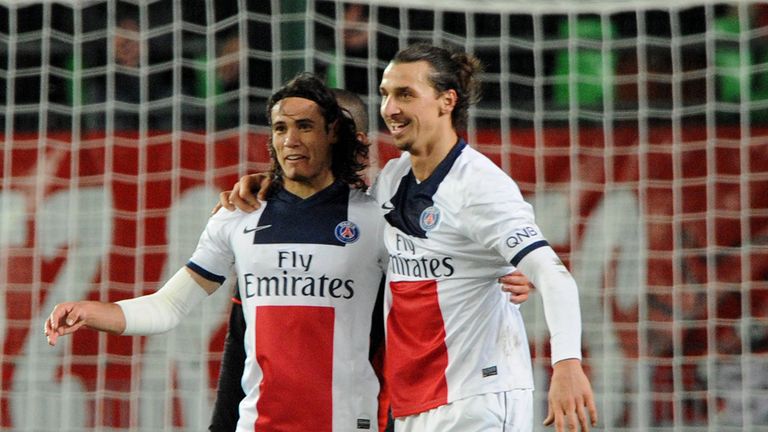 But then you look at the quality in the Paris Saint-Germain team.
When you have Zaltan Ibrahimovic and Edison Cavani up front you don't have to play well to win games. I said the same about Liverpool on Super Sunday because when you've two quality players in attack, such as Luis Suarez and Daniel Sturridge, the other nine players can have a miserable day and those forwards can win games for you.
I would describe PSG in the same way as I would describe Liverpool right now and that makes them a very dangerous team.
There is a feeling out there that the French league is not the strongest, which is correct, so the question is can this team make the jump from an ordinary domestic league into the big league of the Champions League?
They managed to do it last year when they got to the quarter-finals and gave Barcelona a real fright. They led 3-2 on aggregate and Lionel Messi had to come off the bench, despite carrying an injury, to change the game and help his team find an equaliser. PSG went out on away goals and that injury affected Messi for the rest of the season.
They got out of their group quite convincingly again this season, but it was a fairly weak pool that contained Olympiakos, Benfica and Anderlecht. There is still a question mark about how good PSG are, but this is a dangerous game for Chelsea no matter what way you look at it.
Outside of England I think you'd find most people saying PSG are the favourites - and all the pressure is on the Qatar-backed club. There is an element, certainly in the UK, that isn't sure how good they are because of the league they play in - and this is the acid test for them.
Clever
They hype is all on PSG and, of course, Jose Mourinho is very cute and clever. He has played down his team's chances of winning both the Premier League and Champions League this year, but privately he will think he can win it.
He has spoken of his team as a "little horse", but I think a lot of coaches would like to be riding that little horse. I think the vast majority of managers in the world would like to be the jockey on top of that nag!
He says it because he knows he is short up front and I don't think either Samuel Eto'o or Fernando Torres are the answer for him. The rest of his team is fabulous and they're only going to get better, but he's used to having class players going forward; he had Didier Drogba in his previous time at Chelsea and at Real Madrid he had Cristiano Ronaldo. Right now he's got nobody anywhere near that level.
They are relying on the creative players to get them goals from midfield. Their top scorer in the Premier League is Eden Hazard with 14 goals. Contrast that with Ibrahimovic, who has got 25 league goals or Suarez who has 29 league goals.
That's why he's saying he's got a little horse - but that little horse is still an Arab stallion that's capable of winning a lot of races.
Mourinho will be hoping to go over there and nick a goal. He'll hope that the step up in pace in this game, compared to what PSG are used to in their domestic league, will catch them out. The Premier League is not always great fare - but the games are always played at a tremendous pace and that sometimes catches out the foreign teams.
They will play on the counter-attack as they always do when they go away. I think they've got the best back five out there and they're tailor-made to go and pinch a result away from home in Europe.
In fact, I think they might find it easier to keep a clean sheet away from home than they will at Stamford Bridge. At home they may need to open up more - and if you do that against a team that includes Cavani, Ibrahimovic and Ezequiel Lavezzi - plus Yohan Cabaye who is a player I really like - then they have the talent to pick you off.
I think Chelsea might come away from Paris with a scoring draw or losing by one goal - but I wouldn't be doing cartwheels at that result because PSG will be very difficult opponents in the second leg.
This is a very dangerous tie for Chelsea, but I hope PSG find the step up in class too much over two legs.