Glenn Hoddle
Football Expert & Columnist
Glenn Hoddle: Daniel Sturridge and Ross Barkley are long-term England stars
Glenn Hoddle wants Sturridge and Barkley involved for England, but fears failure in Ukraine.
Last Updated: 05/09/13 12:57pm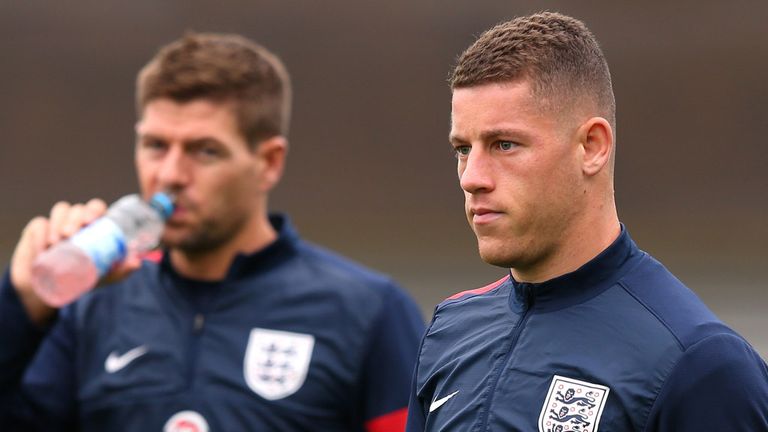 Next Tuesday's game against Ukraine is the key for Roy Hodgson and has been for the last two or three months. The Moldova game on Friday night won't be a problem, but Ukraine is a tough place to go. They played ever so well at Wembley and probably deserved to beat us, so that will be a real tough game.
They still have to play San Marino twice, so if they beat us there could be a nine-point swing. That's the game where everybody needs to be firing on all cylinders and I'd be looking at experience, rather than youth in that game.
It will be interesting to see if Roy tries to pick the same team to get some continuity in both matches. I would imagine he'd want to protect a few people if the result was nicely tucked away by half-time on Friday. The Moldova result is a foregone conclusion, so it's hopefully about getting through that without any serious injuries or suspensions.
I would look for the team to play together on Friday and get a sort of club feeling going into the second game. Protecting players is the only reason for Roy not to play his strongest team against Moldova.
Should Sturridge and Barkley play?
Wayne Rooney is obviously a big loss when you look at the way he played against Chelsea. His head looked right and Roy will really miss him.
But I think Daniel Sturridge has been doing exceptionally well and I've always rated the boy. I rated him when I saw him at Manchester City, and certainly at Chelsea, and I think he's learned a few lessons and looks to play for the team a bit more than he used to.
He's on really good form for Liverpool and if he's fit then I'd expect him to start. If he doesn't start now then he'll never get a start and he may be able to prove himself to the manager in a long-term scenario. That would give Roy real added options.
I also think Ross Barkley has an outstanding future and certainly against Moldova I would look to bring him on. I'd start with the likes of Steven Gerrard and Frank Lampard to make sure things are nice and tight, but look to bring the young lad on for a spell in the second half. Roy may even be thinking of starting with him.
I think Barkley and Jack Wilshere are real talents going forward into the longer term, but unfortunately Roy has got to think about the short term at the moment and getting two results.
You need experience in the Ukraine, but Barkley looks like a genuine prospect going forward and I think the midfield three would look really good with him, Wilshere and an experienced player in there.
Issues at the other end?
There's obviously two elements to football; scoring goals and keeping the ball out of the net and I think England are below par in both areas at this moment in time.
In the central defensive positions we've got good players, but have we got really experienced international players? We haven't got that yet and that's an area that needs time - and unfortunately we've not got that either.
It's not a problem for Moldova, but thinking about the Ukraine game and in the longer term if we're planning to go to the World Cup then that's where my concern is.
Questions have been asked of Joe Hart, but he's has had little wobbles before in his career and come through them so I expect him to do the same again. A couple of years ago he had the same scenario, but came through it and got his mind into gear again.
Goalkeeping is all about making the least number of mistakes over your career and also how you respond to making any mistakes. Goalkeepers can't win you matches, but they can save you matches and their job is to bounce back and make sure their concentration is right.
The best goalkeepers do that and I'm sure Joe will do that. He's still the number one.
Can England get the results they need?
I think Moldova is a foregone conclusion, but I think the Ukraine game could finish in a draw and that would leave things a little bit nerve-wracking for the final two games at Wembley against Montenegro and Poland.
I would still expect us to get over the line in those two matches, but you can never tell in international football.
We have the capability to go to the Ukraine and beat them, that's without a doubt, but I just feel the tension might get to the players a little bit.
We shouldn't be in this position, there was no need for us to be in this position, and it's going to be a tough test out there.