Glenn Hoddle
Football Expert & Columnist
Glenn Hoddle discusses the Premier League talking points from Saturday's games
There's praise for Mesut Ozil, criticism for Man City and sympathy for a ref in Glenn Hoddle's round-up.
Last Updated: 15/09/13 9:43pm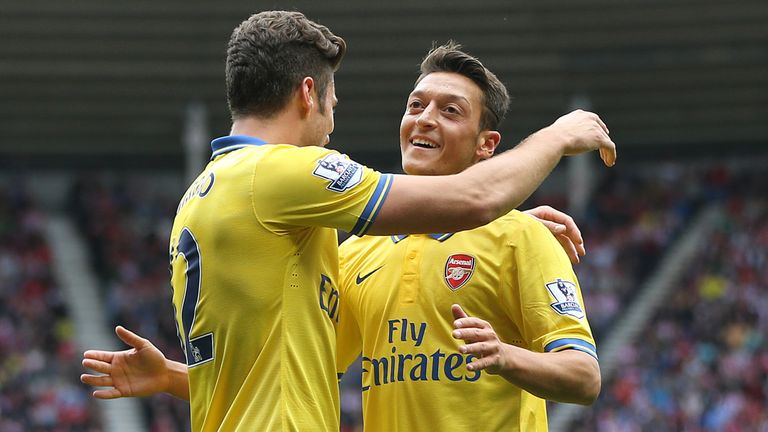 This week, former England boss Glenn Hoddle joined Sarah-Jane in the studio to analyse the big talking points from the 3pm kick-offs, which included wins for Arsenal, Newcastle and Everton.
Here's what he had to say...
Sunderland 1-3 Arsenal
"Arsenal looked good, particularly in the first half. They had so much time and composure on the ball in the first half and they looked a threat. Their first goal was a lovely goal, a beautiful goal. Mesut Ozil's touch was wonderful and Olivier Giroud's finish was fantastic. Giroud is on fire at the moment. Last year I thought he was a really good player but just missing out on chances but that was a great finish and he's going to get a lot more opportunities with Ozil behind him.
"Ozil today looked a class act. He looked like he had had a pre-season with Arsenal and looked very comfortable. He looks forward quickly and he plays forward. Sometimes Arsenal can overplay but he's always looking to hurt the opponents. It was a great debut and if he is only three quarters fit then there's a lot more to come - beware.
"Arsenal have got so many players in the midfield area now, where they control the game and with Giroud firing on all cylinders up front Arsenal look a threat this season.
"Sunderland, meanwhile, had a goal disallowed at 2-1 and I can understand why Paolo Di Canio was upset. Bacary Sagna fouled Jozy Altidore outside the box and Martin Atkinson blew his whistle. The refs need more of a chance though - we should give them the ability to play for five or six seconds and then be able to bring it back, like they do in rugby. If he had that option to let it go on then the goal would have stood and goals change games.
"But Di Canio has got a tough job there. He needs the crowd to stay with him and over the next few months because at the moment they're under a bit of pressure. They've got a lot of new players, foreign players, and they have to gel - but when you're bottom of the league the pressure's on."
Everton 1-0 Chelsea
"Everton have played really well this season; they've got a pattern of play and clarity under Roberto Martinez and even though they haven't got the results they wanted yet this season, they started this game on the front foot. You could see the players were confident and had real belief they were on the right lines.
"It was a tough game against Chelsea and on another day, if Chelsea had their finishing boots on, they might have won. But it was an exciting game, a wonderful game for a neutral to watch.
"I like the way Martinez coaches his teams. Everyone has their jobs, they know what they're doing, their shape from the back and he encourages them to play and take a few risks. But what he's got here that he didn't have at Wigan is better defenders and they'll get more clean sheets.
"Chelsea, meanwhile, were a bit slack for the goal and lost the ball in the middle of the park. Ross Barkley was composed, they overloaded Chelsea in the box and Steven Naismith got the goal.
"That's encouraging for the Everton manager. They've got their balance right at the moment and I do enjoy watching them play this season."
Tottenham 2-0 Norwich
"Tottenham were exhilarating at times, they really were. Christian Eriksen, the new signing, looked really good and Spurs were scintillating. It's life without Gareth Bale for them now, but they've spent £100m and they've got some really good players in.
"I was concerned at the beginning of the season but I think Eriksen and the other new signings are going to balance the team off nicely."
Stoke 0-0 Man City
"Last year it was against the teams in mid-table and fighting it out down the bottom where City let themselves down - and it doesn't look like they've learnt their lessons. They went to Cardiff and lost 3-2 and have now drawn 0-0 at Stoke. They're tough games, don't get me wrong, but Stoke away? If you're Man City you've got to go and get three points - or at least look as though you deserve three points. But it never looked like that today.
"City had £135m on the bench today - if you've got that armoury you've got to go and win the game. In the first home game of the season they were scintillating and they've got wonderful players so I do still think they're going to be there or there abouts at the end of the day, though.
"Stoke have got to take their chances to go on and win the game but it's a better point for Mark Hughes' team than City. Manuel Pellegrini is taking his time, finding out about English football and his job spec was to improve them in the Champions League, which is coming up next week. But they've got to win the Premier League too - and that wasn't a good point for them, in my opinion."
Aston Villa 1-2 Newcastle
"Hatem Ben Arfa is a wonderful talent. He's a bit moody and there are days when you think he doesn't fancy it but today he was really up for it and this is a great result for Alan Pardew and Newcastle.
"Ben Arfa played a lot wider today and that made him face up to players better than when he's with his back to goal in central positions. He's got a beautiful left foot, lovely vision, is so composed and glides on the ball. Everything that was good about Newcastle came from this lad."
Hull 1-1 Cardiff
"I've always admired Tom Huddlestone and was surprised Tottenham let him go but he made Curtis Davies' goal today. Cardiff came out and didn't pick up their men and a great ball from Huddlestone picked out Davies who had snuck in behind them.
"Hull is going to be a tough place to go this season, though, and to get something out of the match is great for Cardiff. Their equaliser was beautiful. It was all one touch and it's very difficult to defend against that. Peter Whittingham guided it into the net and it was possibly the goal of the week - and there have been some good team goals this week, too."
Fulham 1-1 West Brom
"Gareth McAuley is on a good run of goals at the moment but what a time to concede for Fulham. Someone has to pick him up because he's left to get the run in and with 90 plus minutes on the clock you've got to be touch tight.
"West Brom deserved something out of the game but it will be very disappointing for Fulham and Martin Jol. That's where it drives you mad as a manger; you go in that dressing room and you're spitting feathers after that.
"West Brom will be ok this season. Steve Clarke is very astute and did well last year. They've got enough good players to get themselves back into the top half of the league."