Champions League: Arsenal were dazzling and professional - Glenn Hoddle
Arsenal's 2-0 win over Napoli in the Champions League was sizzling and muture, says Glenn Hoddle.
By Glenn Hoddle
Last Updated: 02/10/13 1:16pm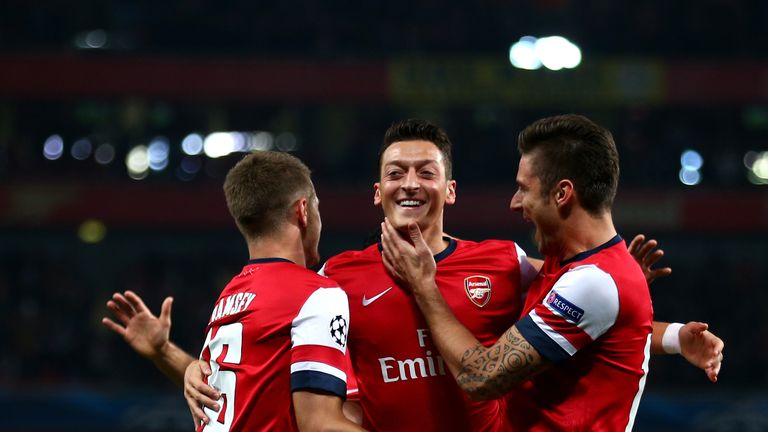 Mesut Ozil and Olivier Giroud were the shining lights at the Emirates on Tuesday night as Arsene Wenger's men continued their impressive Premier League form on the European stage.
Two goals inside the opening 15 minutes blew the Italian side away who had arrived in north London in buoyant mood having made an unbeaten start to their Serie A campaign.
"Arsenal were brilliant in the first half," Hoddle told Sky Sports. "It was their passing and movement off the ball and the way the players rotated. They didn't play in straight lines and Giroud is just a really big player for them. If they lose him they've got a problem.
"It was also against a confident Napoli as well who were coming in with a good record. The Arsenal of old would have got caught out on the break but they never looked like conceding goals and they didn't allow Napoli to get in behind them.
"They showed a lot of professionalism in the second half by keeping the ball and keeping Napoli at bay. They kept the ball and allowed the clock to tick down. They didn't have to get a third goal."
With record signing Ozil scoring his first goal since moving from Real Madrid and setting up Giroud for the second, Ian Wright, Gunners striker between 1991-98, was full of praise for his old team.
"They've got the quality and Ozil is only going to be a massive boost but it was the way they started," Wright told Sky Sports. "They literally finished the game in 15 minutes.
"The whole team look confident, they were stable at the back, while their goalkeeper and back four had nothing to do. When they are that tight and let the front boys get on with it, they are awesome."
Some critics said during the summer that Wenger would struggle without enough depth in his squad, but the evidence in the last three weeks would suggest otherwise, with rising star Jack Wilshere able to be rested on Tuesday night.
"Midfielders have a long hard season and you get fatigue levels," Hoddle added. "They cover all the ground and to have a bulk of players of similar style is a major bonus for Wenger.
"You can rotate them and you can rotate them like Wilshere. At the weekend it might be Mikel Arteta on the bench."
Wright also paid tribute to Arsenal's magic midfield with players like Mathieu Flamini, Santi Cazorla, Aaron Ramsey and Wilshere.
"There is competition for places and all of sudden they can put in performances like that against Napoli," Wright added. "The potential in respect of what they are capable is just really exciting."