Glenn Hoddle
Football Expert & Columnist
PSG 3-1 Chelsea: Glenn Hoddle says Jose Mourinho gamble backfired
Last Updated: 03/04/14 12:16pm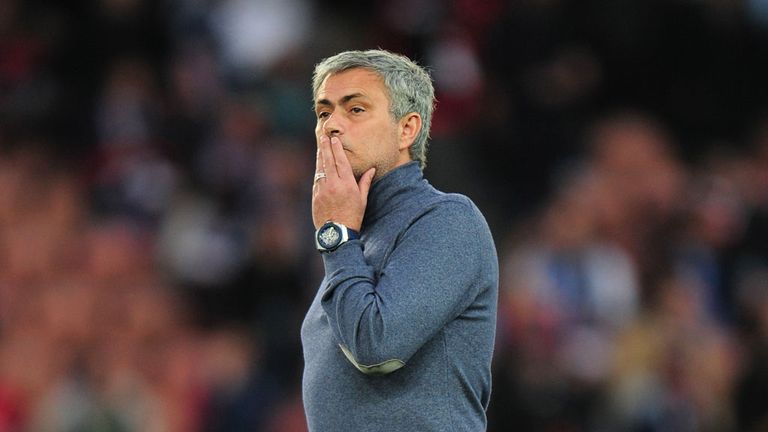 Glenn Hoddle feels Jose Mourinho's tactical gamble backfired as Chelsea suffered a 3-1 first leg defeat in their Champions League quarter-final against Paris Saint-Germain.
With Samuel Eto'o ruled out through injury, the Blues manager opted to start Andre Schurrle – who has played in wide areas for most of the season – as a centre-forward in the Parc de Princes with Fernando Torres and Demba Ba left on the bench.
Mourinho withdrew the German after an hour and former Chelsea player and manager Hoddle says that tactical error – combined with a positive approach from PSG – saw Mourinho's side slump to a defeat that they may struggle to recover from in next week's second leg at Stamford Bridge.
"I don't think Schurrle playing up front worked," he told Sky Sports.
"Obviously Mourinho took him off, but I think that was one where he took a risk and it didn't work. It backfired on him and they had no focus really in the second half.
"But you've got to give credit to Paris Saint-Germain. They probably weren't happy with the way they were playing after they went 1-0 up and they had a good reaction. They suddenly started playing on the front foot, pushed people forward and got their full-backs much higher when the ball was ready to come.
"Consequently Willian and Eden Hazard were forced to go even deeper and they were letting them go at times. That was the key; they really did force that issue on the two wide men for Chelsea and in the end they couldn't get out.
"They didn't have anyone to retain the ball in the second-half and if you do that away from home you are going to pay the price – and in the end they did."
After an even first-half which ended 1-1, the hosts took control and enjoyed almost 67% of the possession in the second 45 minutes, scoring through a David Luiz own goal and a fine late goal from Javier Pastore.
Hoddle said Chelsea struggled to apply enough pressure to the ball after the break and poor positional play from the likes of Luiz contributed to their downfall.
"The big problem they had in the second half is they totally lost their shape defensively," he added.
"Although they played well, the two midfield players for Paris Saint-Germain in the centre of the pitch were turning on the ball with ease with no pressure on them.
"The distances from Schurrle right the way to the back four were so spread and that made it easier. Paris Saint-Germain were excellent in the second half, as Jose Mourinho said, but if you give them time and space then they'll hurt you.
"They totally controlled the game in the second half for that reason. There was no shape to that team.
"With three minutes to go they were 2-1 down with the away goal and David Luiz was having a 30-yard run with the ball and ended up on the edge of their penalty area.
"They've lost their shape!"
Wrong
Mourinho called Pastore's late goal "ridiculous", but Sky Sports pundit Jamie Redknapp argued that the Chelsea boss must shoulder much of the blame for the defeat.
"He'll be so disappointed because it was so un-Chelsea-like," he said.
"That's four of their last six away games they've lost now. Something is wrong there. He asked Fernando Torres to come on and make a difference, but his confidence must be on the floor.
"He put in Schurrle, who has played in wide areas all season, up front ahead of him – and then expects him to come on and make a difference.
"He has been poor of late, Fernando Torres; I think back to the Palace and the Villa games when he hasn't done enough for the team, but in the Champions League he has normally come to life.
"I would have gone with him for sure because Schurrle was running round and didn't know where to run. At one stage Mourinho was pointing and trying to tell him the runs to make. That's your centre-forward!
"Then he asked Torres to come on with 30 minutes to go and it just didn't work, for me, today. I think he [Mourinho] has to take responsibility as well. His team has not reacted to what he wants and they're too easy to beat.
"It's nothing like what you expect from Chelsea."