Glenn Hoddle
Football Expert & Columnist
Luis Suarez to Barcelona: Glenn Hoddle says move can be good for Liverpool
Striker is irreplaceable, but departure may see squad emerge stronger overall
Last Updated: 08/07/14 4:56pm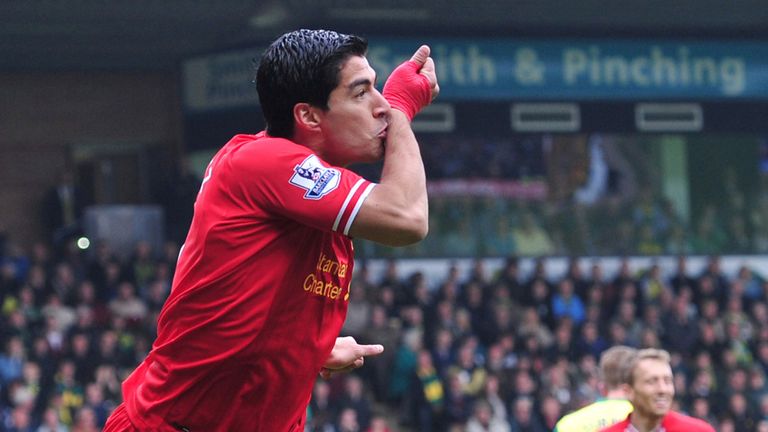 Glenn Hoddle says the sale of Luis Suarez could end up being good news for Liverpool's title chances next season.
The Uruguay forward is currently in negotiations with Barcelona, who are reportedly willing to pay £75million for his services even though he is serving a four-month ban for his now infamous bite on Italy's Giorgio Chiellini at the World Cup.
Hoddle believes Suarez is irreplaceable, but the money could be used to improve the squad overall with manager Brendan Rodgers preparing to add Benfica's Lazar Markovic and Lille's Divock Origi to earlier summer signings Emre Can, Rickie Lambert and Adam Lallana.
And even though Suarez scored 31 goals as Liverpool fell agonisingly short in last season's title race, the Sky Sports pundit reckons the club may emerge stronger without his off-field issues.
"The baggage comes with him and wherever he ends up he's going to have that baggage," Hoddle told Sky Sports News.
"Off the pitch it might be 'phew, we've got away with that a little bit and got decent money for him'.
"I think Liverpool will look at it and say it was out of their hands in many ways why he's had to leave, but they move on.
"Liverpool's a big club and there's no one player bigger than any football club in the world. Liverpool have proved that over the years.
"Brendan will go out and try and replace him with probably two or three players. He'll have to look at it differently because you're not going to find another Suarez to replace what he's done.
"Maybe really two or three really class, top players will add to the squad and will make the squad stronger in a different way."