Dwight Yorke
Football Expert
Dwight Yorke tips Spurs for Premier League title after win at Aston Villa
Tottenham are genuine title contenders, says Dwight Yorke - but they must believe in their quality.
Last Updated: 20/10/13 6:45pm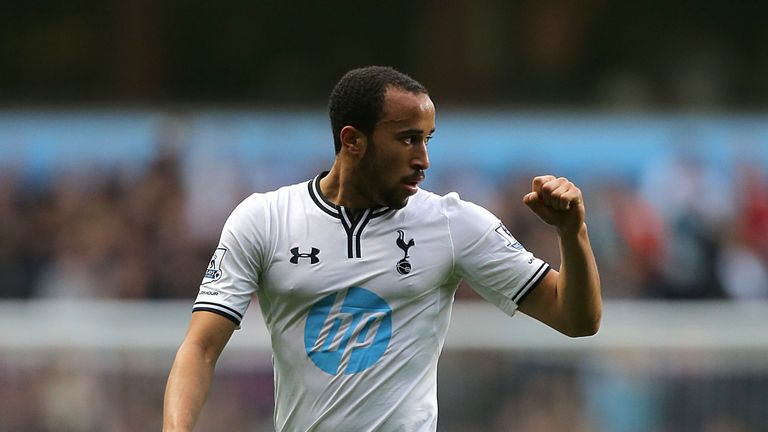 The 22-year-old winger played a key role in England's crucial World Cup double-header at Wembley and maintained that form at Villa Park on Sunday, where he celebrated a new four-year deal with Spurs with a fortunate goal and a Man of the Match-winning performance.
The victory moves Spurs up to fifth in the table and 16 points from their first eight games represents their best ever start to a Premier League season.
And, with Townsend in their ranks, Yorke reckons the North London side can go from strength-to-strength this year - and even challenge for the title.
"Townsend showed a lot of maturity in his play today," said the former Manchester United striker.
"Antonio Luna played him well in the first half but in the second half Townsend came into his own.
"You could see he was full of confidence through the way he played and the way he interacted with his team mates. But he knows when to shoot and when to pass.
"For his goal he was just trying to put it in the danger area and when you do that you get the rewards and that was reward for his persistence throughout the game.
"In terms of Tottenham, based on their performances so far this season and the strength in their squad, they are title contenders. I really do think that.
"A lot of people may think they haven't got enough in their locker to win the Premier League but I certainly do. When you look at them attacking-wise they've got a lot of players going forward. Defensively there will be question marks there but if they continue in this vain of form they've got enough in their locker.
"Whether they believe it or not is another issue but Andre Villas-Boas will be trying to implement that in the squad and see where they get. I certainly think they can compete with the best."
Former Tottenham and England boss Glenn Hoddle was equally impressed with Townsend and reckons the winger has been a surprise replacement for Gareth Bale, who was sold to Real Madrid in the summer.
"He was the best player on the park," said Hoddle.
"At the moment everything is going great for him: his touch, he's playing with his head up, he's playing with confidence and believes he can score or create from anywhere.
"He will have a little spell when it doesn't work out and that will be his test going forward.
"But he has been a wonderful bonus for Tottenham Football Club. They've lost a left-footer in Gareth Bale and in pre-season no one would have been thinking Townsend is going to replace 50-60% of Bale at the moment.
"He's been on fire since the start of the season and he looks like the manager has said 'I'm putting my hat on you'."
Home
However, defeat leaves Aston Villa in 13th and former Villa striker Yorke would like to see his old side take more risks at home in a bid to pick up vital points which will steer them clear of the relegation dogfight they were involved in last season.
"It's yet another defeat for Aston Villa at home and that must be a concern for Paul Lambert and the players," he said.
"Your home games are the ones you rely a lot on and for some reason they haven't sorted them out.
"There is progress being made from where they've come in the last 18 months but playing at home they need to take more risks; the onus is on the home team to take the game to the opposition but they seem a little more reserved at home.
"They need to do better - their home form has been terrible, really."
The return of last season's top scorer Christian Benteke from injury, however, was one highlight for Villa supporters on Sunday. And Yorke believes the big Belgian's return is a cause for optimism.
"The importance of Benteke is the presence he has," said Yorke.
"He lifted the players and the fans when he came on and he is going to be really important."