Dwight Yorke
Football Expert
Manchester United have given themselves a semi-final chance by drawing 1-1 with Bayern Munich
Last Updated: 02/04/14 11:08am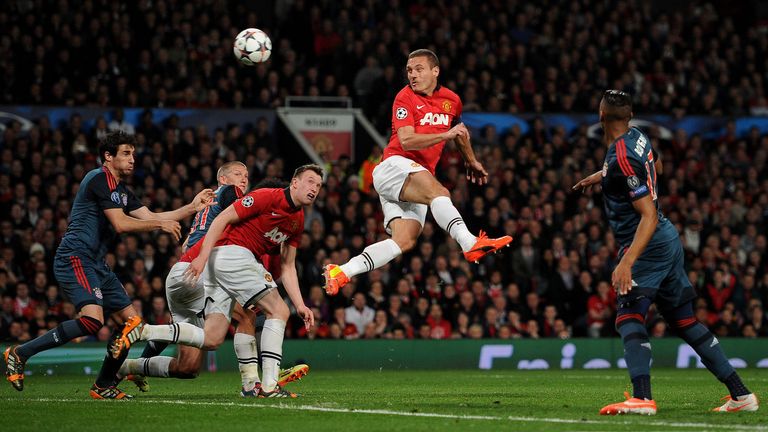 Manchester United are still very much in their Champions League quarter-final tie with defending champions Bayern Munich after drawing 1-1 in the first leg at Old Trafford, says Dwight Yorke.
United seem to be saving their best for Europe this season, and once again put their domestic struggles behind them on Tuesday night. 
Although Bastian Schweinsteiger - who was later sent off - netted a crucial away goal to cancel out Nemanja Vidic's opener, Yorke reckons United's performance will give David Moyes' men belief that they can go to the Allianz Arena next week and pull off an unexpected win. 
It has been United's best performance to date and the players have done themselves proud.
Dwight Yorke
"Going into this game not many people gave Manchester United any sort of hope whatsoever," Yorke told Sky Sports.
"They thought this was going to be a foregone conclusion and Bayern were  going to come to Old Trafford and just steam roll all over United; credit to the players that they did not let that happen. It has been their best performance to date and the players have done themselves proud. Let's hope that they can go into the second leg with a lot of confidence and hopefully they can finish the job off.
"I have got to say that the players were outstanding defensively. Their best performances have been in the Champions League, we know that – they seem to be up for it a lot more and it is a special night at Old Trafford when the competition comes around. Bayern Munich are the defending champions so you don't need to inspire the players anymore, I thought they were just outstanding."
Finishing school
Yorke's only criticism of United was the finishing of Danny Welbeck, who should have done a lot better when he burst clear and only had the goalkeeper to beat. The England international's tame chip was easily dealt with by Bayern keeper Manuel Neuer and Yorke says that miss could have been costly.
"We know in the past that the one thing lacking in Danny's game is his opportunity to put away the big moments in the big games," said Yorke, who won the 1999 Champions League trophy with United.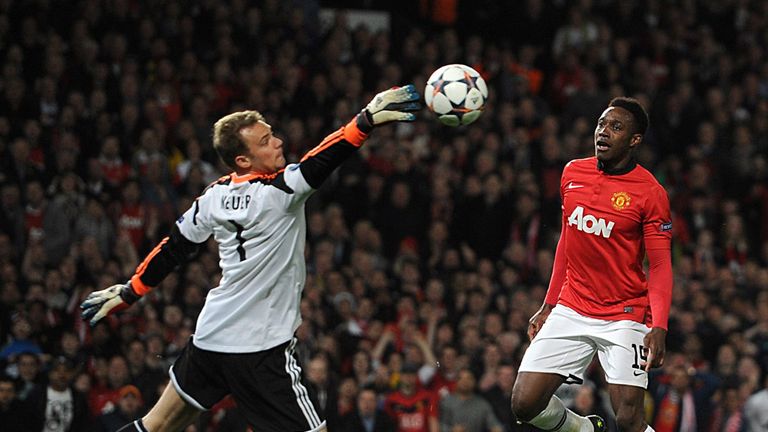 "I am sure he will be looking back at this moment and thinking 'why have I done that?' Everything about that was not how you should finish a goal – he made it a lot easier for the goalkeeper. The last thing you need is to go straight down the goalkeeper's throat; you need to shift that ball to the goalkeeper's right and then he would have had an open goal.
"It turned up to be a nothing finish which was very disappointing. If he had taken that opportunity then things could have been different."
Jimmy Floyd Hasselbaink agreed: "Welbeck made it hard for himself, he should have just made it very simple; move to the right and then bend it into the short corner – one goal! Very simple. A chip may look beautiful but it is a bit harder and only counts for one goal. You have to hit the net, you have to be clinical."
Contact
The other major talking point from the game was the sending off of Schweinsteiger. The Germany international was booked for a second time after a mistimed tackle on Wayne Rooney, and expressed his frustration at the time by appearing to suggest he felt the England striker dived.
"It's not worth a yellow card," added Hasselbaink.
"I think Rooney is playing the ball a little bit too far from himself and he wants to get a free-kick. I don't think Rooney is trying to get him sent-off, but he is trying to make the best out of it. Is there a little bit of contact? There might be but he is looking for the free-kick and not trying to get caught on the counter-attack."