Kevin Phillips
Football Expert & Columnist
Kevin Phillips blogs on targets, Tottenham and working on TV
Kevin Phillips starts his new blog saying he plans to break some records and shock Spurs on Sunday.
Last Updated: 14/08/13 2:55pm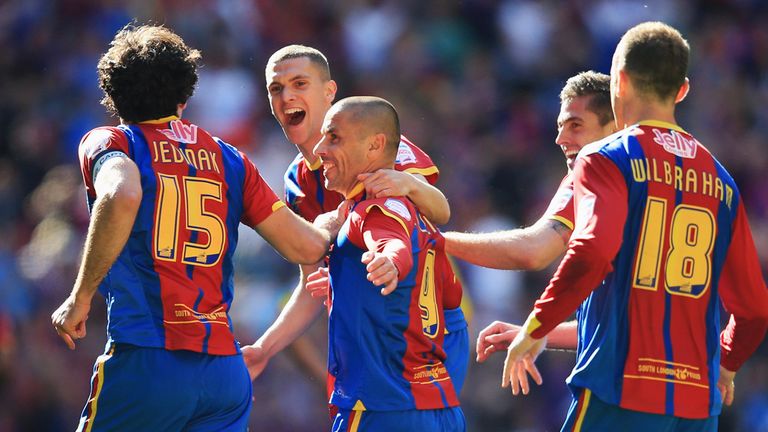 I'm 40 years old now and, after signing a one-year deal with Crystal Palace in the summer, to get one last crack at the Premier League is a dream come true. I never thought I'd still be playing in the top flight at this age.
But I'm not at Palace just to make up the numbers - I've had a good chat with the manager, Ian Holloway, and I'm here to make an impact and hopefully score some vital goals for the club.
Of course, the main aim for the season is to avoid relegation; keeping Palace in the Premier League is the priority for all of us at the club. But I've also got some personal targets, too.
I've got a goals target for the season - which I'm not going to reveal! - and also a record and landmark I've got my eye on.
If I score in one of the final four games of this season I'll become the oldest Premier League goalscorer, breaking Teddy Sheringham's record. That would be a nice accolade.
The other aim is to get to 100 Premier League goals. I currently have 92 so need eight more during this campaign to join a group of quality players to have achieved that.
If I could do those two things - and keep Palace up - that would be a really successful season for me.
TV
I'll also be doing quite a bit of work for Sky Sports this season. As well as writing this weekly blog and giving skysports.com readers an insight into life as a Premier League player I'll also be doing some commentary and punditry on TV.
The TV work is something I really enjoy and I'm looking forward to doing more of it this season. I'm always watching football, anyway - I come in from playing all day, turn the TV on and sit down and watch football in the afternoons and evenings. I love it.
But Palace fans needn't worry about my work for Sky affecting me on the pitch - I've managed to get the balance right over the past couple of seasons when I've been working for Sky and my football comes first.
Focused
And it's our first game of the season, at home to Spurs, which has been my focus all summer - and especially over the past few days.
We've got Tottenham at Selhurst Park on Sunday and it will be live on Sky Sports.
Some people might think it's daunting to be playing a side which finished fifth last season first up but for me it's the perfect opener for us.
We're up against a team that have got some fantastic players and a great manager but we're fresh out of the Championship, excited and eager, so hopefully we'll catch Spurs off their guard.
We're under no illusions and we know it will be a tough, tough match but it will be a full house at Selhurst Park, the fans are buzzing and, as it's on Sky, it will give us a chance to show the Premier League what we're all about.
We had practice match at the training ground on Tuesday - a full 90 minutes - and will have a rest day on Wednesday before working on tactics and set-pieces on Thursday, Friday and Saturday.
We don't want to overwork now; we want to be coming down off the physical side and sharpening up so come 1.30pm on Sunday we're raring to go.