Kevin Phillips
Football Expert & Columnist
Kevin Phillips blogs on his love of Deadline Day and welcoming new recruits
Kevin Phillips blogs on Deadline Day drama with Jim White, joining a new club and initiations.
Last Updated: 04/09/13 5:20pm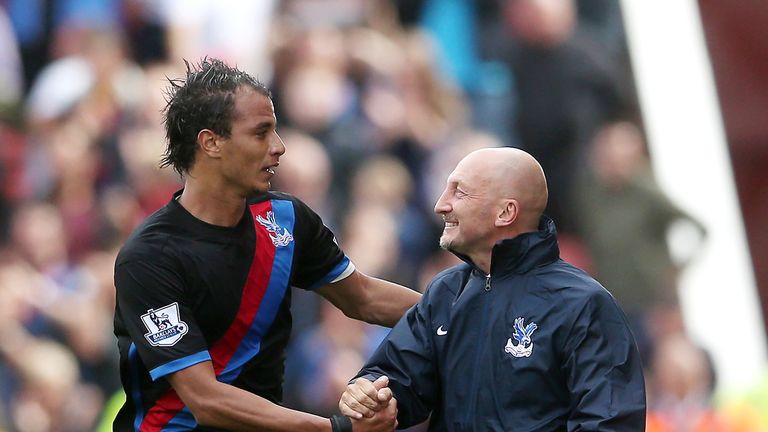 Just like any supporter, I sit and watch Sky Sports News and can't wait for that yellow 'breaking news' strap to come along the bottom of the screen to see who's going where.
Although I don't agree with the window staying open this far into the season - it should be shut before the season starts so everyone can focus on the football - to see those big money transfers coming through, such as Mesut Ozil going to Arsenal and Marouane Fellaini going to Manchester United, is fascinating.
From a player's point of view - a player who wasn't involved in any of the deals, that is - it was exciting stuff. I was sat in front of the TV all day watching the reports coming in from around the country and Jim White adding to the excitement in the studio.
Contrary to what you may think, despite playing for Crystal Palace, I don't have any inside information on who is coming into the club - we players have to rely on the media to find out about the latest signings, too.
Of course, there's plenty of discussion in the dressing room about what could happen, though. Anyone who says that doesn't go on is telling lies, in my experience.
We're all anxious to know who's coming in to strengthen the team - or who might be arriving to challenge for your position.
Then, after the window has shut, it's strange to go into training and see different players. I'm reporting back to training on Thursday and Peter Ramage, who surprisingly went on loan to Barnsley, won't be there, while there will be several new faces in the changing room instead.
But that's football and that's the way it is.
Stress
While I could enjoy Deadline Day it was no doubt pretty intense for players and managers involved in last-minute deals.
I joined Palace on the final day of the January transfer window last year, but it wasn't hectic because I pretty much knew I was going anyway.
However, when you hear about players dashing to training grounds to get deals done there must be a lot of pressure and stress involved.
I know it's given our manager headaches and I'm pretty sure every manager across the country has been the same until it shut on Monday night!
Initiations
Now the new recruits are on board, the tradition is for them, on the next away game, to get up and do a little sing-song after the Friday night meal.
Whether you can get them to do it is another thing, though - the more experienced players will sometimes tell you to get lost!
But certainly the young players will be getting up and entertaining the lads, which is all part and parcel of joining a new team.
I've had nine clubs in my career and if you're an experienced player going into a new dressing room it is all much of a muchness - you know what to expect going in.
But as a young player it can be quite daunting meeting the lads for the first time; you're going to have a few butterflies because you want to impress.
Ultimately, though, the team will make anyone who is coming in feel welcome because they're going to play a huge part in us surviving this season. Making a player feel welcome is critical.
The new player also has to get involved, though - they mustn't keep themselves to themselves.
They need to become part of the group as quickly as possible because that's what makes you succeed.
Victory
We've had a few days off at Crystal Palace because of the international games and it was so satisfying to go into this break after getting that first win of the season last weekend against Sunderland.
Just looking at the table now, we're looking pretty healthy after that victory.
We had played well in our first two games without getting anything from them but to get those well-deserved three points was a great reward for the club and the fans.
After a friendly with Oman on Tuesday, we go to Old Trafford to play Manchester United next Saturday. It's a wonderful place to play and - after last weekend's result - we'll go there believing we can get something out of the game.