Kevin Phillips
Football Expert & Columnist
Leicester will have to strengthen when Premier League dream becomes reality
Foxes can win promotion this weekend
Last Updated: 03/04/14 6:19pm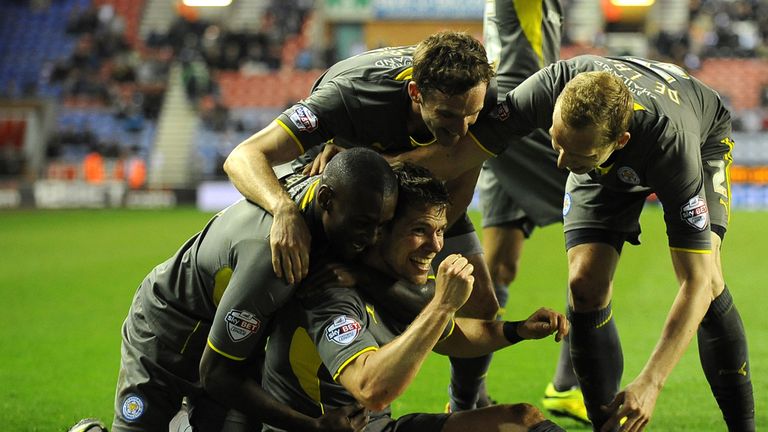 Leicester can win promotion to the Premier League this weekend and I'd be lying if I said us players hadn't thought ahead to what that would be like.
Our manager, Nigel Pearson, is quick to remind us we still have a job to do against Sheffield Wednesday on Friday night, though. And even if QPR and Derby lose on Saturday – a combination of results which would seal our promotion – we still want to go on and win the league.
But there's no hiding the fact that we're in a very strong position. Our next two games are at home and we're on a phenomenal 20-game unbeaten run, which is fantastic considering in the Championship anybody can beat anybody on a given day.
If we win on Friday, it will be exciting watching Soccer Saturday at home as the results come in with a bottle of bubbly ready to crack open.
Kevin Phillips
Of course, it's always nice if you can seal promotion by winning your match on the pitch but, if we do win on Friday, it will be exciting watching Soccer Saturday at home as the results come in. I'm pretty sure there will be a few people with a bottle of bubbly ready to crack open. It would be a relief to get over the line and then seal it properly in front of our own supporters when we play Brighton on Tuesday night.
We can't get too carried away, though, and I don't want to disrespect Sheffield Wednesday or Brighton. We're going to have to be very wary in those fixtures because they have plenty of threats themselves.
Prepared
When we do eventually secure promotion – which I'm confident we will – the club is obviously going to have to strengthen in the summer.
In terms of the club being prepared off the pitch, financially they're certainly geared up for it, the facilities are excellent, they're improving the training ground, the stadium is fantastic and the owners are very wealthy and will gain huge amounts from promotion.
Improving the squad is going to be key, though. I'm pretty sure the manager has one eye on that already and is trying to identify players now for next season. You'd certainly be looking to bring two, three or four players in because you do need a big squad in the Premier League.
If you look at what my former club Crystal Palace have done this year, they brought in a lot of players at the beginning of the season and they're in a fairly good position at the moment having used a lot of players throughout the campaign.
But what can the current Leicester players, who haven't played in the top flight before, expect?
The biggest difference between the Championship and Premier League is the quality.
The intensity is pretty much the same, although there are fewer games and there is more time to recover in between matches.
But when you get on that pitch the quality of the individuals throughout the team is immediately noticeable. Where as in the Championship teams have one, two, three or four threats, all eleven players in most Premier League teams have got quality.
Clinical
From a striker's point of view, the clinical finishing from the top boys is a difference, too. They might only get one or two chances in a game but they take them.
Our forwards will notice defenders are a lot cleverer in the Premier League, too. The top defenders are quick and powerful but also read the game so well and they won't give you many opportunities. Instead you have to try and carve out your own openings with a bit of skill. But that's why those defenders are in the Premier League and paid an awful lot of money.
Saying that, I believe the boys up front for our team have proved they can do it in the Championship and have a good chance of doing well next year, too. David Nugent has done it before in the Premier League, young Chris Wood is a real good talent and a big, strong lad, while I'm looking forward to Jamie Vardy applying himself against the top players in the Premier League because I believe he'll be a success.
The lads who haven't been there before are excited, want to sample it and I believe we've certainly got a good enough squad to compete with the teams that are in the lower half of the Premier League now, so we're in a fairly healthy position at the moment.
The fans are certainly eager to get there, too. It's been a while since there's been Premier League football at the King Power and Leicester fans I bump into are all excited.
They deserve it, as well. What the club had to go through last season was heart breaking for the players but especially the supporters. Despite that, they've certainly been behind the team this year and even on Tuesday, on a misty, cold evening in Wigan, there were thousands of them who turned up.
If we can get over the line the fans deserve as much credit as the players for sticking by the team, the management and encouraging every one. Let's hope when we do get there we can make them happy next year as well.