Kevin Phillips
Football Expert & Columnist
Capital One Cup: Giant-killing shouldn't happen, says Kevin Phillips
Big teams must match work rate of underdogs, says Foxes coach
Last Updated: 29/08/14 11:36pm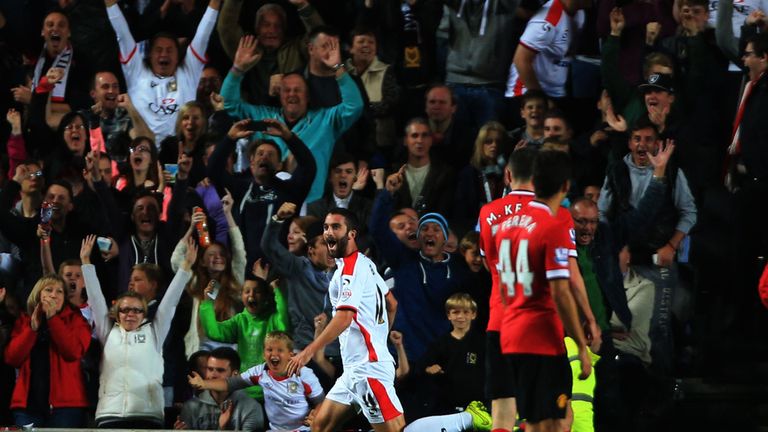 There's no excuse for Premier League teams going out to lower-league opposition in cup ties.
There were four giant-killings in the Capital One Cup on Tuesday night and it's something we see every season – but, at the end of the day, it shouldn't happen.
Burnley, West Ham and the team I coach at, Leicester, were three top-flight sides to be shocked by lower-league teams, although there's no question the headline grabbing result was MK Dons' 4-0 win at home to Manchester United.
If your attitude isn't right and you think the tie is easier than it is you'll get found out.
Kevin Phillips
Having played in these kind of cup ties for 20 years, I can tell you it's a culmination of things that ultimately lead to failure.
First and foremost you have to match people for work rate - no matter what game you play in you should always give 100% and if you're not prepared to work hard and do things right then you'll come unstuck.
Once you've done that, your ability will shine through but if your attitude isn't right and you think the tie is easier than it is you'll get found out.
Similarly, some players might feel aggrieved their not starting in the first team games in the Premier League and wonder why they're only getting game time against lower-league opponents. If they're not up for the match and don't go into it with the right attitude and commitment they'll come unstuck.
The other side to it is thar the underdogs are fired up to get a big win. Playing a Premier League side means there's a big scalp available. Plus, the money for winning is big and can mean an awful lot to these teams that are perhaps struggling financially.
I went up against many lower league teams in my career and you can just feel it and sense they're up for the game. If you don't match that you're in trouble.
Of course, there are elements of luck involved and if the bigger teams take an early chance they'll often go on to win, as they should. But it's usually down to a mixture of other reasons, rather than bad fortune.
Re-focus
Our manager Nigel Pearson, like any manager who has just seen his Premier League team knocked out by lower league opposition, was disappointed to lose to Shrewsbury.
It could have been a different story – we had chances to score and it could have been a 4-4 draw with all the chances created – but we had a couple of players off their game and credit to Shrewsbury because they played extremely well and worked hard.
But, at the end of the day, we can't get too down about it because our priority is staying in the Premier League.
We've started fairly well in the league and we can't let a slip-up in the Capital One Cup de-rail our season this early on. We've got to learn from it, put it to one side and prepare for what is another huge game for us this weekend against Arsenal.
We're the home team on Sunday and the lads are looking forward to what should be another great atmosphere at the King Power Stadium.
Any team watching us frustrate Chelsea last Saturday will know they're going to be in for a game when they play us. And we know we're going to have to work like that week-in, week-out this season.
But we also showed we have players in the team that can give us a bit of magic - which could potentially be match-winning - and we showed in spells at Chelsea that we have pace and creativity.
It's just about taking your chances and hopefully we'll take them on Sunday. 
Super Sunday: Leicester v Arsenal, 3.30pm, Sky Sports 1 HD