Fantasy Football guide
Pre-season is here, transfers are being completed and the Premier League kick-off is just weeks away - and the return of top flight action means Sky Sports Fantasy Football is back. Here Tim Clement gives you a handy step-by-step guide to creating your team...
By Tim Clement
Last Updated: 06/08/11 12:48pm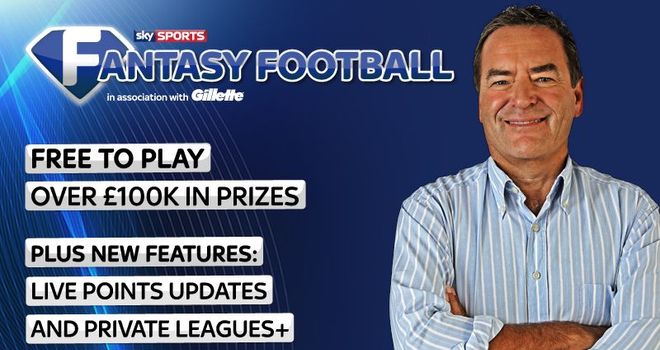 Whether you just want to pick your favourites or are planning to put on a strategic master class, our step-by-step guide will help you utilise the amount of talent available for your £75million.
Here are some handy hints on maximising your Fantasy Football transfer budget
Transfers
You've got 30 transfers to use throughout the season with a maximum of five per month so plenty of chances to drop those who are scoring low. While it's worth making changes after the opening weeks if it becomes clear some of your players are out of favour, don't blow all your changes too early as you never know when injury can strike. Transfers are also useful if an in-form team have got a particularly favourable run of fixtures or two fixtures in one game week. Your changes are unlimited before the first ball is kicked so tinker away until August 13.
Captain
Unlike the real game where armband swapping normally results in dummies being spat, in Fantasy Football you can change your captain all you like. It is worth studying the form of your players and their next opponents as the double points your skipper picks up can make the difference between a good week and a great one.
Formation
You can either park the bus or go all out attack with a choice of formations. You can go 4-4-2, 4-3-3, 5-3-2, 3-5-2 or 4-5-1 by just selecting the relevant amount of players from each position, although it's worth bearing in mind you can only have two from each club.
Points scoring
First and foremost you want players that we be stalwarts on the team sheet as you don't get points if they don't play. Being in the starting XI earns you an instant 2 points with a substitute appearance delivering you 1.
You'll want to be all over the scoring charts as each goal earns you 5 points, while it may take a bit more research to work out who can earn you the 3 points for an assist and 5 for a man of the match award, as nominated by Skysports.com.
Disciplinary records are also key as a yellow card will cost you a point and a red three, while a missed penalty will also see your side deducted three points. For defenders and goalkeepers it's all about clean sheets with five points awarded for making the opposition draw blank and -1 for each goal conceded, while goalkeepers get another three for a saved or missed penalty. Sky Sports Fantasy Football now offers live points updates on match days so you can keep track of your team's progress.
Leagues
Barring the small matter of the £100k prize pot and an array of other prizes, Fantasy Football is all about proving your superior knowledge to friends and family. You can create a Private League or join others as you attempt to prove your worth, while you can now ensure your rivals put their money where their mouths are with Private League. Just set an entry fee, adjust your prizes structure, put a league name on it and get your invites out. You can also join one of the many public leagues to show the fantasy world what you're made of.
So there you have it, just pick the best players at the right time in the right formation and then sit back and wait for your £25,000 cheque in May.