Brits abroad
What was it like to play against George Best? How was Johnny Giles as a manager? Did Nobby Stiles like a laugh? Peter Beardsley tells Sky Sports about his time with Vancouver Whitecaps and Melbourne Knights
By Peter Fraser - Follow me on Twitter @SkySportsPeteF
Last Updated: 02/09/13 12:54pm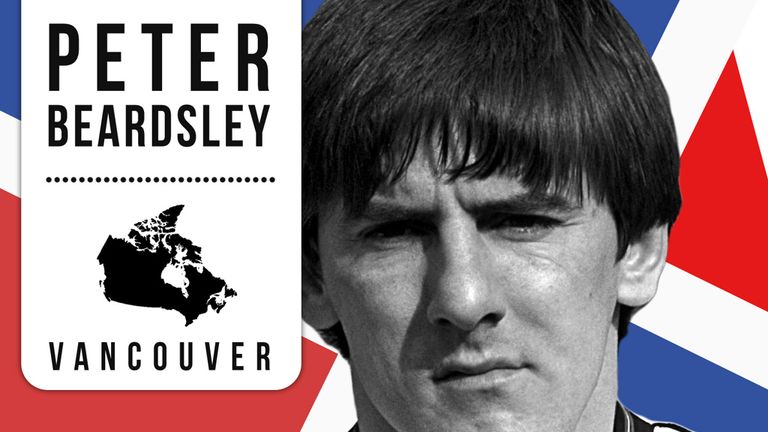 Peter Beardsley is perhaps best known for his huge success at Liverpool while also producing star performances for Everton and Newcastle United.
But, bookending his career, the North East local also spent time away from Britain when playing for Vancouver Whitecaps and, later, Melbourne Knights.
Here, former England international Beardsley - speaking on behalf of Capital One, the credit card company and sponsors of the League Cup - talks Sky Sports through a fantastic career and remembers going up against the likes of Johan Cruyff and George Best.
How did you end up moving to Vancouver in 1981?
I had just turned 20 and played in a game for Carlisle United. We played down at Brentford and big Ron 'Chopper' Harris was playing for them. Johnny Giles was the manager of Vancouver at the time and they were watching me play. Because I played well on that day, they came to watch me again. Vancouver then told me I was worth the risk and, because of that, I ended up going to Vancouver. I had got married a few days before I moved and so was really lucky to have my wife with me. We all lived in an apartment block with some of the other players.
What was Johnny Giles like as a manager? You must have learned a lot from him at such a young age?
I learned so much from him, absolutely. He was fantastic. He was really good and calm. The way he spoke to people and the way he coached, he was top class.
Former England international Alan Ball and your future Liverpool team-mate, Bruce Grobbelaar, are among some of Vancouver's other famous players. Were you there at the same time?
No, I just missed them. They had been there the year before when they won the Soccer Bowl. But, in my time, Peter Lorimer was at Vancouver as a player-coach. Nobby Stiles ran the reserve team. David Harvey was the goalkeeper. Terry Yorath was also playing. There were a lot of ex-England and Leeds United players. They were brilliant times.
Did you and Bruce Grobbelaar reminisce about your separate experiences at Vancouver when you were eventually both at Liverpool?
Absolutely. We talked about the great city and great people. There were a lot of English expats in Vancouver.
What were your first impressions of the North American Soccer League and what was the standard of football?
I was lucky. I was there at the time when George Best was in America and playing for San Jose Earthquakes. Johan Cruyff was also with Washington Diplomats. Franz Beckenbauer was also about at that time. The league was thriving, the standard of football was great and we were playing in front of big crowds. But Vancouver was not like England or Europe at that time and there was not much going on off the field. There was not the off-field banter. Peter Lorimer and Terry Yorath and people like that were calm. They had all their dodgy days!
Are there any particular games which stand out in your memory?
I scored a hat-trick against San Jose when Bestie was playing for them. Bestie thought I was Canadian! I do not mean that in a micky-taking way. But he had never heard of me. He spoke to me after the game and asked, 'where in Canada are you from?'. I said, 'I'm from Newcastle!'. Bestie then spoke to Manchester United and recommended me to them in 1982.
But it did not really work out for you at Manchester United and you went back to Vancouver in 1983. What happened?
I was not good enough for Manchester United. It was no problem. It was one of those things. I did not hesitate in going back to Vancouver for a second time and had a great few years with them overall.
You also had another spell abroad at the end of your playing career when you joined Australian side Melbourne Knights in 1999. Why did you make that decision?
That was just for two games. The manager asked me if I would go and play two games. It was brilliant. I really enjoyed it and Australia is a lovely country. The football was not Premier League standard but it was decent. I had a great time and played tennis. I also went to watch sport at the Melbourne Cricket Ground and went to the Australian Formula 1 Grand Prix.
So would you recommend others go to play football in North America and Australia?
One hundred per cent.
Peter Beardsley was speaking on behalf of Capital One, the credit card company and sponsors of the League Cup