When Saturday comes
As the end of the first month of the new season approaches, how have Chelsea's Jose Mourinho & Everton's Roberto Martinez responded to their new managerial roles? Ahead of this weekend's match on Saturday Night Football, Peter Fraser takes a look
By Peter Fraser - Follow me on Twitter @SkySportsPeteF
Last Updated: 13/09/13 12:45pm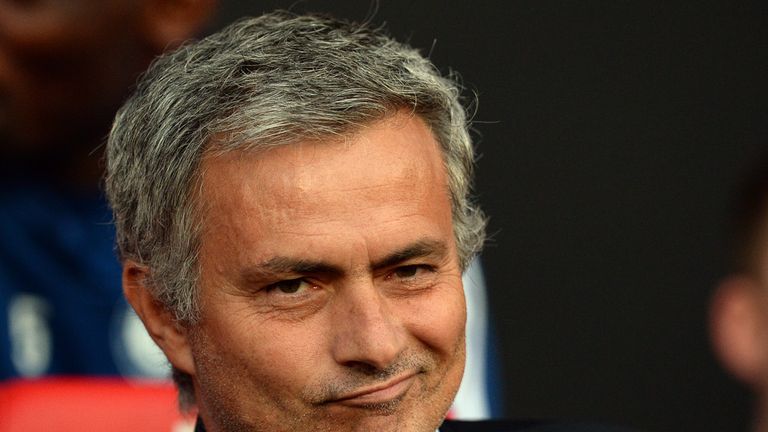 "I am the same person," said Jose Mourinho in June in his first press conference following his return to Chelsea. "I have the same heart and the same kind of emotions related to my passion for football and my job. But I am of course a different person."
It had been almost six years since the Portuguese left his first reign at Stamford Bridge, which included five trophies plus a Charity Shield in just three years, but he returned amid a fanfare over the course of this summer.
At the same time, but far more quietly, Roberto Martinez left FA Cup winners Wigan Athletic to begin a new era in his personal career at Everton. The pressure upon the Spaniard has been high and he asked for that precious footballing commodity of time in succeeding the Manchester United-bound David Moyes.
The big question was whether both Mourinho, back at his spiritual home, and Martinez, making a step up to a higher level, could adapt. Their attitudes, working relationships and influences on the field have all been under scrutiny in the first month of the new Premier League season. Here, ahead of Chelsea's trip to Everton on Saturday evening - which can be seen live on Sky Sports 1HD and 3D, we examine some of the challenges.
Happy Homes?
Mourinho had the distinct advantage of returning to Chelsea, where he is considered little short of a god. His return was always going to be the new start of an old love affair and it was an even sweeter reunion given it followed the unpopular, but successful, interim tenure of Rafa Benitez.
If you believed the rumours, Mourinho had also mellowed from the dashing, self-anointed 'Special One' who first swaggered into Chelsea in 2004. That was necessary to appease club owner Roman Abramovich and settle in a Premier League landscape which has shifted since he was last managing in England.
So far, it appears Mourinho, who claims to now be the 'Happy One', is working diplomatically to keep all on side at Stamford Bridge from the boardroom to the dressing room and the technical area to the terraces. But his sour reaction to losing the Super Cup to Bayern Munich, and long-standing rival Pep Guardiola, would suggest that ego, which has won seven league championships in four different countries, two UEFA Champions League titles, one UEFA Cup and 10 other trophies, is still simmering just under the surface if and when anything goes wrong.
Martinez, meanwhile, always split opinions during his time with Wigan. Some thought he was a master of the coaching art while others questioned whether a few narrow escapes from relegation before ultimately suffering the drop last season were statistics which spoke for themselves. His ability to step up at Everton was therefore, in some quarters, viewed as a gamble.
But the Spaniard has a knack of saying the right thing, which is why he has always proved so popular at his previous clubs, and he has earned the respect of Everton's fans in his existing short reign.
Filling the shoes of Moyes was one of Martinez's biggest tasks but, although Everton's former boss spent more than a decade at Goodison Park, the Scot did not enjoy unwavering popularity due to his failure to win a trophy or the shortcomings at some of the Premier League's big boys.
On The Pitch
The classic Mourinho formation in his first spell as Chelsea manager was for a 4-3-3 line-up of power and pragmatism. Since his return, he has embraced the flexible 4-2-3-1 and has not been afraid to make bold decisions after taking seven points from three games.
One such example came in late August's trip to Manchester United, where strikers Fernando Torres, Romelu Lukaku and Demba Ba were either on the bench or not involved as Andre Schurrle started as the leading front-man. It was a surprise selection but Chelsea achieved their objective of avoiding defeat.
Juan Mata, Chelsea's Player of the Year in 2012 and 2013, has astonishingly played just 65 minutes as the attacking trio of Eden Hazard, Oscar and Kevin De Bruyne have been preferred. But the evidence after three games that Chelsea have played the third most passes (1676) while at the same time playing the fewest amount of long balls (148) among the top five passers in the Premier League is a pointer to the attempt to embrace the Barcelona-esque style which Abramovich craves.
Team
Passes
Possession
Passing Accuracy
Passing Accuracy Own Half
Long Passes
Manchester City
1831
63.88
87.06
94.68
149
Swansea City
1682
54.82
86.86
93.56
168
Chelsea
1676
54.83
85.5
94.63
148
Everton
1556
64.11
85.93
92.51
175
Manchester United
1499
52.58
83.26
91.64
192
Given that Everton boast the most possession (an average of 64.11 per cent) among the top five passers in the Premier League so far this season, it is clear Martinez is trying to make changes. Just three points from three games, three draws, is a disappointment but there are promising signs.
The sloppy goals conceded in the 2-2 draw at Norwich City on the opening day of the season were a hallmark of Martinez's Wigan days. But the difference in the stalemate with West Bromwich Albion proved to be Baggies goalkeeper Ben Foster as Everton racked up 22 shots. Another disappointing 0-0 draw followed at Cardiff City.
These are teams Everton should be beating if they want to keep a place in the Premier League's top six but Martinez is asking his side to play a more expansive, attacking style which will require a period of adaptation. The likes of new England international Ross Barkley, who is a perfect mould for the style of player favoured by Martinez, will likely become increasingly influential following Marouane Fellaini's move to United.
Who's The Boss?
Mourinho likes to have complete control over not just the make-up of his squad but also the running of the club. This was seen as one of the reasons in the previous breakdown in his relationship with Abramovich. The Russian was said to have been the man who signed Michael Ballack and Andriy Shevchenko against Mourinho's wishes and this led to friction.
The presence of technical director Michael Emenalo was also seen as something which Mourinho disliked. Reports suggested Emenalo offered his resignation over this summer in order to facilitate Mourinho's return but Abramovich swiftly turned it down. Chelsea chief executive Ron Gourlay is another highly influential figure at Stamford Bridge who has strong links with Abramovich. It was consequently questioned whether Mourinho would again not be allowed freedom in club matters.
The transfer market can be used as an early measure of this balance of power and the relationship between manager and the club's hierarchy in the context of whether Mourinho was allowed to sign the players he wanted. Although primary target Wayne Rooney was not brought in, Mourinho has said he is happy with his business in securing cover for all positions. Whether the likes of Willian are Mourinho or Abramovich signings is open to debate but the arrival of Samuel Eto'o, a favourite of the former, suggests there is currently a happy medium.
There is perhaps not a more passionate chairman in the Premier League than Bill Kenwright but he appears more than happy to leave decisions regarding football to his managers at Goodison Park.
Kenwright was confident at the time to give the inexperienced Moyes some room to operate following his arrival from Preston North End in 2002 and he seems to have the same faith in Martinez, who enjoys the extra benefit of having already managed in the Premier League.
The summer transfer deadline day was also an excellent indicator of manager and chairman working in harmony. James McCarthy from Wigan, Gareth Barry on loan from Manchester City and Lukaku on loan from Chelsea were all brought in to much praise.
Martinez will also have taken huge encouragement from the manner in which Kenwright and the club stood up to the advances of United and Moyes in refusing to sell Leighton Baines. It all points to a club in fine tune from top to bottom.
Everton v Chelsea is live on Sky Sports 1HD and 3D on Saturday from 5pm
Get £20 off your first bill when you upgrade to Sky Sports online