Kevin Davies, Guy Branston and Craig Mackail-Smith on goal-line technology
Kevin Davies, Guy Branston and Craig Mackail-Smith on how video technology is changing the game.
Last Updated: 22/11/13 4:00pm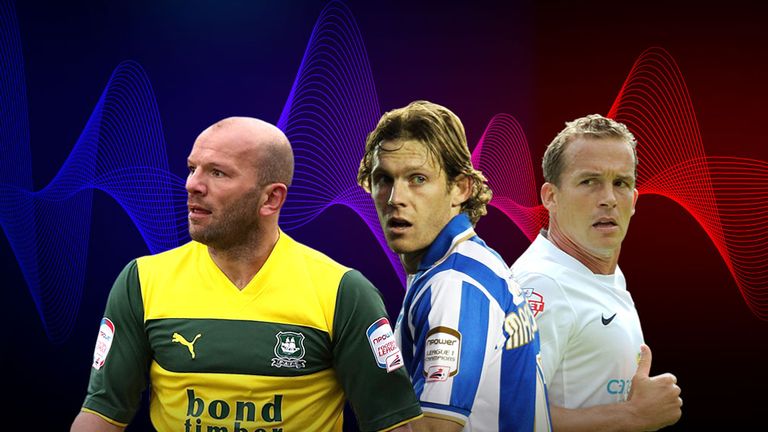 As well as a weekly blog from Crystal Palace striker Kevin Phillips, we will also be speaking to some seasoned campaigners in the Football League.
Preston frontman Kevin Davies and Plymouth defender Guy Branston - who all appear on Sky Sports News Radio's Football League Hour - will be chatting to us about all manner of footballing issues.
The England v Germany rivalry continued on Tuesday night at Wembley but there were none of the theatrics of the last time the pair met in the 2010 World Cup.
Back in South Africa, England were knocked out of the competition in controversial fashion after Frank Lampard's first-half 'goal' was disallowed for not crossing line - Lampard still admits he can't watch the footage back...
Four years on, if England would have had a shot on target they may have been able to make use of the newly installed goal-line technology, even if it felt a little 'too much, too late.'
With this mind we asked our Football League panel, joined by Brighton striker Craig Mackail-Smith this week, for their views on GLT and video refereeing.
CRAIG MACKAIL-SMITH
Thinking of it as a striker I would probably have to agree with goal-line technology because you just want the ball to be over the line, but I do think it takes some of the controversy and talking points away from football. You have great conversations in the pub after the games, or at home talking to people about whether the ball went in, whether it was a goal not and I think GLT takes these away.
It makes football too regulated. You want these talking points to have with your mates and those did/didn't it go in debates. It's a shame for me as a forward if the ball does go in and the goal isn't given but I just think it's more exciting without it.
It's frustrating if you're the team that aren't scoring if the goal has gone in because sometimes those goals can be very, very important and I think everyone will argue a different case - managers will probably say they love it and players not so much.
The other week when Brighton were playing Watford they had a chance and the ball crossed the line, but it was a split-second thing and you couldn't really tell live, but with the TV replays and the cameras which are situated around the ground you got a better view of it and you could see it was at least two, or three inches over the line. So, in that instance it was good for us that there isn't goal line technology in the Championship yet.
It's really difficult to justify whether video technology could be used in other parts of the game because the sport is so fast-flowing. In tennis and cricket it's kind of ball by ball so it's easier to use it but as football is moving so fast players and managers could be calling for incidents all the time and the game would be slowed down.
The fans want to see the fast attacks and breakaways and these controversies that football brings up because otherwise what have you got to talk about after the game? It will all become very robotic. You always want people talking about football, that's why everyone loves it so much.
KEVIN DAVIES
I've been on the receiving end of a decision that would have been different had goal-line technology been available.
When I was at Chesterfield we were in the semi-finals of the FA Cup back in 1997 against Middlesbrough and Jonathan Howard scored a goal which was way over the line. The linesman sort of flagged to give the goal but there was a major mix-up with the referee David Elleray.
That was a semi-final of an FA Cup, it doesn't get much bigger than that for Chesterfield - we were in League Two at the time and if that hadn't have happened we'd have been 3-1 up with about 10 minutes to go and could have made it to the final.
Every time the FA Cup comes round people are still talking about that Chesterfield game. At the end of the day it cost us a place in the FA Cup Final which would have been amazing but you look back and it will always be one of those talking points
I'm sort of on the fence with it on a whole though. Without it decisions become huge debate with fans in the pub and pundits on the television, but with what's at stake not only at the top but with relegation battles as well, wrong decisions can prove costly for a team and teams could go down.
In the Premier League it is especially hard to get back up after relegation; we've seen teams like Wolves drop down a couple of levels - what if that the first relegation had been on a goal that should have been given? There are such huge consequences for clubs now and it's the right thing to bring it in. Fortunately the technology is supposed to be very quick so it's not going to interfere like it does in American Football, where it takes far too long when it stops.
I think if it's there we should use it because it just takes any doubts away from the decision. It's so hard for a linesman to look right across because it's so far away and then in the Champions League they have these guys behind the line - I don't even know what they're doing!
But overall I'm in favour of goal line technology.
I'm fortunate enough to have spent a lot of time in the Premier League and they do always get things like this installed first and you can see the Championship and lower league teams not being treated the same way, but it is just as important for them to stay up as it is for teams to stay in the Premier League. The stakes are high for all the clubs up and down the leagues and there are a lot of financial implications.
I like the game the way it is but it's becoming increasingly harder for referees to get things right because of the speed of play and video technology can help that. You could argue that things like video reviews for penalties would add some drama to the game with the result coming up on the big screen and if it's going to go down that route like rugby they'll have to try and experiment with it somewhere and see how it works. I'm a bit old fashioned I suppose and I'm sure going down that route would work but I would like to see it trialled somewhere first.
GUY BRANSTON
There's been so many stories of 'did it cross the line, didn't it cross the line' - goal-line technology should have happened ages and ages ago and it doesn't take away any of the excitement of football, it's the right way to go and modern technology can dictate and help us make the game easier for referees and to watch as well. Modern technology should be embraced and I'm a big believer in that.
Frank Lampard's World Cup goal in 2010 should have stood against Germany. This should have happened ages ago, it's ridiculous that we have to speak about it in 2013 going in to the 2014 World Cup.
Supposedly the actual cost of installing GLT isn't expensive. It's basically a camera that watches a line followed by some information relayed to the referee then it's either a goal or not. There's not a massive amount of information that's needed or cost to the football club so with the pots of money that are around with the FA and the PFA I think that it should have happened a long time ago across all levels of football up and down the pyramid.
There are certain levels of video technology which I could see leading to clubs using as advertising space and making it more in the style of an American football match rather than an English football match. I think that penalty decisions are a referee's judgment and depend on how the game is flowing and he has to use his discretion to decide whether the lad did it or not. There are a lot of elements of diving around these days that referees have to deal with. But watching video evidence doesn't mean results; when you slow tackles down sometimes they look worse.
There are a lot of things you want to rule out the game but the basics of whether the ball crossed the line or not, is something that is easy to check. When you start asking various different questions within one video clip the game will really start to slow up and that's when video refereeing should not be used. So as much as I'm a big advocate of video technology, I think you should shut it out of certain areas that it could slow down the game and kill the natural flow of the football match.
Going against goal-line technology, West Brom had a goal disallowed when I played against them with Rotherham in 2002. Jordao scored a goal for them that would have meant they clinched promotion, or meant we didn't stay up in the Championship. We drew and that late strike was clearly over the line but we got away with it and we managed to stay up that season but it took West Brom another game to win the league - which was when they were promoted to the Premier League.
I remember walking out of the ground and the fans were banging on our cars and really having a go at us because they were really annoyed they hadn't had that goal allowed. If modern technology had have got hold of that then the situation would never have happened. That decision helped us so I'm happy it wasn't there in 2002.
Don't forget to tune in to the Football League Hour every Thursday night at 7pm on Sky Sports News Radio or download the podcast here