Craig Mackail-Smith, Kevin Davies and Guy Branston's footballing resolutions
Kevin Davies, Guy Branston and Craig Mackail-Smith share their New Year resolutions for 2014.
Last Updated: 06/01/14 8:48am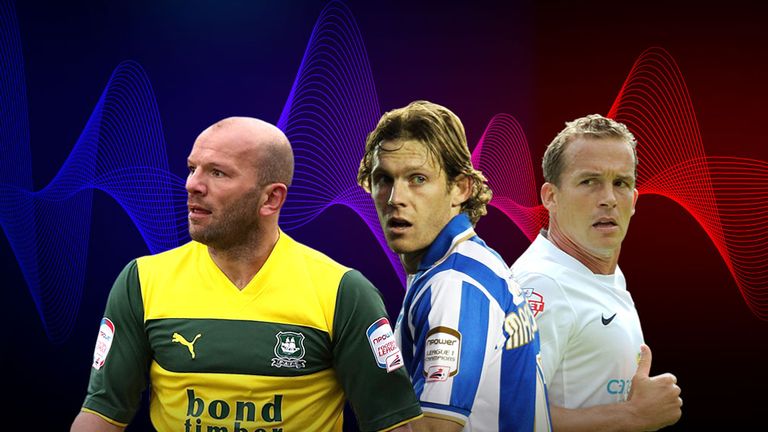 As well as a weekly blog from striker Kevin Phillips, we will also be speaking to some seasoned campaigners in the Football League.
Brighton striker Craig Mackail-Smith, Preston frontman Kevin Davies and Plymouth Argyle defender Guy Branston - who all appear on Sky Sports News Radio's Football League Hour - will be chatting to us about all manner of footballing issues.
Welcome to 2014, it's the start of a new year; a time to set goals and make your annual lifestyle changes. This week we've asked our Football League Bloggers to offer up their personal football resolutions, club challenges for 2014 and the changes they'd like to see in football as a whole - however crazy they might seem!
CRAIG MACKAIL-SMITH
ME: I want to stop taking football too seriously but also not take it for granted. My New Year's resolution is to go out and enjoy my football for the time I've got it. I'd always thought I wouldn't get injured and I'd carry on playing until I was however old but this injury has given me an insight and put it in to perspective that I might not always have football there and it can go with one tackle. Now I'm going to appreciate it a lot more, chill out and enjoy the fact that I'm lucky enough to play football every day for my job.
BRIGHTON: I think our New Year resolution would be to improve our home form. Our away form has been very good but our away form is letting us down at the moment and of course, we also want to get promoted; that's the aim of the club, we want to get in to the Premier League and we're working towards that and striving for it. There are a few of our players being linked with moves in January, such as Liam Bridcutt and Will Buckley with Sunderland and our former boss Gus Poyet who manages there now. Obviously as a team we'd love to keep them because they're quality players but for them to play in the Premier League with a club like Sunderland is a massive opportunity and I think if they do go everyone at the club and all the boys would wish them well.
FOOTBALL: It would be a pipe dream, but no games would end in a draw and you'd have to have a winner - it would either have to go to extra time or penalties. It would make games more interesting, there would be no playing for a boring draw, everyone would have to go all out and it would make it exciting and there'd be a lot more attacking football and a lot more goals. Obviously games are tactical and managers set up to get draws sometimes but if a rule like this came in you'd have to think about things completely differently and it would make it a lot more exciting for the fans - though it would never actually happen!
KEVIN DAVIES
ME: I don't really set myself goals on New Year's Day or anything but I'll just weigh up where we are as a team and how we're performing and how we can get better. Another game comes so quickly and you've just got to get on with it. I'm not one for resolutions I just try and do things right throughout the year.
PRESTON: I don't think we need to make too many changes. I'm not sure whether the manager will bring anyone in during the transfer window but he seems pretty happy with the squad. There will obviously be one or two players that will go out on the loan for the rest of the season but as a club we're happy where we are and we've just got to make sure we keep motivated and stick together. There's positivity around the team and energy because of where we are in the league and I think everyone is now looking forward to the run in.
FOOTBALL: I'm pretty happy with the state of the game. There does seem to be lot of controversy surrounding referees at the moment. There's this grey area where nobody knows what they're allowed to say about referees and they in turn don't come out and say they've made a mistake. Everyone loves to have a moan about them and I've done it a lot over my career but they have a hard job because the game is so quick and manager's complaining about things just seem to go on and on and I just think it's something that should be cleared up as quickly as possible.
Players and managers make plenty of errors but it doesn't go on for days and I just don't like listening to all the complaints about decisions. I don't know whether they could draw something up where it's cleared up that you have to just move on. Whether Mike Riley has to come out on a Monday and say 'yep, we made a mistake let's move on', it all just goes on for too long.
GUY BRANSTON
ME: I just want to keep going on with my career if I'm honest. I've had a fantastic time and I'll be starting the new year with a bang and getting out there and playing and being the force that I can be within my team and the environment that I'm in whatever level I may play at. I'm not asking for much, just to be healthy and fit and be happy. I'm happy deep down and even though everyone has their own little issues and problems within their lives you have to look at the bigger picture and we're in great position in this country to do well if you work hard enough. I'm very positive and I'm just going to carry on and keep building for my future.
PLYMOUTH: If I had to give Plymouth a New Year's resolution it would be for us to have a tiny bit more belief, I think that would make us a top ten team. We're not unconfident but to get to the next level I think you've really got to believe it, it's got to be within your psyche, your DNA to really kick on and to be a team that can be fantastic and can be a real force in this division. We're not far away and I've been harping on all season that we're not a millions miles away from being a really good squad and a really good team to challenge this division. We've got players coming back fit and why not believe that we can make 2014 a year to look forward to and really enjoy.
FOOTBALL: I'd like for the game to flow a bit more. I think referees stop the game a bit too much for my liking. I think the game should stop when it's time to stop and referees should deal with bookings afterwards. I know there is a lot to think about, referees do a fantastic job and I wouldn't want to be one personally but I just think as a player you want the game to flow because that's what you've built up all week for. I know they've got to conduct themselves in the right manner - which they always do anyway - and it's a fantastically hard job but if they let it flow a bit more and stop this stopping for every minor issue then the game would be slightly better.
Don't forget to tune in to the Football League Hour every Thursday night at 7pm on Sky Sports News Radio or download the podcast here