Would Jerome Champagne's new rules be good for the game? Craig Mackail-Smith, Kevin Davies and Guy Branston give their views
Craig Mackail-Smith, Kevin Davies and Guy Branston on Jerome Champagne's potential changes at FIFA.
Last Updated: 23/01/14 11:57am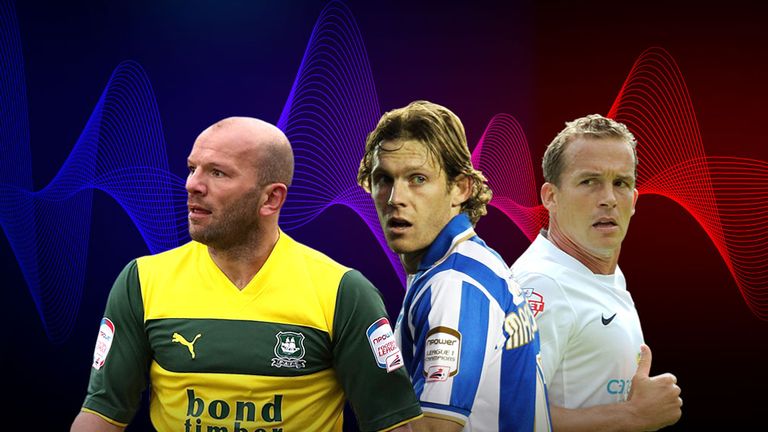 As well as a weekly blog from Leicester striker Kevin Phillips, we will also be speaking to some other seasoned campaigners in the Football League.
Brighton striker Craig Mackail-Smith, Preston frontman Kevin Davies and Plymouth Argyle defender Guy Branston - who all appear on Sky Sports News Radio's Football League Hour - will be chatting to us about all manner of footballing issues.
On Monday FIFA presidential candidate Jerome Champagne launched his bid to succeed Sepp Blatter at the helm of the football's world governing body with some strong ideas on rule changes he wants to implement in the game.
Champagne would like to see football embrace technology and copy many of the rules already used in Rugby Union to move the game forward including:
- Quotas on foreign players
- Only team captains are able to speak with referees
- Orange cards for sin-bin offences whereby players can be sent off the pitch for a short period of time
- Abolishing the 'triple punishment' where a player gives away a penalty, receives red card and a suspension
- More transparency within FIFA with salaries of the president and leading officials made public
With these in mind, we asked our trio from the Football League to give their views on whether the new rules would change the game at their level for the better and find out what they've been up to this week...
CRAIG MACKAIL-SMITH
If you play international football you tend to have a bit more contact with FIFA but playing in the Championship we don't have much interaction, we hear about these kind of things through the media.
It would be so difficult to implement a lot of the rules, especially the sin bin because football is so fast moving and end-to-end. Rugby is a lot more stop-start and I think a rule like this would be so hard to bring in; when will the referee allow players to come back on the pitch? They could end up waiting on the sidelines for ages waiting to get back in.
Then there's defining the rules of what offences account for the punishments; there's so much that would have to be discussed and clarified. I've never been sent off, I've only ever received yellow cards but a long time ago I was close to being sent off after two bad challenges and a yellow but the referee gave me a talking-to and I sorterd it.
I do think it would be pretty good for the captain to hold responsibility of talking to the referee because there have been many incidents where players surround refs and put them under huge amounts of pressure. It shouldn't be that players can run up to them in that kind of manor. Maybe it would help eradicate some of the poor decisions because the refs wouldn't feel that extra pressure.
When it comes to my injury I'm doing pretty well and I've been involved with a couple of first team training session now. I'm feeling good and it's been great to be back involved with the boys; I've missed the banter and the camaraderie. Now I'm looking to when I can play my first game with the youth team to get a few minutes under my belt.
The transfer window closes next week and a lot of our players at Brighton have been linked with big moves away. We're in a great position at the moment and it's going to be a really interesting week with the FA Cup on Saturday and Watford and Burnley away in the league. Everyone at the club is positive but obviously it is a distraction when clubs come in for your players, it turns heads when we want them to play as best as they can for us. But when Premier League clubs come in you know they want to go because they have the chance to play at the highest level.
KEVIN DAVIES
When it comes to FIFA, even as a player I don't think we know too much about them to honest. How they are run doesn't have much of an effect on our day-to-day lives. We listen and look to the FA if we have issues as a player.
I don't see how we could implement some of these rules in the game, though. Who decides what constitutes a yellow, orange or red card? What would be the difference between each of these cards?
We all know what warrants a yellow card and what warrants a red card, so for me following rugby along the lines of having a sin bin wouldn't work. I like the rules as they are, personally. If someone goes in a sin bin for 3-5 minutes their team are just going to sit behind the ball and defend for the duration and you don't want to see that in football, you want to see both sides attacking and 11 v 11 on the pitch.
At the weekend I scored Preston's 7,000th league goal against Coventry and was sent off. I was genuinely really shocked about the red card and I still only think it was a yellow card; there was no reaction from their bench or from the player and I think everyone in the stadium was surprised that the referee jumped to that decision so quickly. I'm disappointed because I'm now going to miss three games including our big FA Cup game against Nottingham Forest on Friday. If these rules were in place I'd definitely have taken the sin bin rather than sitting in the dressing room for the rest of the game!
Over the last year or two I think we've definitely seen a reduction in the amount of times players have crowded around referees over decisions. I believe that side of the game has really improved.
Referees can still work on things though; they don't seem to talk to players as much anymore and don't have that relationship they used to. It's become 'let me do my job and I'll let you do yours'. They could be a bit more interactive with us and tell us when we've made two or three mistimed tackles that we're on a warning.
The most frustrating thing is when you try to talk the referee and they just ignore you, that's when players get more and more frustrated with decisions going against them. Sometimes the referees have arrogance about them. Mark Halsey, though, trained with us at Bolton for years and was always a nice guy who would have a chat with you. You'd give him a bit of stick and he'd give back if you missed a chance.
GUY BRANSTON
If I'm honest I think the sin bin idea would be a stupid rule. All it does is open up the door for more finance and more advertisement. It would slow the game down and teams would just get behind the ball while the player is off the pitch. I think the game is absolutely fine as it is and all this from Champagne is just a ruse to raise his profile, to try and put out a system that's already been looked at years and years ago. It didn't work then so why would it work now?
You can't talk to referees now anyway. Referees are in their own little world when they're doing their job on the pitch and it's a hard job. I can't remember the last time I had a conversation with a referee; they make their decisions, they get on with it and run away from you when you try and talk to them. The communication between players and referees has always been terrible and it's something I believe is a good thing because the referee has to concentrate on the football.
Overall it seems that Champagne is making these statements to draw attention to his campaign. It's like when a new president or chairman comes in to a football club and he tries to sign a big player to make his name as the new guy. I don't understand why he wants to change the game that we've got because it's fantastic and the offside rule is hard enough to understand as it is, more rules will just make the job harder for the officials and the players.
This week I've picked up an injury which means I'm doing a lot of gym work at the moment and dealing with the hardship of being away from the lads and slogging it out in the gym - it's the boring side of football which we're not a big fan of; we all want to be out on the pitch playing. I've had to do a lot of work on the arm bike, so I'm literally peddling a bike with my arms - it's so boring and the worst thing.
I'm looking at getting in to wrestling next year to make the most of the frame I've got from lifting all these weights!
Don't forget to tune in to the Football League Hour every Thursday night at 7pm on Sky Sports News Radio or download the podcast here