Deadline day: Craig Mackail-Smith, Kevin Davies and Guy Branston tell us their transfer dramas
Craig Mackail-Smith, Kevin Davies and Guy Branston tell us their transfer deadline day dramas.
Last Updated: 30/01/14 10:32am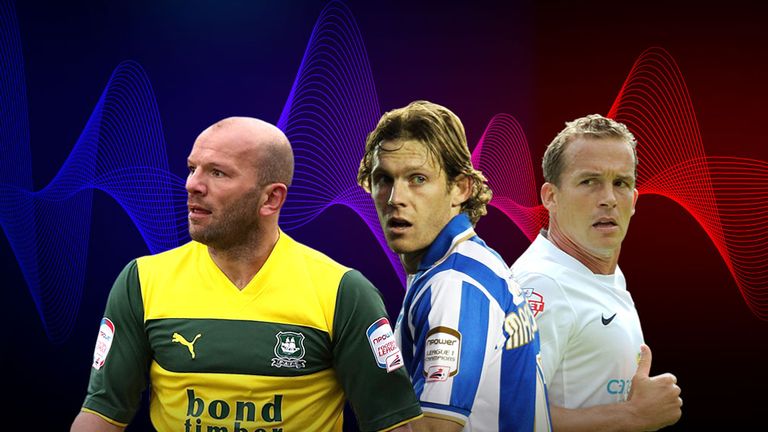 As well as a weekly blog from Leicester striker Kevin Phillips, we will also be speaking to some other seasoned campaigners in the Football League.
Brighton striker Craig Mackail-Smith, Preston frontman Kevin Davies and Plymouth Argyle defender Guy Branston - who all appear on Sky Sports News Radio's Football League Hour - will be chatting to us about all manner of footballing issues.
It's transfer deadline day this Friday and after a month of speculation, contract talks, transfer requests and interviews out of car windows; football celebrates one of the most exciting and maddest days in the calendar as clubs frantically try to sign players.
This week we asked our trio of bloggers about their craziest deadline day drama...
CRAIG MACKAIL-SMITH
I haven't had too many crazy deadline days, but there were a few when I was at Peterborough and people were linked with me. My agents had gone off and spoken to clubs but the deals never came to anything.
But the maddest event was probably in the loan window when I was going to go on loan to Reading from Peterborough and I got a phone call when I was on the motorway to say it had been cancelled and I had to come back! You have to do everything at the drop of a hat; you could be going somewhere and then you end up going somewhere else - it's a bit nuts!
If you've got no dependents or a girlfriend it's not too much trouble to uproot and move somewhere else. But when you've got kids, a partner or if you're settled in a certain area then you need to look at what's best for your family and whether it's financially better for you to move.
There are so many things you have to think about, it's not just sizing up the other team and getting up and going. It does get interesting when offers come in from all over the country and you have to work out whether it's worth financial sacrifice over family.
With my injury situation at the moment there's been no need to speak to my agent, we just chat about me getting fit and playing again. But normally, leading up to the window, they will call you and tell you who is interested in you and the closer it gets the more contact they start having with the club and discussing whether it's viable and obviously they get paid good money to get you to these clubs on good wages.
KEVIN DAVIES
I had a couple of crazy transfer deadline days towards the end of my time with Bolton. Two years ago it was well documented that Sunderland came in for me; an old friend of mine made me aware of their interest a few days before the window closed.
Martin O'Neill was the manager then and I'd had a couple of chats with him about why he wanted me which continued until the deadline morning. An agent turned up early and was keen to make the deal go through but I'd been at Bolton for eight and a half years, I was still the captain and we were fighting relegation. I was out of the team but I still felt part of it and it was one of those decisions where the agents were pushing for it.
I went in and spoke to my manager Owen Coyle early in the morning and I'd been advised to go in there and hand in a transfer request and beat down the door - but that just wasn't my style.
I'd been advised that on a few occasions to be honest and I don't think it's the right thing to do. It's better to go and speak to the manager face-to-face, man-up and have a discussion about it. This idea of players going on strike and refusing to play is cowardly, I think you need to go in and lay your cards on the table and if it's with advisors or just you and the manager, then fine.
Both parties knew where they stood and I had a good chat with Owen at the time and told him I wasn't in a good situation to discuss my contract because we were in a relegation fight.
I remember Martin O'Neill ringing up wondering what's going on and being worried that the deal wasn't going to happen. He was on my voicemail and it must have felt like we were using him for me to negotiate a new contract but we weren't; when you've got 5-6 months left on your contract you have to look at your options.
The conversation that I had with Owen made my mind up that I wanted to stay at Bolton and be captain of the club because I was proud to be that and I wanted to stay and fight to stay in the team and keep the team up, unfortunately we didn't but that's the decision I made.
It was hectic and I can understand why young players sometimes make decisions on the day, with the agents pushing and often not looking for the best option for the player, but luckily I was wise enough to know that and wasn't forced into pushing for that move.
The January transfer window can be used really well by young players for loan spells. While at Bolton we had Jack Wilshere, Daniel Sturridge and Benik Afobe join and they flourished from playing six months in the first team; they went back to their clubs as better players and went from being young men to real men.
If I was to advise young players I'd say 'if you find yourself in a squad that you're not involved with then you get the opportunity to get game time somewhere then use it. If a manager comes in and says he likes you, that gives you an opportunity to go and play'.
GUY BRANSTON
I had a crazy deadline day one summer. I got told to come into the office with the manager - this was in my non-league days when I'd not been signed up properly by the football club - and they wanted me to sign some paperwork before I left the football club.
Kettering asked me to sign a contract first to say I was registered with the football club even though I'd been playing all season for them and then leave for a transfer fee. It would have ended up costing Torquay whatever amount they would have paid for me, but If I didn't register with Kettering I would have gone to Torquay on a free, so when my agent and I found out the contract stipulations I just walked out the office and started driving to Torquay!
But, as we were driving there - after borrowing some money off my mum for petrol - I got a phone call from Burton Albion to go and speak to them about a contract; I literally turned the car around half-way to Torquay and signed for Burton on the same day.
It was a crazy day but a great opportunity to sign for a great club like Burton. It was weird, it wasn't quite an 'Odemwingie day' or anything like that but was definitely one to remember.
I've tried to explain moving clubs to my girlfriend and tell her 'it's all at the drop of a hat.' It's a weird game football when it comes to job opportunities. It can come where you don't know where your next football club will be, but what a great way to live your life because it's so very exciting and there's never been a dull moment in the 20 years I've had, it's been up and down but the excitement outweigh the downs.
It's going to be hard to replace that buzz when I do finish but hopefully I've got a few more moves left in me yet.
Don't forget to tune in to the Football League Hour every Thursday night at 7pm on Sky Sports News Radio or download the podcast here