Craig Mackail-Smith, Kevin Davies and Guy Branston tell us their Wembley memories
Our FL72 bloggers tell us their Wembley memories ahead of this weekend's Capital One Cup Final.
Last Updated: 27/02/14 4:50pm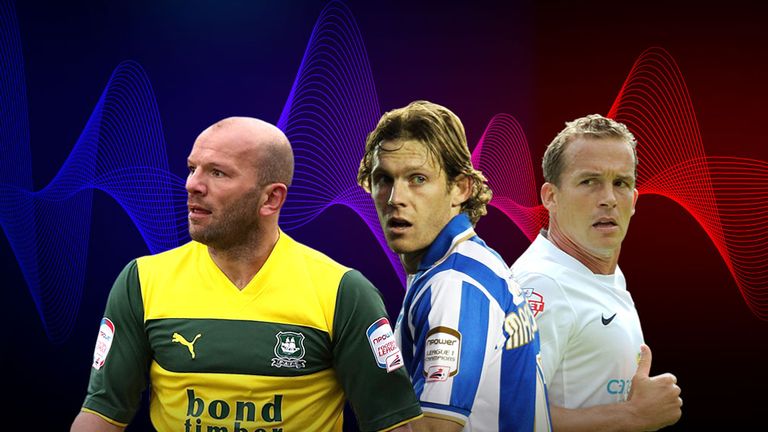 As well as a weekly blog from Leicester striker Kevin Phillips, we will also be speaking to some other seasoned campaigners in the Football League.
Brighton striker Craig Mackail-Smith, Preston frontman Kevin Davies and Plymouth Argyle defender Guy Branston - who will all appear on Sky Sports News Radio's new show FL72 Weekly - will be chatting to us about all manner of footballing issues.
Ahead of this weekend's Capital One Cup Final between Sunderland and Manchester City, we asked our trio of bloggers about their experiences of Wembley, from playing on the national stadium's well-groomed pitch, to watching classic finals on the telly, or walking towards the two towers of the old ground....
CRAIG MACKAIL-SMITH
I haven't played at Wembley before.
I was disappointed that the League One Play-Off Final I was in with Peterborough was held at Old Trafford because the Champions League final was due to be played at Wembley and they were protecting the pitch.
I also missed an England v Scotland game at the stadium because I was injured, so hopefully one day I will grace Wembley. Third time lucky maybe...
It's definitely something I've always dreamt about. You see the stadium on the television holding all the big finals and it's something as a player you want to do. The only opportunity you get to play at Wembley is in a final or for your country and that makes it even more special because it's so hard to do.
There have been plenty of fantastic games at Wembley but as I support Watford one memory that stands out for me is when Nicky Wright scored an amazing overhead kick against Bolton in the 1999 First Division Play-Off Final.
My old boss takes his team there this Sunday; Gus has done a fantastic job with Sunderland and if he were to come away with a victory in the Capital One Cup Final it would be a great motivation for his players knowing that they can beat a team like Man City.
It could propel them up the table.
KEVIN DAVIES
I've played at the old Wembley and won, lost with Bolton in the semi-final at the new one and made my England debut at the new Wembley, so two good memories out of three is not that bad I suppose!
I think my first real memory of going to Wembley was as a fan for the Sheffield derby in the FA Cup semi-final of 1993. It seemed like the whole of the Steel City had taken over North West London and I remember walking up towards the two towers - I just loved the old stadium.
I must have been about 12 or 13 when my Dad took me to see an England friendly at the old stadium and I remember walking up the steps to where we were sitting.
Seeing the view open up in front of me, it just looked huge and I got that shudder; the hairs on the back on my neck stood up and the feeling was amazing.
I got to play there a couple of years later with Chesterfield in the old Fourth Division Play-Off Final. I'd watched all those finals growing up and had been wishing I could get there and there was nowhere like that stadium in the world.
Then to the not-so-great times with Bolton's 2011 run. I remember beating Birmingham away in the quarter-finals in one of those games that had a bit of everything.
We knew if we won that game we'd get the chance to play at Wembley in the semis and I knew I was going to be the captain and lead the team out and hopefully go one better and get to the final.
I was so proud walking out, to get the opportunity to get to a semi-final at Wembley made me very proud but it ended up being one of the worst games of my career - a 5-0 loss to Stoke.
It was demoralising and I went through so many emotions - embarrassment, missed opportunities, knowing we'd let the fans down and missing out on another cup final at my age knowing I was running out of time to do it again.
I'd missed out with Southampton before when I was left out of the squad, I got to a semi-final with Chesterfield and we were robbed of the chance, and this was another of those big opportunities that passed me by.
Even now I've not watch the game back. It's unexplainable; I can't remember too much about what happened, it was a blur, the goals just seemed to fly in and we froze on the day. It was a massive let down.
Cup finals are always a great day; from getting the official programme, seeing the fans in full support but if you don't win it's just one big anti-climax.
GUY BRANSTON
Unfortunately I've never played at Wembley but I've been there enough as a fan - I watched Leicester in all their play-off games and in the League Cup final.
Playing at Wembley is something I've always aspired to; you want to play at the national stadium and do well, while I think every kid dreams of playing for England and I don't think there's anything wrong in striving for that.
I think I was 17/18 and was on tour with the youth with Leicester City and the first team were playing Crystal Palace in the 1996 Play-Off Final and we got to travel down - it was an unbelievable experience to watch the game.
I remember going once with my family to watch the 1993 Play-Off Final between Leicester and Swindon when Glenn Hoddle was managing.
I remember Julian Joachim scoring for us and Micky Hazard and Martin Ling playing for them. We ended up getting beat by a dodgy penalty in final minutes but it was a fantastic game.
I haven't been to the new Wembley yet but I'm looking to go to the England friendly against Denmark as a warm-up to my trip to Brazil this summer.
The old Wembley always had this fantastic atmosphere outside the ground and if I was at a Leicester Play-Off final we'd know everyone that was going; the faces from the town, the faces from the market where my family had a stall
It was a great occasion and you can understand why everyone always wants to get there early and take in the atmosphere.
Don't forget download FL72 Weekly every THURSDAY morning from skysports.com