Football League Bloggers: Craig Mackail-Smith, Kevin Davies and Guy Branston on foreign managers
Our FL72 bloggers talk foreign bosses, cultural differences and managing expectations.
Last Updated: 13/03/14 11:19am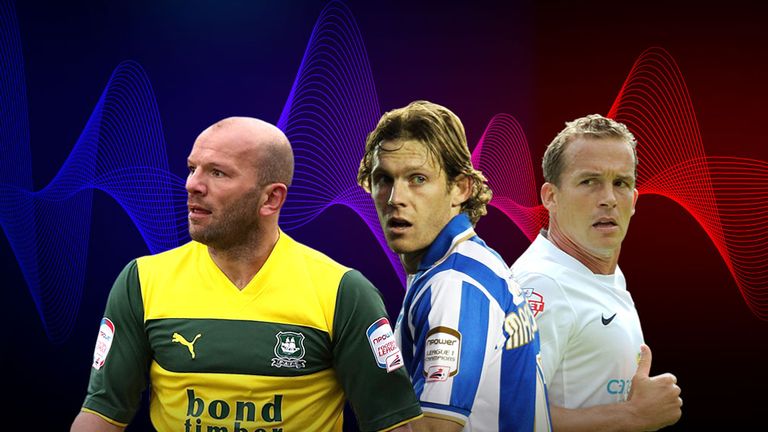 As well as a weekly blog from Leicester striker Kevin Phillips, we will also be speaking to some other seasoned campaigners in the Football League.
Brighton striker Craig Mackail-Smith, Preston frontman Kevin Davies and Plymouth defender Guy Branston - who will all appear on Sky Sports News Radio's new show FL72 Weekly - will be chatting to us about all manner of footballing issues.
This week Charlton sacked Chris Powell with the club struggling at the bottom of the Championship table, and new Addicks owner Roland Duchatelet moved quickly to appoint fellow Belgian, and former Standard Liege boss, Jose Riga.
So is the fashion for appointing foreign managers now increasingly filtering down from the Premier League into the Football League, and do players react differently to foreign managers?
Is it harder for foreign bosses to get to grips with different football and culture outside the top flight? And are foreign managers hampering the opportunities for young British bosses to work their way up the leagues?
We asked Mackail-Smith, Davies and Branston...
KEVIN DAVIES
I haven't played under any foreign managers in the Football League, but they can be very good and they have had a really positive impact on the English game.
For me, Arsene Wenger is the one that came to this country and made it more professional, and as professionals we have a lot to thank him for. He has been great for the English game.
Going back 20 years when I started, I loved my time with Chesterfield in League Two and League One but it was pretty much just the training. It was what it was because of the finances and so on. It worked because we got promotion, but it has all changed quite dramatically.
For foreign managers it possibly it takes them a while to adjust to the different football and culture in the Football League. But it is difficult for anyone and I don't think that it matters where you are from - whether you are foreign or British, it is an incredibly difficult job.
As player you have to adjust to that manager. He is the one who will pick you so you have to be intelligent enough to know it is different to something that you have had before and adjust.
It doesn't concern me that more foreign managers seem to be coming in. I think if you are good enough, then you can do the job. You have to make sure that you are prepared, do all the research and belief in yourself.
There are still some good young English and British managers coming through. Sean Dyche, a former team-mate of mine, is doing really well at Burnley, and I am on my A licence now and looking at different coaching styles.
For me personally, if I go into management, I will be thinking back to all the good managers that I worked under and decisions they made which I agreed with and didn't agree with.
It is a very, very difficult job with managers getting fired all the time. But you have to have belief in your own abilities. And if I go down that road I will do so with confidence and give it my best.
It is ruthless but everyone knows that and that certainly wouldn't put me off.
CRAIG MACKAIL-SMITH
Gus Poyet was in charge when I moved to Brighton, and it was a little different, coming from working under Darren Ferguson at Peterborough.
We were quite attacking at Peterborough and kept the ball a little bit, but we weren't as measured - we just went all-out to score more than the opposition.
Under Gus we passed the ball a lot more; we tried to move teams about, and tried to play our way through teams, and I think that's what foreign managers like to do. They like to get the ball down and play, with a style of play that makes teams move and creates chances.
It's very technical and there were a lot of sessions where we would go through patterns of play, and it didn't happen right away, especially before I was at Brighton. I think Gus took over when they were near the bottom of League One and it took them a year or so to understand the style of play he wanted.
Because I've worked with foreign managers and different styles of playing football, it's given me different views and different insights into the game.
Obviously everyone wants this free-flowing, Barcelona-style attacking football at their clubs - I think that's what people are looking for these managers to bring in. We've had that a little bit under Gus and Oscar Garcia, too, so I think it would stand me in good stead if I went into management.
I think the hardest thing for foreign managers is probably the language barrier. Of course most of the managers now do speak pretty good English - that's the most important thing for the manager, getting what you want across to the players who might not understand the concept.
At the moment it's the thing that's happening in English football, where foreign managers are the way forward, which you can understand because I think a lot of British managers might be a little bit behind the times with the way they play football.
Maybe in five or 10 years' time it'll completely change again and a different style of manager will come in. I think it's just the way football's going - it's always evolving, with new styles coming in.
GUY BRANSTON
I haven't actually worked for a foreign manager as they don't often come down to the lower leagues, but the Premier League and the Championship are so well publicised that they already know about the standards and the level of football from watching games on TV.
You look at the top level - arguably the best manager at the moment would be Jose Mourinho. He's able to manage around different countries because of his language skills.
But, of course, he can speak good English and get his point across. You've got to be able to speak English when dropping down into the lower leagues - so I think at this level you may as well hire someone British or certainly go with someone who already knows the standard at that level.
Signing a foreign manager is certainly the flavour of the month, but some fans seem to think they're going to be instant Mourinhos, and they actually come and get a harsh reality of how hard the English game is. It's a different style of play, it's a different game.
What disappoints me is some clubs will look anywhere other than people who've worked lower down, or younger managers who are in the lower leagues. If you're a Premier League chairman you ought to be looking at Eddie Howe or Sean Dyche. I don't think you need to look abroad.
Mark Yates has done a fantastic job at League Two level - why hasn't he been given an opportunity at League One? Obviously I'd love to be a football manager, but it's very hard if you haven't got the chance to step up because the foreign managers are always coming in.
Don't forget download FL72 Weekly every THURSDAY morning from skysports.com