Craig Mackail-Smith, Kevin Davies and Guy Branston on dressing room disasters
Our FL72 bloggers tell us what really goes on in the dressing room and whether they've thrown a punch.
Last Updated: 04/04/14 1:09pm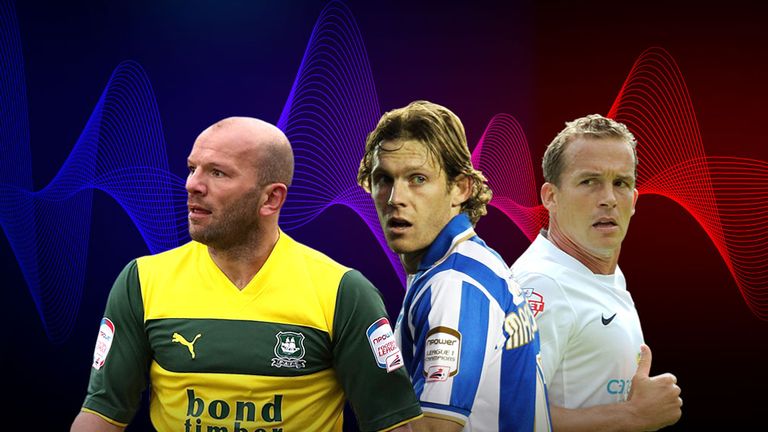 As well as a weekly blog from Leicester striker Kevin Phillips, we have been speaking to some other seasoned campaigners in the Football League.
Brighton striker Craig Mackail-Smith, Preston frontman Kevin Davies and former Plymouth defender Guy Branston - who will all appear on Sky Sports News Radio's new show FL72 Weekly - have been giving their insight on all manner of footballing issues.
Dressing room bust-ups were one of the themes of last weekend's Premier League action when West Brom players came to blows after their draw with Cardiff - and forward Saido Berahino came off worse for wear.
Then there were rumours of unrest in the Tottenham changing room after their 4-0 defeat to Liverpool at Anfield, although players have denied whispers on Twitter that manager Tim Sherwood punched one of his players.
To get an insight in to what really goes on backstage we've asked the men in the know. This week our Football League bloggers tell us their stories from the dressing room...
CRAIG MACKAIL-SMITH
I've seen people square up and push each other but I've never seen anyone throw a punch in the dressing room - but I can understand why it could happen because it does get very heated sometimes.
It's your living and you want to perform to your best and you want the team to do their best. It's like this at any level but in the Premier League there is so much at stake and for the Baggies every game is massive - and those two dropped points could be the difference between them staying up and getting relegated.
But even when a team is in a better position there will still be anger because there are always winners in the dressing room and they're not afraid to tell you if you're not doing it right.
When I was younger at St Albans, the manager came in and went absolutely ballistic at us and threw a white board across the room which ended up hitting me - it wasn't even me he was angry at!
I've also been hit by a rubbish bin being thrown as well; I think things just get attracted to me when it kicks off!
There's never really any grudges held the next day. I think everyone realises it's all been said in the heat of the moment and you all just want the best from and for your team mates. Any incidents with a team I've been involved with have never held over days or weeks, it's gets done and dusted pretty quickly, you move on and look to not make the same mistakes in the next game.
If there was physical violence you're probably going to get a fine from the manager. Things can't come to that it's a step too far. It's nice to see players showing passion and having arguments about situations but it's down to the manager to step in to give the final view.
KEVIN DAVIES
I've never seen a full-blown fight take place; there have been a few incidents but they normally stem from something on the training ground. I've never really seen anything that's been personal and come from off the pitch.
When things have happened in training once or twice it's followed in to the dressing room and there's probably been a couple that have had to be split up over my career but nothing too serious.
These things tend to happened quite a lot, you're talking weekly, where they'll be a few words said between players but generally, once you're back in the dressing room we have a laugh and a joke about it. We're just passionate about the game and we all want to win and I think sometimes managers like seeing that because it shows them that the players want it really badly.
I've seen plenty of exchanges between players and managers on the training ground, at half-time in games and after games - which tend to be quite heated with high emotions.
If a manager has had a pop at a player because he's cost them a goal, it's not always a wise move for the player to stand up for himself and answer back. Even if you think he's wrong he's the manager and you have to calm down and knock on his door on the Monday morning to speak one-on-one.
I've seen that happen plenty of times and it's often when the pressure is on. If it's a big game, or a relegation battle. things tend to happen whereas when you're doing well everyone is happy.
When incidents do arise the last thing you want is for there to be a split in the dressing room and sometimes adversity can actually bring you closer together.
It's down to the manager to sort things. I've seen players end up being 'mushroomed' out of the squad and training with the youth team. These players that have had an opinion and squared up to their manager have ended up playing in the reserves, which is why when someone starts confronting the manger you'll see players hold him back and try and shut him up.
GUY BRANSTON
I've been in a few bust-ups with my team-mates; before and after games I've thrown a few punches and they've certainly thrown some at me.
I was once arguing on the pitch about positioning with a team-mate and it carried on into the dressing room. I didn't like the way he spoke to me so I punched him. To be fair, we kept a clean sheet in the second half so it was a worthy punch.
I've been pulled up by a few managers in the past for answering back and I also once kicked a manager's door down because he brought me off at half-time.
I was on loan at Rochdale and the gaffer told me to get changed because I was coming off. As he walked out the dressing room I went into his office and kicked his door off its hinges. He's telling me 'I've lost my head', and in perfect comedy-timing the door falls straight off and lands on the table and on top of all their computers and equipment.
The manager just looked at me and pointed at the table, then about a week or so later I was sent back to Peterborough.
It's not always like that, though, and I've seen it go both ways. I've seen the bad tension continue on to the training ground the following week; lads will come for you and I've carried it on as well. I've seen managers punish you but also pat you on the back for it.
While I was at Oldham I hit a team-mate, which is not the right thing to do, but at the time I didn't like the way he was speaking to me in front of the team and I wasn't having it. Afterwards I had a meeting with my manager and he told me he couldn't stand for these actions; but gave me a kind of a pat on the back for dispelling some of the nonsense that was going on in the dressing room and he ended up making me captain for quite a long time and we went on to have a very successful season.
During my time at Burton I threw a bottle of water at a team-mate because he started taking free-kicks in the dying minutes of a game - the guy had never taken one in a game before and didn't even practice them in training; we were losing 1-0 and he was wasting our chance to get a point. In the dressing room I was frustrated that we'd been beaten by Darlington, we started arguing and he started chirping up at me before I threw the bottle at him - the gaffer told me off for being frustrated, which in turn made me more frustrated.
But there are different managers, different characters and different people up and down the country. You learn from these experiences but if I'm being honest, I'd do it all again.
Don't forget download FL72 Weekly every THURSDAY morning from skysports.com