Craig Mackail-Smith, Kevin Davies and Guy Branston on how Ryan Giggs will pick up the dressing room
Our FL72 bloggers suggest what things would have been like in the Man Utd dressing room.
Last Updated: 24/04/14 2:03pm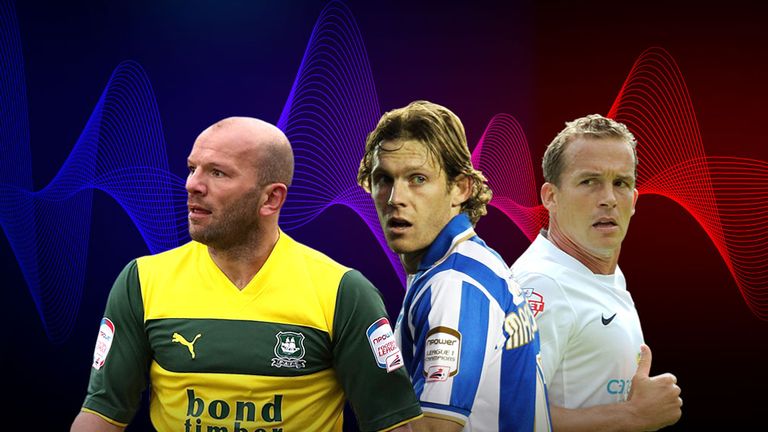 As well as a weekly blog from Leicester striker Kevin Phillips, we have been speaking to some other seasoned campaigners in the Football League.
Brighton frontman Craig Mackail-Smith, Preston striker Kevin Davies and former Plymouth defender Guy Branston - who all appear on Sky Sports News Radio's new show FL72 Weekly - have been giving us their insight on all manner of footballing issues.
This week, David Moyes was dismissed from his role at the helm of Manchester United just 10 months into his tenure. Now Ryan Giggs, who has made more than 900 appearances for the club, has taken over the reins as interim manager for the four remaining fixtures this season.
But how will Giggs make the transition from one of the lads to the man in charge? With rumours that Moyes had lost the dressing room, how do players act if they don't respect the boss? And what is it like on the inside when your gaffer gets the boot?
We asked the men in the know, our Football League bloggers...
CRAIG MACKAIL-SMITH
Ryan Giggs is a legend at Man United and he'll get great respect from the players and everyone else at the club.
I have experienced a manager losing the dressing room; at Peterborough we had four coaches in one season, it was a really funny time for us.
It is difficult to get everyone on board, especially at a big club like United where there are big characters and players that have been there a long time. If they're not on your side they can cause unrest and that often has an effect on younger players. Sometimes the only way you can deal with that situation is to ship out those destructive personalities and it looked like that was what was happening at United with Nemanja Vidic, Patrice Evra and Rio Ferdinand rumoured to be on their way.
It's quite similar to most work places and those players will have been questioning every decision Moyes made, wondering about the training sessions and moaning about them, then they'll have got into little arguments with the staff and the manager. You undermine him and that's not good for building a team and wanting to progress.
There was obviously a leak at Man United for all this to come out. At any club you have this sort of code to keep everything behind closed doors. You try not to let things out because you don't want anyone getting a sniff of what's going on and leaks can cause really big problems and make it harder for the manager to keep things under control.
Obviously, some players now and then stupidly write things on Twitter and sometimes that can lead to rows and big problems.
KEVIN DAVIES
I've been in a dressing room lost by a manager.
As a player you can see it coming. When everything is going well, you're challenging for trophies and winning there's never a problem but when the pressure is on it changes.
You can see the decisions being made and players will react when they don't go their way. This can have a knock-on effect around the dressing room, after training sessions and people will get annoyed if they've been left out the team because it's hard to understand.
From the outside looking in at Man United you can guess that is what happened for them. Moyes obviously went in and tried to do things his own way and I've seen that plenty of times before.
Ryan Giggs, who's got so much experience, would be someone the players turned to for advice and he would play the role of the buffer between the team and the manager when they don't agree on things, like travelling days for away games and Europe, or days off from training.
He's been there for the benefit of the team and I certainly had that role at Bolton. I would chat with a lot of the players about their worries and then go and speak to the manager in confidence and try and solve those issues; I think Giggs would have had a similar position.
Like Giggs, I've been taking my coaching badges. If I choose to take that path, the transition from player to coach shouldn't be too drastic. It's all about your personality which I wouldn't change; I'm a calm and quiet person. Garry Monk, a former team-mate of mine at Southampton, is doing a similar thing at Swansea at the moment. He's always had a great personality and got on with the players so he hasn't had to do much differently.
You have to manage and make tough decisions because that's what you're paid to do.
GUY BRANSTON
Ryan Giggs gets instant respect because he's played so many games for Man United and that's why it's a good appointment to steady the ship at Old Trafford.
I'm a big believer in taking someone that's respected and giving them the opportunity to be a caretaker manager. I'm sure he can be ruthless when he wants to be and I'm sure he can make the right the decisions, though I don't think it will stop the rot, such is the impact that Sir Alex Ferguson had.
I've played with a couple of player-managers and there's been plenty of coaches that have wanted to get involved; they've tried to still be a player when they should have stuck to the sidelines but others who have been great.
I imagine when Giggs took his first training session he'd have told his players that 'things have got to be better'. He'll also have probably said the things he didn't say when Moyes was around and ask those players to take responsibility and respect him as a coach not just a player because that's a very different mentality. Players will look at him differently instantly but they'll also look at him with respect because he's had the balls to do it.
He'll want to get amongst the lads and tell them to get on with it.
All players say they want to be a manager or a coach but when it comes to the crunch they don't do it. Giggsy has stepped up to the frame and said 'I'll do it'.
Don't forget download FL72 Weekly every THURSDAY morning from skysports.com