World Cup: Vincent Kompany believes Belgium can go all the way
Vincent Kompany says Belgium will embark on their World Cup quest believing that they can go all the way.
Last Updated: 06/06/14 11:11am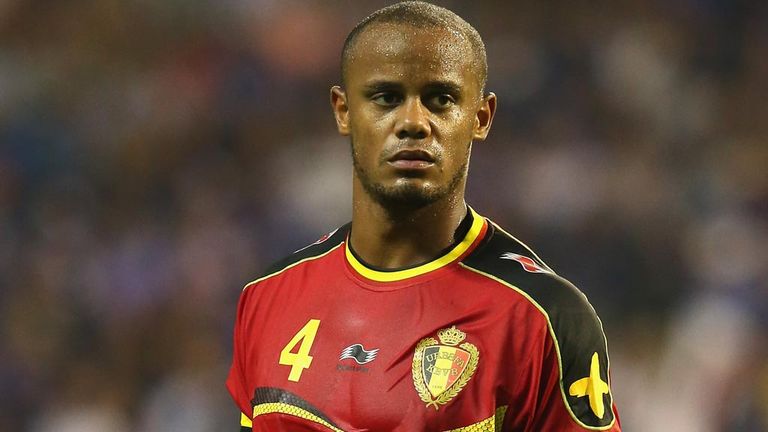 A nation that failed to qualify for the last five major international tournaments - two World Cups and three European Championships - has risen rapidly to the fore.
Belgium head to Brazil this summer considered by many to be serious contenders for the crown.
Kompany is aware that delivering on that expectation will not be easy, but a man who has enjoyed considerable success at domestic level with Manchester City feels anything is possible.
He told The Guardian: "I consider four or five countries favourites and then that's it.
"You have the usual suspects, the ones you think of off the top of your head. Then it's like, are we more favourite than Colombia? Are we more favourite than Uruguay? Are we more favourite than Chile?
"There are so many other teams that come into that category.
"If we do really well then we have a chance. If we just have a normal performance or a little bit less, we will be out of it really quickly.
"Realistically we are not the favourites, but in my mind every game I play, every competition I enter, I want to win it.
"Until it's proven otherwise I don't believe any other team is stronger than my team. On paper it is, but I try not to be realistic.
"Belgium thinks we are going to be world champions, so the pressure is not too bad."
Kompany added ahead of a campaign which begins in Group H alongside Algeria, Russia and South Korea: "All of a sudden we are really favourites in our group.
"I don't think we've been in a position like this before. We have always been the golden underdogs.
"We have a lot of responsibility - we have to get out of our group, although it will be tricky.
"Russia always turn up at big competitions, South Korea you could be surprised about the amount of players doing really well in their leagues at the moment, and Algeria is always going to be the unknown.
"We are careful, but at the same time we believe we can achieve a lot."