World Cup news: Marc Wilmots delighted to progress into quarter-finals
Last Updated: 02/07/14 10:35am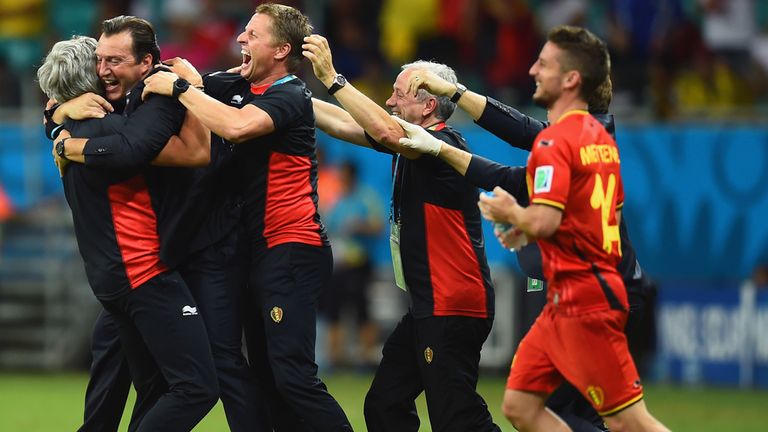 Belgium coach Marc Wilmots hailed his side after they overcame USA 2-1 after extra-time to book their place in the World Cup quarter-finals.
After a goalless 90 minutes on Tuesday night, the Red Devils took victory in extra-time with goals from Kevin de Bruyne and Romelu Lukaku, although Julian Green's volley made for a frantic finish in Salvador.
But despite needing extra-time, Wilmots was delighted with how his side played.
"We've seen a forward-thinking Belgium team. We had 27 shots on goal, the first came after the second minute and we didn't stop attacking for the remaining 118 minutes," said Wilmots.
"We had a lot of opportunities, and we dominated the game, and in the end it was well deserved even if it was scary with the US goal."
Wilmots was quick to pay tribute to the performance from USA.
"I want to congratulate Jurgen Klinsmann and the USA team, especially Tim Howard who had a fantastic game and I think we deserved to win," he said.
"We played football, we were brave and we pushed ourselves to the limits. Sometimes in games like that when you have so many chances and you are denied, the result doesn't go your way but we didn't stop believing.
"Now we have four days to prepare for the Argentina game, which isn't long. We're not favourites but we want to win."
He also heaped praise on subsitute Lukaku, who made a big difference late in the game - including grabbing the winner.
"Lukaku had been much criticised, and I told him, 'do not worry - the second round might be your day', and that's what happened," he said.