World Cup: Belgium skipper Vincent Kompany expects to build on quarter-final
Last Updated: 07/07/14 8:26pm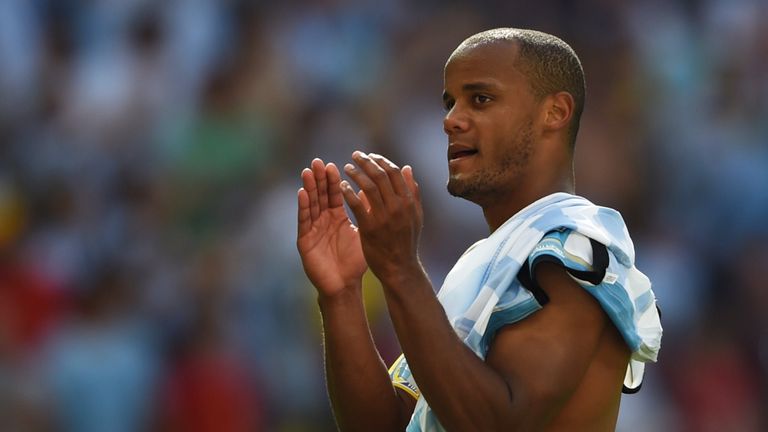 Belgium lost 1-0 to Argentina in their World Cup quarter-final on Saturday but captain Vincent Kompany thinks their young squad will get better and become even more formidable.
The Manchester City skipper says he will now take a short break before attempting to lead the Premier League champions to further silverware.
"I have to say congratulations to the whole (Belgium) team," said Kompany, who impressed at the heart of his nation's defence.
"We have some margins to improve and we will be a tough team to play against in the years to come."
Asked who he now wanted to win the tournament, he replied: "Any one of the City players! I think there are four left now.
"Brazil-Argentina would seem like a good final to me."
Kompany thinks Brazil has been a superb stage for this summer's event, adding: "If there is something I can take out of this World Cup, it is how much this country has proven that they could pull it off.
"So many people said it was going to be a disaster and people like to play up drama but I came here and everything was beyond my expectation.
"Most important of all, I think it was a really good advert for football, and everybody enjoyed it."
Kompany has had a long season and is now looking forward to a short period of time away from the game.
"I crave football, winning matches and trophies," he said. "Obviously, I play for a club where every year it is a possibility.
"But I started the season a bit early, because I wanted to be fit. So I started, maybe 28 June last year.
"So, I've been playing football for over a year. I think physically it is just a necessity to now have a couple of weeks off and enjoy some time with the family. They have had to go through a lot because we have been travelling so much.
"From then on, it is game on again. I will be as ready as ever to come back and try to improve where I can, try to have a better season if possible for my country and for my club.
"I'm always hungry for more."