Luis Suarez controversy: Psychologist says Uruguay and Liverpool striker needs counselling
Last Updated: 26/06/14 3:43pm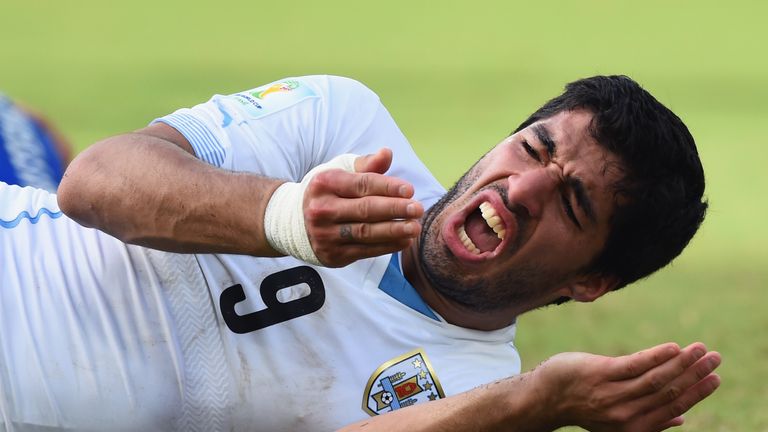 Luis Suarez needs counselling to deal with the pressure of top-level football and must learn to channel his energy in a positive way on the field, according to a leading psychologist.
FIFA has begun disciplinary proceedings against Suarez following his 79th-minute clash with Giorgio Chiellini in Uruguay's 1-0 World Cup win over Italy on Tuesday, when he appeared to sink his teeth into the Juventus defender.
The incident went unnoticed by referee Marco Rodriguez, but psychologist Sir Cary Cooper believes the Uruguayan clearly needs help to address his behavioural problems.
He told Sky Sports News: "Let's start from the beginning. He has only been accused of this and he has not been convicted of this yet, so I think it's really important that we get the facts on this. 
"If you're an athlete and you're all geared up and stressed out and really pumped up for something like the World Cup - the people who use that in a constructive way are the ones who are smart.
"In other words, they have the kind of passion, energy, excitement and aggression all built up inside them. But the really good athletes will make sure they channel it in a much more constructive positive way.
"The object of this exercise has to be to get the player who's doing this kind of anti-social behaviour to get them to channel the aggression, the passion and the energy in a more constructive way. That's the object of counselling."
If the allegation that Suarez bit Chiellini is proven, it would be the third incident of this nature that has tainted the Uruguayan's career.
Suarez was banned for seven games for biting PSV Eindhoven's Otman Bakkal while playing for Ajax in 2010 and 10 matches for biting Chelsea's Branislav Ivanovic at Anfield in April last year.
Cooper is unable to explain where such behaviour stems from, but says some form of counselling is the only thing that might be able to shed some light on Suarez's actions.
"I don't have a clue where it comes from. Nobody could until they are actually working with him," he said.
"The only person that would have a clue ultimately to get at that would be a counsellor or clinical psychologist who would able to explore where this kind of reactive behaviour comes from.
"You really should try and give him some help.
"If an individual, no matter who they are or whatever their occupation  - whether it's the media, whether it is an academe like me, or whether it's sport - has a problem and they show evidence that it is repeated several times, then you try to get some kind of help.
"You try and go to a proper clinical psychologist or counselling psychologist and get some help for it. Anger management, cognitive behaviour therapy... there's a whole variety of techniques that can be used to help people."
Cooper also expects Liverpool and England sports psychiatrist Dr Steve Peters to have a major role to play in helping Suarez.
"He'll do something because he is a psychiatrist and is trained as a clinician," Cooper said. "If Suarez is convicted, then I'm sure that Steve Peters will do something about it.
"He's professionally trained and he'll be able to sort it out, I'm sure."