Kevin Phillips
Football Expert & Columnist
Kevin Phillips blog: Leicester ready for Premier League kick-off
Foxes squad excited by Everton challenge
Last Updated: 14/08/14 6:24pm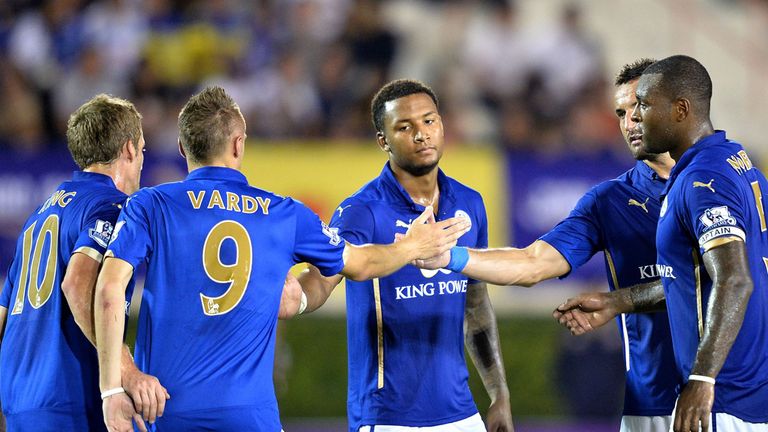 We're just days away from our return to the Premier League and the players at Leicester can't wait for 3pm on Saturday.
We've got Everton first up and it's got to the stage now where everyone in the squad is excited but eager to get out on the pitch and get stuck in.
In my first pre-season as a coach it's been interesting to see the other side of things and looking at the players from the sidelines they all seem sharp. If there are any nerves they aren't showing it!
We've left no stone unturned preparing for this opener with Everton.
Kevin Phillips
The nervous energy will probably kick in about an hour or so before the game and hopefully they'll channel that the right way and put in a good performance. But right now they're all just hungry to kick-off the new campaign.
We've left no stone unturned preparing for this opener with Everton.
While the previous weeks have all been about working on fitness and using the friendlies to build match sharpness, the past seven days have been spent getting ready to play Roberto Martinez's side.
Technical
We wrapped up our pre-season fixtures with a 1-0 win over Werder Bremen on Saturday – meaning we've gone undefeated in our seven friendlies, winning six of them – and used that game to look at the shapes, structures and positions players need to be in, which we think will work this season.
Then, on the training pitch this week, we've nailed down and fine-tuned the system we're going to play, how we're going to break them down, how we're going to defend set pieces and so on. It's been quite a technical week.
Obviously I don't want to give too many secrets away, but we'll go into the game knowing everything about Everton and nothing will be a major surprise to us. We've done our homework and worked on how we can beat them. Hopefully we'll now put it into the match situation and get a positive result.
It's been enjoyable from my point of view as a coach. Generally as a player you turn up for work, do your bit and go home. But as a coach you see what's going on before and after training, see what the sports science team are doing and how – like at all Premier League clubs – lots of different people contribute. It's interesting stuff.
But the most important thing is that come Saturday we'll be well prepared.
Start
Of course, getting a result this weekend isn't the be all and end all but, being the home team, we want to put in a good performance in front of our fans.
We've got a very tough start to the season, with games against Chelsea, Arsenal, Stoke and Manchester United after this one, so it's important we start strongly. But that's true of any league you play in at any level – everyone wants to get off to a good start and get points on the board.
It's not going to be easy but we're an unknown quantity in the Premier League and maybe we will take a few teams by surprise and catch a few teams off guard this season. We've certainly got the talent in our squad to do that.
We've got pace, we've got strength but we also have a lot of hunger. A lot of our players haven't experienced the Premier League before and they're really motivated. Hopefully that desire shines through and we can get a positive result this weekend.
I've been at clubs who stay in a hotel the night before a home game but at Leicester, just as we did last season, we'll report for the game at 1.15pm and the players, having eaten and prepared in the morning at home, will arrive ready to go. We'll have a meeting before the game and then go about our usual routines before kick-off.  
The only difference is this time the team will be running out in the Premier League. We can't wait.