Kevin Phillips
Football Expert & Columnist
Kevin Phillips: Leicester make promising start against 'very good' Everton
Wood's shooting practise pays off
Last Updated: 22/08/14 9:07am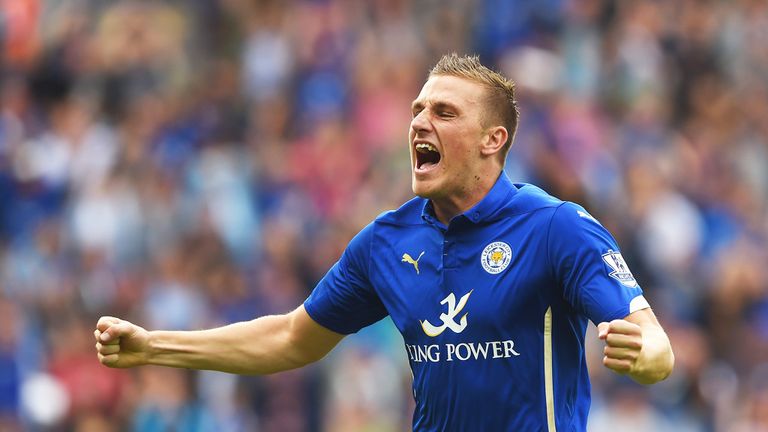 What a start to the season!
After all the build-up to the new campaign, it was great to finally get underway on Saturday and it was very satisfying to see the Leicester players put in a fantastic performance and get a  2-2 draw against a very, very good Everton side.
We'd been working on one-touch finishing in training and it was satisfying to see that pay off in the game.
Kevin Phillips
We could have won it, we could have lost it but in the end it was a fair result – and important for us, like any team, to get a point on the board early on. That's especially true for promoted teams. Although we're only one game down, it was nice to pick up the papers on Sunday and see us in mid-table!
Now I've crossed over to the other side to the coaching department you're always going to pick faults in the performance but I think it's important we don't go over the top. There are lots of positives we can take from that display – against a side I expect to be challenging for a top six spot come the end of the season.
It was particularly a good afternoon for Chris Wood, after a tough week for him. There had been a lot of speculation about whether he was or wasn't going to leave the club but he's decided to stay and fight for his place and you have to praise him for that.
To then step off the bench and score the equaliser with four minutes to go was a special moment for him.
I've worked closely with him since I've taken on this role and I said to him before he went on 'go out and show you deserve to be playing at this level – take your chance and make yourself a hero'.
He did just that with a clinical strike. We'd been working on one-touch finishing in training on the Friday and it was satisfying, as coach of the forwards, to see that pay off in the game.
Pressure
It was also good to see Leo Ulloa get off the mark, too. The club broke their transfer record to sign him from Brighton and that put pressure on his shoulders but he's managed to get his first goal of the season – and I know from being in that position how important that is. He can relax a little now and try to score more as the season goes on.
But this is a team game and I'm delighted for the whole squad, who all played their part. There's not been too much time for patting ourselves on the back, though - next up we've got Chelsea!
I don't think anyone was surprised by what we saw on Monday Night Football, when Chelsea bounced back from going a goal down to Burnley with three quick goals. We all know what top players Chelsea have got and they've added to that over the summer to make themselves even stronger.
They were certainly the most outstanding team of the opening weekend in terms of the way they moved the ball around, the chances they created and the goals they scored.
Burnley showed you can get at Chelsea in the first ten minutes but you have to be clever against them. If you try to go up against them for 90 minutes they'll eventually break you down. But if you defend well and get the balance right, who knows, you might be able to get a result.
I'm sure no one will give us a chance at Stamford Bridge on Saturday but we go there with bags of confidence after last weekend and we've got nothing to lose.