Brazil: Old and New
From generations past and present, Sky Sports asks Brazilian stars Fernandinho and Bebeto why they love the World Cup in exclusive interviews as we continue our countdown to kick-off...
By Peter Fraser and Adam Bate
Last Updated: 24/04/14 12:38pm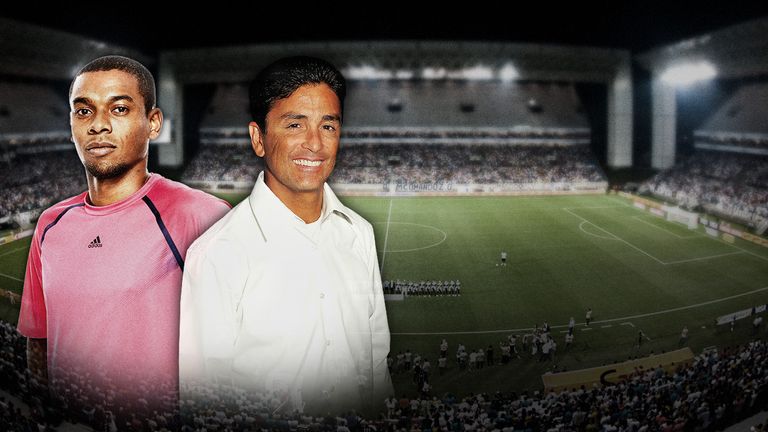 Brazil are the essence of the World Cup. Having been crowned the greatest football nation on the planet on five occasions, the South American country have an undisputed pedigree for producing some of the best players in the history of the Beautiful Game.
From all-time stars to a football-mad population the 2014 hosts are a reason why the world has such passion for the World Cup. But why do Brazilians themselves love sport's most prestigous tournament?
Sky Sports decided to ask an old and new football icon from the Samba kings to gain a full appreciation into the appetite and we were not disappointed with the response.
Bebeto became a global icon in playing in three World Cups from 1990 to 1998, with his best coming in 1994 when the striker, baby-cradling celebration and all, helped fire Brazil to their fourth title.
Manchester City midfielder Fernandinho will hope to follow in his compatriot's footsteps this summer after a fine season for his club which has shot him to prominence among some of football's most-talented players.
Here, we ask Fernandinho and Bebeto why they love the World Cup...
FERNANDINHO
I love the World Cup because...
"Everything stops in Brazil to watch a game. The World Cup is contagious for fans. I do not know what it is like in England but, in Brazil, everything stops. People stop. It is about watching the game."
My World Cup hero is...
"Brazil's old goalkeeper, Claudio Taffarel, in the 1994 World Cup. He outshone every other goalkeeper. I was a kid at that time and wanted to be a goalkeeper but my dad would not let me!"
The World Cup newcomer I tip to be a top player is...
"Neymar. He is the one I would bet on due to his great talent."
If I had to sum up the World Cup in one sentence I would say...
"It would be the best experience in my life to play in the World Cup but to also win, because there is no point in not winning."
Unlock the Game by wearing the adidas predator, a boot worn by Fernandinho. To join the conversation @adidasuk #unlockthegame. Visit adidas.com/football.
BEBETO
I love the World Cup because...
"It is my life! I had dreamed of being a football player since childhood and I achieved it. And anyone who plays football always wants to play for the Brazilian national team. I played in three World Cups, won titles defending my country and in the World Cup in '94, my son, Mattheus, was born. What a celebration! Representing my country was something amazing and exciting."
My World Cup hero is...
"Mario Zagallo. The only pentacampeão - five-time World Cup winner [two as player, one as manager, one as assistant and one as technical coordinator] - in the world."
In two decades' time the greatest difference in the World Cup will be...
"FIFA already has an established pattern and I do not think there should be many changes to the game. However, I feel the introduction of goal-line technology, to know exactly whether the ball went in or not, is a positive development. I also believe that increasingly the World Cup will take place in countries with little tradition in the sport in order to promote the game around the globe."
The World Cup newcomer I tip to be a top player is...
"We [Brazil] have some great young stars. I will cheer for Oscar, Neymar, Thiago Alcantara, Eden Hazard and Marco Reus."