A nation hopes
Brazil's talisman, Neymar, has the weight of the most football-obsessed nation on his slender shoulders heading into the 2014 World Cup in his homeland. We look at the immense levels of expectation
Last Updated: 12/06/14 8:33am
"The goal is to win the World Cup. We know that there is a tremendous amount of pressure, it's almost an obligation." - Neymar, November 2013.
It is difficult for anyone outside of Brazil to quantify just how heavy the burden lies on the country's players this summer, although Neymar's use of the word "obligation' comes someway close. It is not simply that supporters yearn for victory or even expect it. Instead, this is a simple demand for success.
It is the only thing that Brazilian football has lacked. They have won the World Cup on five occasions, more than any other country, and have been victorious in South America, Europe and Asia. The Copa America has also been won five times, victorious against Uruguay in the Maracana in 1989 to win the title in their own country, but missing from all these achievements is a home World Cup triumph. Of the eight winners of football's biggest prize, only Brazil and Spain have failed to do so in front of their own supporters.
Things are going well with Neymar. He has adapted very quickly and has been received well in the dressing room. He's a great guy and is very humble
Lionel Messi
They have come close, that much is certain. On 16th July 1950, 174,000 supporters packed into the Maracana in what was considered to be a foregone conclusion. Brazil were viewed as the greatest team in the world by a considerable distance, the likes of Ademir, Zizinho and Augusto seen as deities amongst mere mortals within their home country. Eight goals were scored in three group games before the Selecao hit top gear, scoring 13 times in their two matches prior to the final. Given the organisational sturcture of the tournament, the final game against Uruguay only needed to be drawn to ensure that the Jules Rimet trophy would be theirs for the first time.
On the day of the game, newspapers proclaimed Brazilian glory even before kick-off, and with an hour played Brazil had the lead. And then the unthinkable happened - Juan Schiaffino and Alcides Ghiggia scoring to give Uruguay the victory they needed to win the tournament. Sixty-four years later and still a country mourns, the only possible redemption being a July victory in the final, putting right the wrongs of more than half a century of hurt. Brazil would enter a euphoric state. That is quite the responsibility.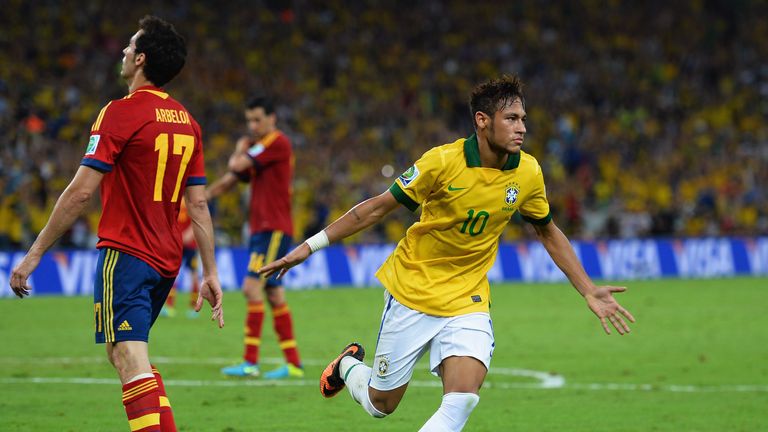 At the height of such pressure is Neymar himself. Football may be eternally viewed as a team sport, but this is more than just another player. Neymar is the leading light, the idol, the Next Big Thing and the saviour. And he is just 22 years old.
Brazil's No.10 shirt is one of sport's most iconic objects. Whilst with other countries it represents the playmaker role, for Brazil it simply signifies the most accomplished performer. Pele is the most obvious, arguably the greatest footballer there has ever been, whilst Kaka, Ronaldinho, Rai and Rivaldo have all aimed to be the standard bearers for Brazilian football's typical desire for skill, grace and élan.
The comparisons with Pele are unavoidable, if becoming dangerously clichéd. Both are products of Santos, holders of this iconic shirt number at a young age and tasked with taking their team to a generation of glory after a period in which it has fallen disappointingly short of expectation - after two World Cup wins and a final appearance between 1994 and 2002, there has since been not so much as a semi-final. Brazil is a country that demands footballing heroes - Pele and Neymar fit that bill perfectly.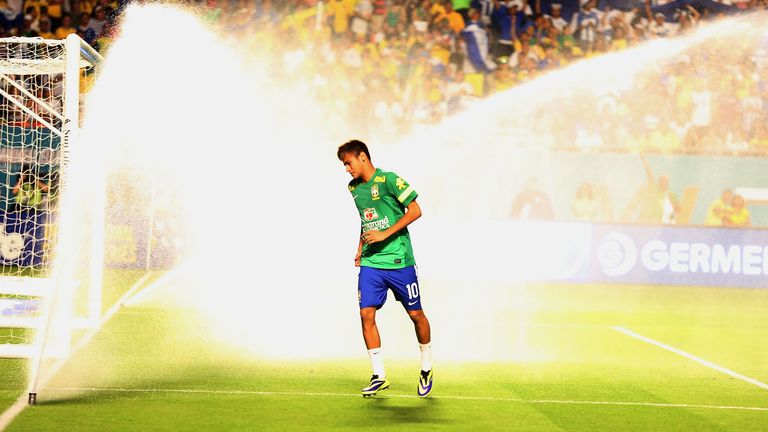 However, whilst Pele entered the World Cup of 1958 as a 17-year-old unknown quantity outside of Brazil, perhaps shielding him from much of the pressure of expectation, Neymar is not so fortunate. We live in the age of information, of Youtube and the Internet, where reputations and predictions of grandeur can be established before a player has yet made a first-team appearance.
Neymar will never be able to win the World Cup at 17, but no less an impact is expected by his adoring public. Pele himself has recently tried to lessen the weight upon the forward's shoulders, stating: "Everything is based around Neymar, but he is a player who does not have international experience. Everyone thinks he has to solve all of Brazil's problems but he is not prepared to carry that burden." It is clear that particular ship has already sailed.
In truth, there seems little reason to fear that Neymar will struggle to live up to the hype. He possesses tremendous pace, is remarkably strong on the ball considering his diminutive stature and has must be one of the most obviously skillful players in the world.
His goal record is not too bad either. Fourteen goals for Santos in his first season (when aged just 17) quickly became 42 in 60 appearances the following campaign, and in total he scored 136 times in 225 matches for the club, winning the Brazilian Golden Boot in three consecutive seasons and being voted the best player in the Copa Libertadores at the age of just 20.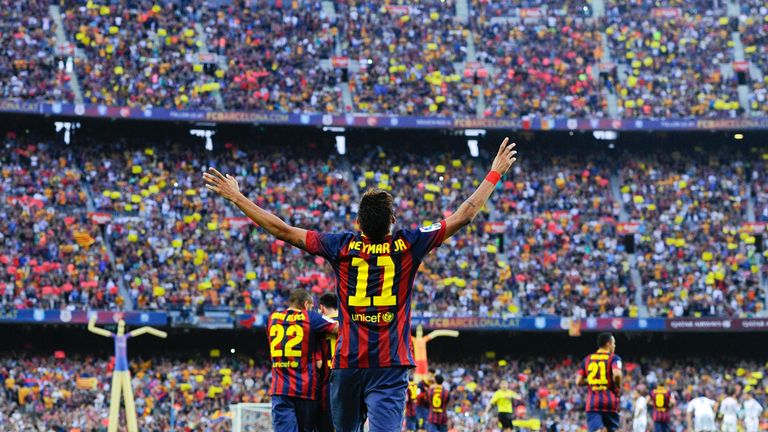 The big-money move to Europe came last summer in the form of Spanish giants Barcelona, where Neymar has done well despite frequent injury problems. Regardless of concerns about the Brazilian's ability to settle immediately into Barcelona's system (and the necessity to continuously pass the ball rather than go it alone), Neymar deserves immense credit for his seamless transition. He has provided 11 assists in La Liga and the Champions League from his position on the left of a front three, scoring 13 goals in his 28 starts thus far, including a hat-trick against Celtic. As the form of Barcelona under Tata Martino has dipped slightly of late so to has that of Neymar, but it is easy to forget that this is his first season in a new continent. Neymar deserves more patience than most.
Another nagging apprehension was the Brazilian's willingness to play second fiddle behind some of Europe and football's biggest stars after being so obviously the principal headline news in the Brazilian league, but Neymar has earned praise from Lionel Messi for his attitude. "Things are going well with Neymar," Messi said. "He has adapted very quickly and has been received well in the dressing room. He is a great guy and is very humble."
If Neymar has adapted well to his demands at club level, it is nothing compared to his performances when wearing the yellow of the Selecao. Last year's Confederations Cup was billed as the appetizer to this summer's World Cup, and whilst European and world champions Spain arrived as joint favourites, it was Neymar's name that was on the lips of every Brazilian fan, and every touch of the ball was greeted by squeals and screams of excitement.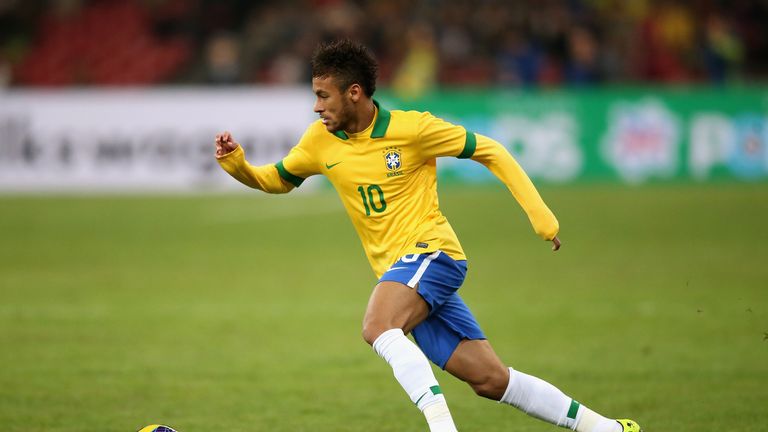 In 1958, I was only 17 and I played club football in only my country. Neymar is 22 and he has the experience of playing in Spain for one year. Times have changed now. It helps a player to adapt to different styles of football. I feel Neymar will be a better player following his stint with Barcelona. He has amazing talent
Pele
The forward did not disappoint. Awarded the famous No.10 shirt for the first time after switching from the No.11, Neymar marked the coming of age in remarkable fashion. He took less than three minutes of the opening game against Japan to run onto a knockdown from Fred and fire the ball into the top corner, also scoring in both of the other group matches against Mexico and Italy. The knockout stage brought a 2-1 semi-final victory over Uruguay before Neymar scored again in a 3-1 win over Spain in the final, a devastating display of counter-attacking football from the hosts. It was their greatest night since the Copa America win of 2007.
Whilst his four tournament goals was a total surpassed by both compatriot Fred and Fernando Torres, Neymar was awarded the Golden Ball for the best player of the tournament, having been named as the official man of the match in four out of Brazil's five matches. The star may have been born long previously, but it had shone at its brightest on the biggest stage. This now looked like the complete footballer.
If Pele has largely aimed to lessen the burden of responsibility upon the shoulders of his protégé, another of Brazil's greats rather failed to get the memo after Neymar's Confederation Cup exploits. "Give him two years at Barcelona. Then Neymar will surpass Messi and Ronaldo," was the rather ambitious claim from Cafu
It is hard to comprehend just how much Brazil needs success this summer. This is not simply about laying the ghosts of 1950 to rest (although that obviously plays a part), but amidst economic crises and unstable public mood, the government hopes that, once again, football can be the factor to unite a nation.
At the epicenter of such clamour stands a 22-year-old forward, with the No.10 on his back and the hopes of a nation on his shoulders. It would all be too much for many players but, in the case of Neymar da Silva Santos Júnior, you simply expect him to take it all in his stride. We may be about to witness the coronation of Brazil's new footballing hero.