'Thieves of Dreams'
It has not always been a tiki-taka tale of success for Spain. Gaizka Mendieta recalls the 'robbery' La Roja suffered at the hands of South Korea in 2002 when it seemed glory would always be out of reach...
By Interview by Peter Fraser - Follow on Twitter @PeteFraser_
Last Updated: 24/04/14 11:07am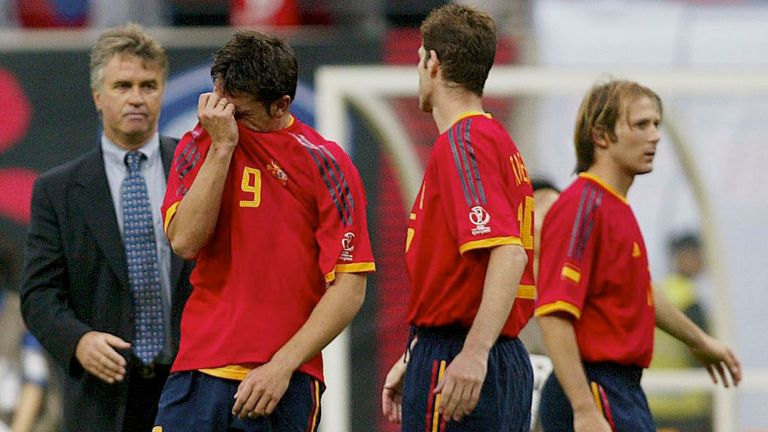 One of the abiding memories of the 2002 World Cup is of co-hosts South Korea's journey to the semi-finals. It was viewed as a football fairytale as the minnows upset more than one established superpower on their way to the last four before they were ultimately beaten by Germany.
But contrary to the achievements of Guus Hiddink's team a dozen years ago, there is always another side to the story.
Like Italy in the last 16, Spain were victims of South Korea's success. La Roja, managed at the time by Jose Antonio Camacho, suffered a surprise 5-3 defeat on penalties in the quarter-finals in an upset which sent shockwaves around the globe.
Spain had dominated the game with 17 shots to Korea's eight but were still the losers. It meant Spain's wait of 52 years to progress past the last-eight stage of a World Cup continued.
Having drawn 0-0 after extra-time, Spain's Joaquin - then a 21-year-old Real Betis winger - was the player who failed to convert his spot-kick in the shootout as his effort was saved by Korea goalkeeper Lee Woon Jae. It was harsh on Joaquin after his fine tournament and superb game, despite his tender age, but the youngster was not to become a scapegoat for the defeat.
The fury of Spain was instead directed at the referee on that day in Gwangju. The man in question was Egyptian Gamal Ghandour and his assistants, Ugandan Ali Tomusange and Trinidadian Michael Ragoonath.
"Thieves of dreams" screamed bestselling Spanish daily newspaper Marca regarding the match officials. The reason was that Korea, in a repeat of their victory over Italy, had, in the opinion of Spain, benefitted from what was perceived as dubious refereeing decisions.
The incidents which caused contention were, firstly, in normal time, what would have been an own goal by Kim Tae Young being disallowed. Much to Spanish disbelief, their captain, Fernando Hierro, had been judged guilty of pushing.
Secondly, in extra-time, a Fernando Morientes header was ruled out after it was decided Joaquin's cross had gone out of play, despite replays suggesting it seemed to stay on the field.
When they were then beaten on penalties, Spain were incensed.
Gaizka Mendieta was at the time a classy midfielder with Lazio and just a couple of years earlier he had been arguably the best player in Valencia's march to two successive UEFA Champions League finals in 2000 and 2001. He had started against South Africa in Spain's group stages in 2002, scoring in that 3-2 win which ensured Camacho's team finished top of Group B with a 100 per cent record. Mendieta also scored Spain's fifth and final penalty in trademark style in their shootout win over Republic of Ireland in the last 16.
The midfielder had not played when Spain had beaten Slovenia and Paraguay earlier in the group stages and only came on in the 70th minute against Korea but he shared his countrymen's rage at their eventual elimination. It was his pass which set up the move for Morientes' ruled out header and the loss still hurts.
"We felt like we were robbed," Mendieta told Sky Sports. "It had happened in the [Korea's] game before against Italy. I remember watching that game with the Spanish team in the room at our hotel and we could not believe what we were witnessing.
"When we went to play our game against them [Korea], obviously, we were prepared for the referee to make some mistakes but I think it was too far. The way we were knocked out was very painful. When you lose a game against someone who is better than you or if you are unlucky... I never like to blame referees but somehow everything was very suspicious."
Former Manchester United player Park Ji-Sung, then an emerging talent at PSV Eindhoven, had South Korea's best chance in the game, forcing a good save from Spain goalkeeper Iker Casillas. But Morientes' header has in the years since been the event which has been replayed the most around the world.
"That was one of the specific moments - how that cross from Joaquin [meant] the linesman put his flag up when that ball was a metre inside the pitch," said Mendieta. "It was something we could not believe was happening."
He added: "We played better than them [Korea] and sometimes, when you have more chances, you lose games like that. But when things like that are so clear, it really gets you."
Unfortunately for Joaquin, who would go on to join Valencia and Malaga and is now at Fiorentina, the youngster would be the player who missed the decisive fourth penalty, with Hong Myung-Bo then securing the win for Korea. But Mendieta does not attribute any blame to his former team-mate.
"He had a brilliant tournament after a very good season with Betis," remembered Mendieta of Joaquin. "Unluckily for him, he missed his penalty. But, in a way, that makes you stronger. You have to see it at that point of view and he took it that way. It is something you do not forget in your life but he was very good in that tournament."
The overall frustration for Mendieta remains the nature of the game against Korea before it reached the penalties. Perhaps all the more annoying for Spain was that many considered Germany as a beatable opponent in the semi-finals.
Spain would eventually banish their hoodoo of struggling to pass quarter-finals in some style at Euro 2008, the 2010 World Cup and Euro 2012, gloriously winning all three competitions, but it came too late for Mendieta, who played his last game for his country in a friendly against Bulgaria just four months after the 2002 World Cup.
"What was disappointing was that Spain always had this thing about quarter-finals," he said. "We were never able to make it through. We always believed, and I always believed, that if for some reason we had reached a semi-final that would have been our chance, because we always had a very strong team. We felt like for once [in 2002] we could have made it but the rest is history."