Time for Japan?
Drawn against Colombia, Greece and Ivory Coast in Group C, there is hope in Japan that a talented team could reach the quarter-finals for the first time. Adam Bate caught up with Guam national team coach Gary White to get his expert view on the Blue Samurai...
By Adam Bate with Gary White
Last Updated: 27/05/14 9:54am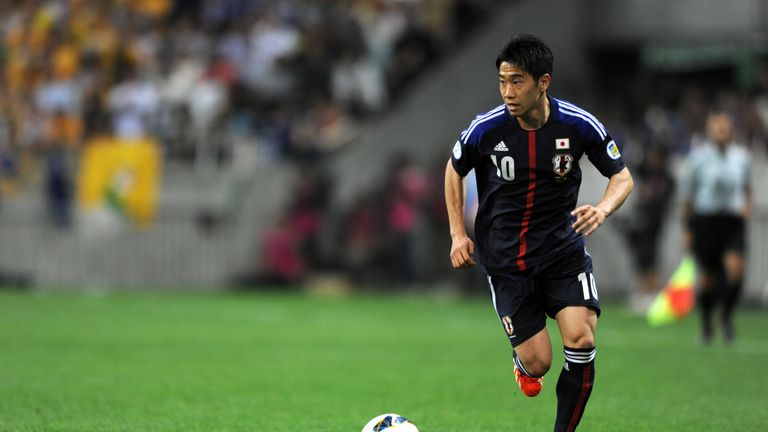 Gary White is the head coach and technical director of the Guam national team.
The Englishman served on the technical study group for the EAFF East Asian Cup in 2013 and will take up a similar role for next year's AFC Asian Cup in Australia.
Highly respected as a coach and tactical analyst, he has recently been linked with a number of managerial roles in Asia and beyond.
White talked to Sky Sports to give us the lowdown on Alberto Zaccheroni's team...
Japan won the East Asian Cup last year and you were on the technical study group for that tournament. Did they impress you?
They were fantastic, to be honest, and they didn't use all of their strongest players so it was interesting to see the level of their J-League players. It shows that they've got some real quality.
What are their strengths and weaknesses?
They've got the full package with the combination play and the passing. The only thing that they are lacking is that sometimes in their back line they have some crazy moments. In the recent games against Belgium and Holland there were some complete lapses of concentration - as though the wide defender had switched off and everyone was wondering what's going on.
Even against New Zealand, where they won 4-2, it should never have been that close if you put it in terms of how the two teams played. But in terms of a team that I really fancy to make it far in the competition I think Japan will be the only one in Asia that can push on towards the quarter finals.
In the front half of the game they are fantastic and as good as anybody. They have movement and flair in the attacking third with the little one-touch combinations, especially centrally. When they get the full-backs bombing on they look very impressive.
You can see they've been very well rehearsed in terms of the way they play. The coach has done a good job with them in terms of their mentality. They're not afraid to play close-combination stuff with third-man movements and overlapping runs. They're fun to watch and will break down most defences. It's just whether they can finish off the chances they create because they miss a lot too.
What sort of job is Alberto Zaccheroni doing?
He's playing a 4-2-3-1 and they really do like to go up the central axis of the field. They look to break lines quickly with a pass or a dribble and they'll look to get runners off that entry ball coming off the flanks darting inside. They're allowed to do that because they've got players like Yuto Nagatomo from Inter Milan who is a very speedy attacking left-back.
Zaccheroni's obviously done a fantastic job in terms of their understanding to get them playing a very attacking, free-flowing, creative game. It's very difficult for opponents to judge what they're going to do because they've got so many different movements spinning off and moving across the lines. That's why I really fancy them to do well.
Who are the key players?
There are obviously the players you'll know about like Keisuke Honda. He was the MVP for the Asian Cup when they won it and he's got over 50 caps for the national team so he's obviously their key guy. He's vital on dead-ball situations because he's special on free-kicks and special on corners. I've just got back from Japan and he's everywhere on the billboards alongside Shinji Kagawa.
Kagawa we all know about from Manchester United where he's not done much but we all know from his time at Dortmund that he's a special player with fantastic technique. He was AFC player of the year in 2012 so they are the main two.
In terms of other guys to look out for there is Shinji Okazaki who is at Mainz in Germany. He's 28 and he had a bit of a torrid time before he went to Mainz but now he's actually scored more goals in Germany than Kagawa did. He's on fire and he's got a habit of scoring goals in twos so he's the sort of guy who can come into a rich vein of form.
Anyone else we should we be looking out for?
There are two guys who are J-League players that you might not know much about who I really like. In fact, one of them our technical study group named as MVP for the EAFF Championships as the best player in the tournament. It's funny because there was a mixed reaction to that because nobody knew him. Now he's become a main man for Zaccheroni and his name is Hotaru Yamaguchi.
He plays for Cerezo Osaka in the J-League. He's a defensive midfielder, he's 23 and is very disciplined. He plays it simple because his job is to get it to the forward group who are a little bit more creative and have a bit more licence to do what they want. It'll be interesting to see how much game time he gets but he's definitely one to watch as I think he has a huge future.
There is another guy called Yoichiro Kakitani who is someone I really like. He's also with Cerezo Osaka and is an attacking player at his best playing just off a forward. He's 24 and a lot of the Premier League clubs were looking at him last year because he had a fantastic J-League season. This year he's gone off the boil a little bit but he's still got so much potential. He's a dribbler who runs with the ball and will commit defenders. I think he'll be the next star after Honda and Kagawa.
So how far do you think they can go?
I think they'll win their group. Even though Colombia are in it, I think they'll win it. I also think they have a chance of reaching the quarter-finals for the first time and more than that I think it's becoming an expectation now that they should do it with the players they've got. Of the 23 guys who are travelling, 12 are currently playing in top leagues in Europe. They've got a classy team.
I think the standard of football in Japan is now past the stage of thinking they're just going to enjoy it and be happy to be part of it. I think there is a lot more pressure on Zaccheroni and his team to do something in this World Cup. You never know, if the games go their way they could find themselves getting far in Brazil.