Henderson holds the key
England's defensive slots look sewn up, while skipper Steven Gerrard is certain to take up his role at the heart of midfield. But further forwards there are complications. Adam Bate argues that Jordan Henderson could be the man to give England's attacking talents the platform to play...
Last Updated: 28/05/14 3:10pm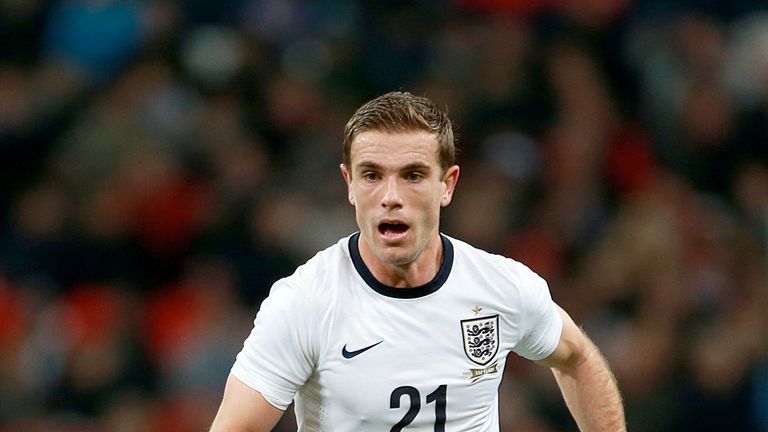 "Stevie helped me a lot personally. On the field you pick up little things, training with him every week has really been a help to me. We've got to keep that relationship going as long as possible and hopefully bring it to England."
Jordan Henderson's hope that he will get the chance to line up alongside Liverpool team-mate Steven Gerrard for his country is unlikely to be met with universal enthusiasm. That's how it goes when you play for England.
The tribal nature of English football is such that even unquestionably top-drawer performers are sometimes tolerated rather than enjoyed when donning a Three Lions shirt. From World Cup winners to Ballon d'Or winners, they've all had their critics.
Crucial
Henderson hasn't even reached the level of grudging respect yet. But there are reasons to think the midfielder could be a crucial figure for Roy Hodgson in Brazil.
The 23-year-old has certainly earned that status at Anfield. There were many key moments in the club's dramatic season with Gerrard's slip against Chelsea seen as defining, but Henderson's late red card against Manchester City and the three-match ban that followed also proved significant.
Those three games yielded just four points when seven would have brought the title. Even the win at Norwich wasn't entirely convincing. And yet, perhaps it is appropriate that Gerrard's error should take the focus when it comes to the lows as well as the highs.
The skipper produced plenty of the headline performances in midfield thanks to his range of passing from set-pieces and open play, but it was Henderson's quiet endeavour that helped make sense of Liverpool's system. His work-rate bridged the gap between defence and attack.
Brendan Rodgers has been open about the pressure put on the narrow midfielders in Liverpool's diamond formation. "They very rarely get mentioned," he told reporters after the 3-0 win at Old Trafford in March. "But there is tactical intelligence required to play on the side."
Henderson's dual role saw him expected to tuck in to support Gerrard defensively, but get forward and provide options too. Premier League tracking data reveals that in the aforementioned City game, he made 51 sprints - a number bettered only by Gael Clichy and Raheem Sterling.
Upon Henderson's return in the final game of the season against Newcastle United, Henderson covered 10.9 kilometres - more than any other Liverpool player. It's the sort of work that has not gone unnoticed by the England manager.
Template
Indeed, Liverpool's formation offers a broad template from which Hodgson can work. A version of the system was used against Denmark, with limited success. But whatever the plans for Brazil, it is difficult to see an obvious alternative to Henderson within the England squad.
Excitement has been generated by the presence of Alex Oxlade-Chamberlain, Adam Lallana and Ross Barkley among the 23, but there are legitimate questions to be asked regarding whether or not they have the discipline for a deeper role given their attacking remits at club level.
James Milner has the work ethic but he has played much of his football in wider positions in recent times. Jack Wilshere and Frank Lampard are more obvious contenders to support Gerrard but - for different reasons - doubts remain about the mobility of both men.
And besides, it would be wrong to frame the debate in terms of Wilshere's creativity versus Henderson's energy. Henderson ranked among the top performers in the Premier League this season for assists, chances created from open play and even through-balls.
Those statistics are improving too. Adding goals to his game must be the next challenge. "We've been telling him to get into the box and arrive in there, because he's got the energy and the legs to do that," said Rodgers earlier this year.
Henderson is likely to get another chance to show what he can do against Peru at Wembley on Friday. A strong performance could assure Hodgson that he has a player who'll allow him to sprinkle talent further forward in the knowledge that the cover for the captain is there.
Amid all the downright divisive opinion and hysteria that inevitably surrounds the England national team, grudging respect could soon be coming Jordan Henderson's way.