Champions League Final Preview Part One: Souness, Carragher and Redknapp on key men
Souness, Carragher and Redknapp give their verdicts
Last Updated: 22/05/14 4:33pm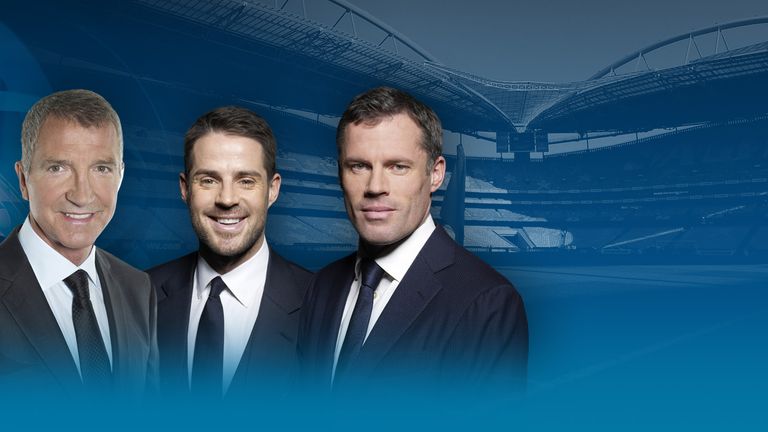 skysports.com: Many eyes will be on Cristiano Ronaldo on his return to Lisbon? Is he the best player in the world right now and is he the man to watch on Saturday night?
CARRA: In the debate between Cristiano Ronaldo and Lionel Messi I have always favoured Messi. At his best he does just edge it, but this season he has had injury problems and Barca haven't done as well. Messi has looked off the pace, even though he's still scored 40-odd goals, but we tend to judge him against what he's done before. This season, Ronaldo probably has the slight edge.
REDKNAPP: For me, at this moment in time, yes he is the number one. I'm a huge fan of Lionel Messi but, with the injuries the Barcelona star has had over the past year, Ronaldo rightly won the Ballon d'Or. He has such a huge influence on the team and, if he's fully fit for Saturday, he'll be determined to be the star performer in his home country. He has his critics but one thing you can't deny is his incredible work ethic. It's as good as anybody's and is the reason why he has got to where he is today.
SOUNESS: He has been the best player in the world this year, but he has had a hamstring injury and while I'm sure he will play you hope he doesn't break down. Hamstrings are notoriously deceitful injuries to have - they let you think you're ok but you can be kidded by them because you hold back in training and the first time you get into a match situation you let yourself go completely and it can go again. Real Madrid will be praying he is healed 100% because the last thing they need is for him to start and come off after 10 minutes.
skysports.com: Is a Champions League Final in his native Portugal the perfect stage for Ronaldo?
CARRA: It seems fitting and I think Ronaldo needs a European Cup win at Real Madrid. He went there for a lot of money and despite the phenomenal number of goals he has scored, you have to remember that the European Cup is what that club is all about. You think of Puskas, Di Stefano, Raul and Zidane - and Ronaldo deserves to have his name alongside those in terms of winning the European Cup. The fact that it's in Lisbon makes it look like it's made for him to do it - but it doesn't always work out like that.
REDKNAPP: This could be Ronaldo's moment. The stage is set and he's someone who revels in the big occasion. All the great players have had their big moments - Maradona in '86, Pele in '70, Zidane in '98... and this is Ronaldo's opportunity to win a major tournament in his country's capital. Unfortunately football doesn't always work like that - but maybe this is the time for Ronaldo to do it and add to that Champions League he won with Manchester United in Moscow.
SOUNESS: I come back to the fact that this is such a big game and I don't think where it is being played is an important factor. It's a European Cup Final and you could play it on the moon and it would still mean the same to all the players!
skysports.com: Gareth Bale is another potential matchwinner in the Real Madrid ranks. How have you rated his first season in Spain?
CARRA: He's had a great season. There was pressure on him going there with that price tag on him, but Ronaldo is there as the main man so he's not had to go there and be the main man. He didn't really have a pre-season and has had a few injury problems, so to get over 20 goals, lots of assists and play in a Champions League Final in his first season is a great start - and there is only more to come.
REDKNAPP: Over 20 goals and over 15 assists in his debut season in Spain is a great return. But am I surprised? Not at all. I said when he signed for Real Madrid, there was never a doubt he'd deliver for them. This kid is a fantastic player. He can run the length of the field at full pace, score goals, he has a fantastic left foot and is great in the air. Why wasn't he going to be a success at Real? He deserves everything he gets. He's a great lad, has tremendous work ethic - and he's making that £85m look quite cheap now!
SOUNESS: I think he's had pass marks. He has done well. Real Madrid could play terrible on the night, but have got a few maverick players who could come up with something very special and win the game for them - and he is one of those. That's where they contrast with Atletico Madrid because they are not relying on one or two players to win it, they are relying on seven or eight players in terms of their midfielders and forwards.
skysports.com: Speaking of Atletico, Diego Costa has been one of the stars of the season, but is set to miss the game through injury. How damaging would his absence be?
REDKNAPP: It's a big 'if' as to whether or not he'll be fit - but Atletico have shown they can win without him. He went off against Barcelona in the final game of La Liga, they went 1-0 down and still came back to get the point they needed to win the title. They still look a real team without him and this isn't a one-man side, it's collectively very, very strong.
CARRA: It will obviously be damaging because he's one of the main men and gets a lot of goals, but they managed without him at the Nou Camp for most of the game last week and they got past Barcelona in the Champions League without him as well. They have been without him and they have dealt with it - and just have to do it again.
SOUNESS: You would want him on the pitch because he has been a great player for them this year. They will miss him because he has won games single-handedly for them - but they can still win games without him and still get results without him.
REDKNAPP:Playing him would be a risk, too. If you start him and he has to come off you lose one of your subs. It's a big decision for Diego Simeone - but I guess it is worth the risk because he's such a good player. He looks a Chelsea player; he's the kind who can make his own goals, will wrestle the defence and hassle them for the ball. I want him to play because I want to see Ramos v Costa, if ever there's been a sending off in a Champions League final this looks a certainty! Costa loves an argument and Ramos has had more sending offs than anyone ever! It'll be fascinating to see them go head-to-head.
skysports.com: Atletico goalkeeper Thiabut Courtois has also caught the eye in this campaign. Should Chelsea recall him from his loan spell in Madrid next year?
SOUNESS: Petr Cech has been the best goalkeeper in the Premier League and he is still only 32 - and arguably for a goalkeeper is now approaching his best years. It is a very difficult call for the people at Chelsea because Courtois is a very good player, but Cech has done it, won the medals and should now be approaching his peak. It's a big call for Jose Mourinho.
REDKNAPP: He's a very, very good goalie. Keepers normally come into bloom aged about 26, 27 but he's 22. His ability belies his tender years and he looks the real deal. He also has the presence that all great goalies have. But Atletico's great defensive record isn't just down to Courtois. Their defence is well-marshalled, with Uruguay's Diego Godin at the back alongside Joao Miranda, who is quick. Individually, if you took most of them and put them around different clubs they wouldn't stand out but when you put them together as a team they're amazing.
CARRA: I think Chelsea might recall him, especially after Petr Cech's recent injury. Courtois is obviously an outstanding keeper and he seems made for the Premier League in terms of size and stature. He looks like he's going to be one of the world's top keepers - and in fact he already is at the moment. I think he will be at Chelsea and there will be a big battle between him and Cech. I don't think they'll call him back if they're not going to use him and I see him playing a lot of games next season.
skysports.com: Finally, let's discuss the two managers. Diego Simeone has led Atletico Madrid to a Spanish title and the Champions League Final. What do you like about him?
REDKNAPP: Simeone has got an incredible appetite for the game. Watching him on the sidelines, dashing up and down the touchline, waving his hands in the air, he's box office. He's been there, seen it and done it as a player but he also has the charisma that all great managers have. I like the fact he's stayed at Atletico for a couple of years, built this team and tactics-wise he's proven he's really good. Before long there will be other big clubs wanting him for what he brings to the party.
CARRA: He looks to be one of the new breed of coaches on the scene - and I love watching him and not just his team. I love watching him on the sidelines and his passion because he seems so involved in his game and in his team. It looks as though they would give anything for him and for the club - and that's the type of player Simeone was. You can see himself in his team.
SOUNESS: Simeone goes into this in totally relaxed mode because he's had a great season no matter what happens. I like the never-say-die attitude of his players and they are a real team and believe in each other. Over a season the team with the best work-rate wins - and that's what has happened this year without the need to rely on two or three individuals to get you past the winning post. They have relied on the collective so the manager deserves credit for that.
skysports.com: Carlo Ancelotti is looking to win his third Champions League as a manager. Has he done a good job at Real Madrid?
SOUNESS: Unlike his opposite number, Ancelotti goes into this game with all the pressure on his shoulders. It all depends what happens at the weekend. Real have had a nearly season and it could be a disastrous season if they don't win it. You can't question the manager on the strength of this one season, though. He has been a great manager and won trophies wherever he's been. You can call him a great manager no matter what happens this weekend.
REDKNAPP: Ancelotti is the opposite to Simeone. While the Atletico boss is jumping up and down, Ancelotti is the most chilled out manager you've ever seen. It doesn't look like anything bothers him, he's very calm, cool and he likes to let his players do the work and take care of things. Simeone seems to want to put his players in their positions when they haven't got the ball and tell them where to be when. It would be unfair to say Ancelotti doesn't worry about tactical details, though - he's a very, very good manager, as his trophy cabinet shows.
CARRA: From the outside he looks to be a very cool customer. He has fantastic experience as a manager and has won the Champions League twice before with AC Milan - and he may argue it should have been three times after they were in the driving seat in Istanbul! He is a fantastic coach and managers don't normally stay at Real Madrid for too long, maybe a couple of years, and I'm sure he will return to the Premier League one day. He will be very sought after because he has a great CV, also as a player and that always helps. He is a cool customer who doesn't get too wound up and the players always seem to like him. He doesn't seem to fall out with too many people. I think he's a good fit for Real Madrid.
Check back on Friday when our three experts will tell us where the Champions League Final will be won and lost...