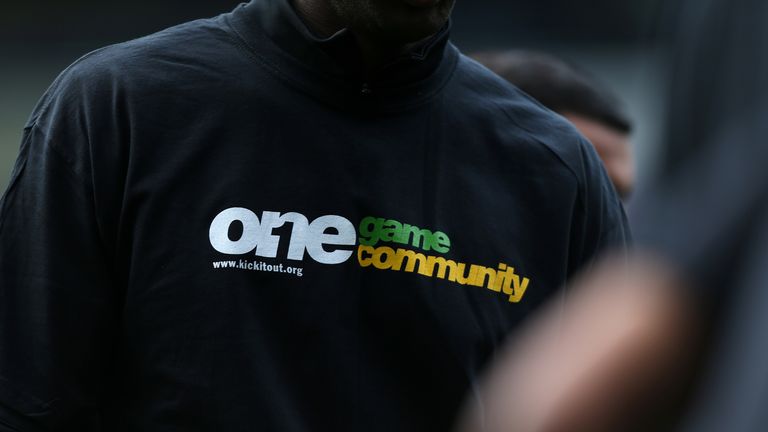 ​A new report by anti-discrimination organisation Kick It Out has revealed reports of alleged racism, homophobia and other forms of abuse in football more than trebled last season.
Kick it Out received reports of 284 discriminatory incidents at all levels of football during the 2013/14 season - an increase of 269%.
Of those incidents, 189 involved racial abuse with 64 of these within the professional game.
Alleged abuse on social media accounted for 142 incidents, and 73 of these cases led to the offender being identified and/or action being taken against them, including the deletion of accounts.
However, Kick It Out's professional player engagement manager - the former Crystal Palace and Charlton midfielder Paul Mortimer – told Sky Sports News HQ he believes the survey is positive because it shows a swell in confidence in reporting discrimination.
Mortimer said: "It's a positive thing simply because if more are reported then we can put initiatives in place to be able to monitor more effectively and deal with these situations.
"The alternative of having no one report these things would allow them to escalate and get worse.
"The most important way to further put a stop to these things is for us at this level, especially at the top, to be sure and swift in the way we deal with things so that faith in procedures working is what trickles down.
"At grassroots level people will start reporting it because they'll have more faith that it will be dealt with properly and that's why you can see the rise in reportings.
"The reporting mechanism being used is something the victims have confidence in. The more that report, the more we can monitor where it's happening and put affective procedures in place."
Social networks such as Twitter and Facebook have also become a concern to many authorities due to a high volume of discrimination and abuse being used on such sites.
But Mortimer insists some good work is being done to combat abuse online and that through education things will continue to improve.
"Social networks like Twitter are another channel for abuse to take place," he said. "As with life in general people will use it for other things than just conversing with their idols.
"But within Kick It Out we have a reporting officer whose job it is to monitor these situations that arise and deal with them effectively - and that's been happening.
"The only way to reduce the figures is through education. In the information that we've received from the reporting, a lot of the perpetrators are relatively young so it's probably not going to be about punishment but about education.
"We need to make people aware of the effects on victims of what people say and do."