Football Expert & Columnist
Jamie Carragher on Steven Gerrard: England will find it hard to replace him
Lack of leaders and holding midfielders is a real issue for Roy Hodgson
Last Updated: 25/07/14 12:29pm
Jamie Carragher says there's no natural replacement for Steven Gerrard in the England team, both in terms of his position and his leadership qualities.
The Liverpool midfielder, who skippered the national team during this summer's disappointing World Cup campaign in Brazil, announced on Monday that he was retiring from international football to focus on his club career.
Former Liverpool defender Carragher spoke to Gerrard before he announced his decision and says the demands of playing in the Champions League next season is a key reason for stepping down.
But he says Roy Hodgson has a problem on his hands because England lack both quality holding midfielders and natural leaders ahead of the Euro 2016 qualifying campaign.
"I think he could have carried on," said the Sky Sports pundit. "He's shown throughout his career he's been able to cope with the demands of Liverpool and England.
"I think it's the fact Liverpool are back in Europe now and that schedule of games. At times he'll be playing two or three times a week because he's still vitally important to Liverpool.
"He is also for England in some ways because there isn't a natural person you could see taking the role he has in terms of that holding role. There aren't many young players coming through in that role, but England will have to find someone.
"It's a difficult one. You've got to make sure the England captain plays and is going to be a mainstay in the team. The obvious one is Joe Hart at the moment and in terms of playing, Gary Cahill is in there a lot and Glen Johnson. There was talk of Wayne Rooney not having his role so much over the summer, but people talk about him in terms of captaincy.
"I think it is a difficult decision because I don't think there is a stand-out candidate at the moment."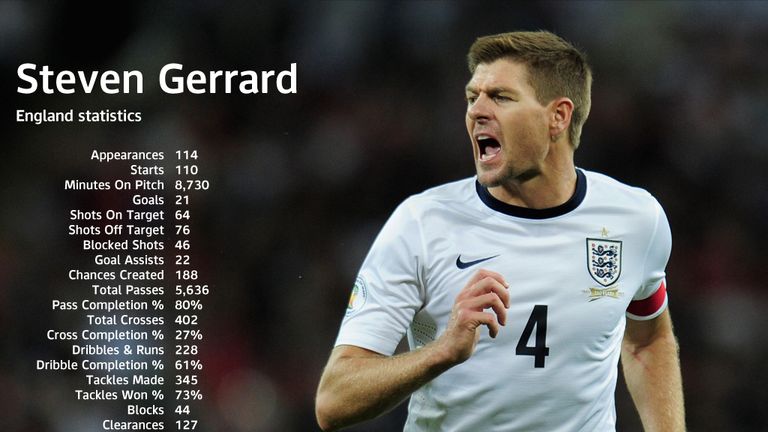 Gerrard played 114 times for his country, 38 times as captain, and was given the armband on a full-time basis when Hodgson took over.
And Carragher, who was in the Liverpool team that won the 2005 Champions League Final and 2006 FA Cup Final, said he always demanded respect as a captain.
"There's different types of leader," he added.
"Stevie is obviously a great leader and loves being captain of Liverpool. He loved being captain of England; I think that was obvious to everyone and he had it at different times throughout his career.
"Under Roy Hodgson he was the England captain and I think you could see how much he loved doing that. I think it will have been a difficult decision for him to give that up.
"He's a captain who leads by example and performance and he gets respect because he's such a top player. People look up to him.
"You look at some of the games I played alongside him for Liverpool, especially those two cup finals in 2005 and 2006. The performances he gave were captain's performances."
Carragher himself retired from international football in 2007, only to return to the fold to play for Fabio Capello's side at the 2010 World Cup.
However, he says Gerrard will not make a similar return because it's time for Hodgson to focus on blooding new talent.
"With the age that he's at now and with Liverpool's demands now I don't think Stevie will do what I did," Carragher added.
"I don't see that coming. I think it's time for younger players to come in. England have got a good group in the qualifying round to get to the Euros in France and I think they should come through that quite comfortably.
"You could bed players in for the next couple of years and I'm sure they will be ready in two years' time."