Pescara end wait for victory
Vladimir Weiss earned promoted Pescara their first Serie A victory in almost two decades as they beat Palermo 1-0.
Last Updated: 26/09/12 8:13pm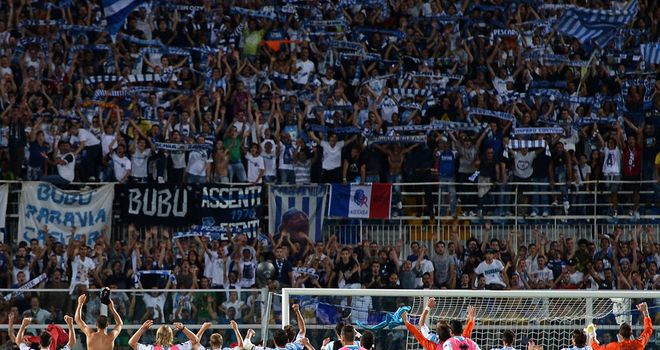 A wonder goal from Vladimir Weiss earned promoted Pescara their first Serie A victory in almost two decades as they beat struggling Palermo 1-0 on Wednesday evening.
Palermo shrugged off the disappointment of two disallowed Abel Hernandez goals and the setback of defender Steve Von Bergen's red card to dominate their hosts for the majority of the game.
But Pescara kept chipping away at Gian Piero Gasperini's tiring side, and Weiss' thunderbolt in the 86th minute condemned the Palermo boss to a second consecutive straight defeat since he replaced Giuseppe Sannino last week.
Gianluca Caprari and Juan Quintero gave visiting goalkeeper Samir Ujkani food for thought within minutes before Hernandez had his first of two goals rubbed out.
Luigi Giorgi had fed the rangy Uruguayan but, much to Gasperini's disappointment, the flag went up.
It stayed down just moments later but Ivan Pellizzoli snatched the ball from under Hernandez's feet.
The home net would ripple again courtesy of an acrobatic effort from Hernandez, but the offside flag denied him once more, and Pescara began to grow into the game.
Palermo duly retreated and Von Bergen received his marching orders in the 35th minute - carelessly handling the ball just outside the penalty box as Ante Vukusic loped in on goal.
Andrea Mantovani took Giorgi's place on the field for the second half, slotting into the gap left by Von Bergen, and soon the Rosanero had another gilt-edged chance to take the lead.
Edgar Barreto set Josip Ilicic on his way, the Slovenian trying to squeeze the ball underneath Pellizzoli but to no avail.
The ever-impressive Pellizzoli had to whisk the ball off Fernandez's feet and Ujkani pushed another Vukusic shot out for a corner as the hostility continued.
Delfini substitute Elvis Abbruscato arrived too late to convert Weiss' centre as fatigue started to take its toll on outnumbered Palermo.
And so it fell to Weiss to provide the evening's moment of inspiration, the Slovakia winger drifting across midfield to pick his spot and rocket the ball home.
Pescara had to withstand a chaotic onslaught, but they claimed a first top-flight win since 1993.