Ruben Martinez says Rayo Vallecano aren't looking to get revenge over Real Valladolid
Rayo Vallecano goalkeeper Ruben Martinez has insisted that his team are not aiming to get revenge over Real Valladolid.
Last Updated: 23/02/13 1:31pm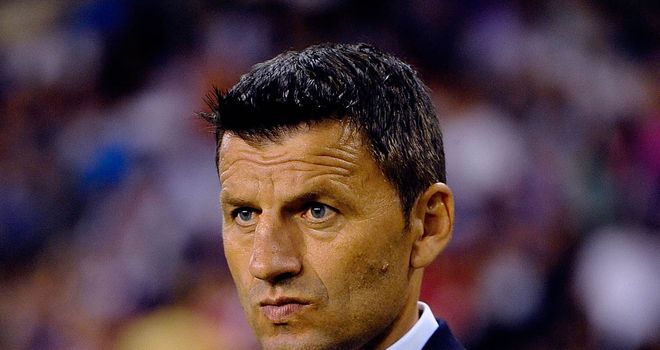 Rayo Vallecano goalkeeper Ruben Martinez has insisted that his team are not aiming to get revenge over Real Valladolid when they face them at the Campo de Futbol de Vallecas.
Rayo were beaten 6-1 by Valladolid at the Jose Zorilla stadium in September - their heaviest defeat of the season so far - but, speaking at a pre-match press conference, Ruben dismissed talk of retribution.
He said: "We go into the game with no desire for revenge. We want to take three points from every game we play and we want to do that against Valladolid, it is just another game."
The goalkeeper reflected on that embarrassing day back in September, and declared that Rayo have made huge strides forward since then.
"We were a very different team in that game, we were adjusting to being together as a team," he said.
"Everything went right for them that day, but it's water under the bridge, and tomorrow's game will be nothing like the one in Valladolid."
Ruben was also cautious when talking about the club's ambitions to qualify for European football, but recognised it was on the players' minds.
"Dreaming costs nothing and we would all like to fight for a place in Europe, but we need to keep taking things on a game-by-game basis, that has served us well up until now and I think that's the best way to compete," he said.
Valladolid coach Miroslav Djukic rubbished talk that his team were on a poor run of form following their 3-0 defeat to Atletico Madrid last Sunday, a result which marked their fourth match in a row without a win.
"We are having a good season and feeling good about ourselves, if anyone in Valladolid is worried, you can only imagine how people in La Coruna (Deportivo fans) and Vigo (Celta fans) must be feeling," he told reporters.
"The team are not on a bad run, losing against Atletico was not unexpected, the team is not on a downward path and there is no problem."
However, the Serbian coach's prognostic about the game with Paco Jemez's side was not entirely positive.
"It's probable that the football won't be pretty against Rayo but we need to be intelligent and interpret the game that awaits us," he said.
"Rayo are a very brave team that take the game to all their opponents, especially in their stadium. We'll have make sure we don't give the ball away and play into their hands."
Rayo will be without suspended forward Lass Bangoura, who is likely to be replaced by either Jose Carlos or Andrija Delibasic, while Oscar Gonzalez has recovered from a light injury and is expected to be fit for Valladolid.