Samp sink Atalanta
Sampdoria moved away from the Serie A relegation zone with a hard-fought 1-0 win over 10-man Atalanta.
Last Updated: 26/10/13 7:33pm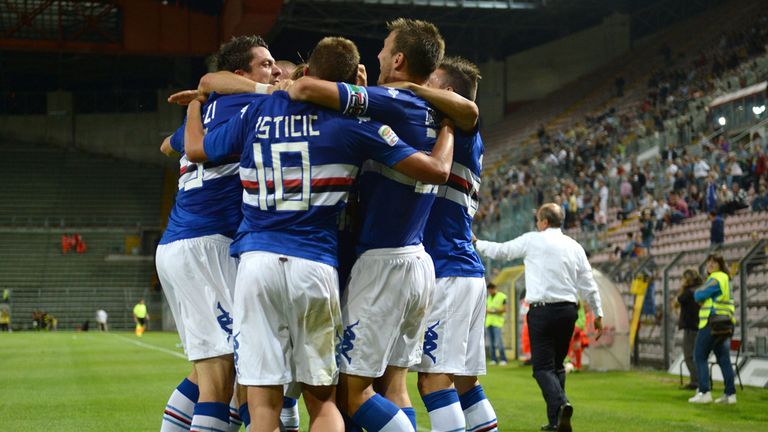 Sampdoria moved away from the Serie A relegation zone with a hard-fought 1-0 win over 10-man Atalanta.
Shkodran Mustafi scored the only goal of the game in the 56th minute for the Blucerchiati, who made their fans suffer on the way to their first home win - and only second overall - of the season.
Atalanta finished the game with 10 men after Constantin Nica was sent off in the 63rd minute, although they still caused the home team several problems as the clock ran down.
Sampdoria had Angelo Palombo moved back into the midfield after spending much of the season in the back four, but he was nevertheless forced to do more defensive work than he would have liked as Atalanta attacked early on.
This was frustrating him but it was annoying the fans even more and they made their feelings clear, prompting a reaction from Palombo inviting them to quieten down with his finger to his lips.
The one-time Samp captain hardly endeared himself to the Blucerchiati fans by doing so, but the team as a whole was not doing much to appease their frustrations and they almost went in at the break a goal down.
A delightful lofted ball forwards by Luca Cigarini picked out Cristian Raimondi whose header struck the bar on the stroke of half-time.
Samp coach Delio Rossi clearly found the right words during the interval as the home side appeared transformed in the second half.
Led by the lively Eder, it took them just over 10 minutes to take the lead.
Mustafi met a corner with his head and the ball crossed the line, even if Cigarini tried to keep it out with his arm.
Cigarini was initially shown a red card for handling the ball, although the referee changed the colour of the card to yellow, apologising for showing the wrong card.
He did extract the red card in the 63rd minute, though, when Nica felt the only way to stop Eder was to foul him from behind as he approached the penalty area.
Eder went close to doubling Samp's lead in the 68th minute, but Andrea Consigli made a save before the Bergamo club started to rally, even with a man less.
There were some nervous moments for the Samp defence, not least two minutes from time when German Denis placed a volley just wide of the right-hand post.
It was nailbiting stuff for the home fans, who were relieved more than anything when the final whistle sounded to signal Samp's first home win of the season.