Real Sociedad v Barcelona preview
Few teams have had the measure of Pep Guardiola¿s Barcelona, but Real Sociedad are one of the few.
By Kristian Walsh
Last Updated: 09/09/11 2:01pm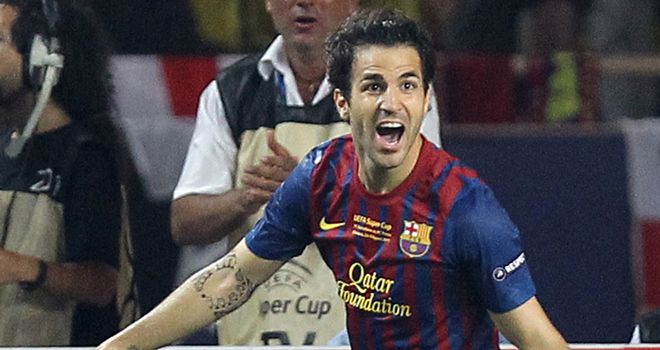 Few teams have ever had the measure of Pep Guardiola's Barcelona juggernaut, but Real Sociedad are one of those few who know what it takes to beat them.
Barca have lost just three league matches in their last two league campaigns, with the most recent coming at Sociedad's Anoeta in April.
April's 2-1 win ensured Sociedad's 31-year-old record of 32 games with La Liga defeat remained in tact as Messi & Co were bowled out one short - but if Barcelona's victory over Villarreal is any evidence, that record will come under threat once again.
Real Sociedad won't care about records with just two weeks into the season - just picking up any point possible in a season where consolidation is paramount.
For the less well-equipped sides in the division, the temptation would be to write off fixtures against Barcelona and Real Madrid as four losses.
Not Sociedad. Having avoided relegation by two points last season, it can be argued Xabi Prieto's penalty past Victor Valdes ensures their aim this season is staying up, rather than going up.
They've started well this season, too. An impressive 2-1 win away to Sporting Gijon gave Philippe Montanier, this summer's managerial appointment from Valenciennes, the perfect start.
A double from Imanol Agirretxe provided not just three points, but optimism too, given the absences of Joseba Llorente, McDonald Mariga and Antoine Griezmann.
Their home form was impressive last season, their 2-1 win just one of 11 wins in San Sebastian; in fact, just two defeats in six against Barcelona at home represents a better record than most.
But this already appears a different Barcelona, which spells trouble for Sociedad, Spain, Europe and the entire world.
Dismantled
Seventy-one per cent possession, 18 shots on goal, five goals; Villarreal, a team of Champions League quality, painstakingly dismantled by Guardiola's machine.
The additions of Fabregas and Alexis Sanchez had an immediate impact. Both scored, while Fabregas excelled in a more advanced role. As Messi dropped deep, Fabregas pushed forward, essentially playing as a striker.
It was a role he seemed to take to easily; it's a role he'll have to take to easily in order to keep his place. Guardiola, denied his first-choice centre back partnership of Pique and Puyol, played the five of Thiago, Keita, Iniesta, Sanchez and Fabregas behind Messi, with Xavi and Villa on the bench.
The only criticism levelled at Barcelona at times last season was their lack of squad depth, something they've refuted with their summer signings. Complete perfection is being strived for.
The next step to that is righting one of the few wrongs of last year with a win against Montanier's men; anything else would be simply inexcusable.
Best Bet: Messi and Fabregas both to score - 3/1