Preview: Spain v Uruguay international friendly in Doha on Wednesday night
Vicente Del Bosque has heaped praise on Carles Puyol as the defender prepares to make his 100th appearance for Spain.
Last Updated: 05/02/13 8:43pm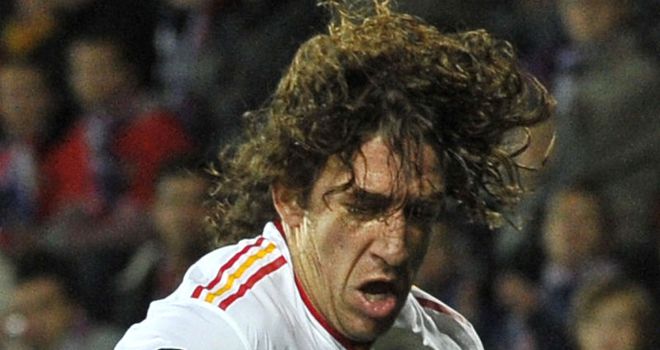 Spain coach Vicente Del Bosque has heaped praise on Carles Puyol as the Barcelona defender prepares to make his 100th appearance for the national side.
The 34-year-old has not played for Spain since their friendly against Venezuela last February, but will return for Wednesday's match against Uruguay in Doha, Qatar and in doing so will becomes the seventh player to reach the milestone.
Iker Casillas, Andoni Zubizarreta, Xavi, Xabi Alonso, Raul and Fernando Torres have all passed the landmark and Del Bosque was keen to pay tribute to the centre-half.
"I'm delighted that he's going to play his 100th game, he's always been an example to everyone both on and off the pitch," said Del Bosque of the centre-back in his pre-match press conference in Doha.
Del Bosque also explained he was looking forward to the match with Uruguay because he thinks the South American champions will provide his team with a real test.
"This is an exciting game against the team that were semi-finalists in the last World Cup," he said.
"This is a great chance to show why we won the last World Cup and the European Championship."
Three players could make their debuts for Spain on Wednesday - Chelsea full-back Cesar Azpilicueta, Atletico Madrid midfielder Mario Suarez and Malaga midfielder Isco.
Del Bosque was criticised for not giving other players a chance, above all Swansea forward Michu, but explained he had to "view this match as preparation" for Spain's upcoming World Cup qualifiers against Finland and France next month.
He also defended the decision to play the match in Qatar rather than in Spain or Uruguay.
"The Spanish Football Federation's policy is to play matches all over the world to promote football, above all in countries with little footballing tradition," he said.
"Playing the match here is perfectly justified, because it will be the host country for the 2022 World Cup."
Spain will be without captain Iker Casillas, who is still recovering from a fractured hand, plus Xavi and Xabi Alonso, who were both named in the squad but had to pull out due to picking up injuries while playing for their club's last weekend.
Despite those absentees, Uruguay forward Diego Forlan is still very wary of the threat Del Bosque's side pose.
He told Radio Marca: "Right now Spain are the best team in the world, not just because of all the trophies they have won, but because of the way they play football. It's going to be very tough."
Uruguay coach Oscar Tabarez also spoke of his admiration for the current world and European champions.
"Spain are defining an era," he said. "They have a style of play that is envied by the rest of the world."