Sporting v A Bilbao preview
Sporting Lisbon boss Ricardo Sa Pinto has heaped praise on Athletic Bilbao and their coach Marcelo Bielsa ahead of their Europa League clash.
Last Updated: 19/04/12 9:31am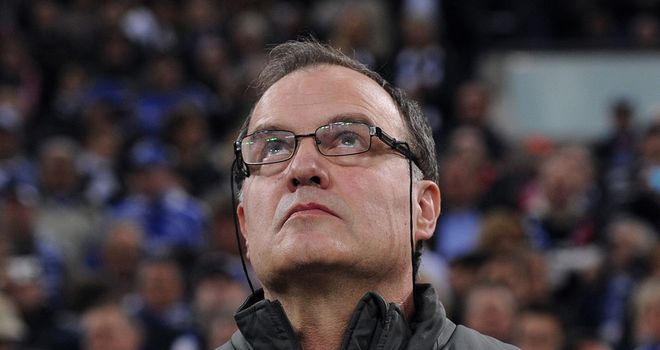 Sporting Lisbon boss Ricardo Sa Pinto has heaped praise on Athletic Bilbao and their coach Marcelo Bielsa ahead of their Europa League clash.
Athletic earned widespread acclaim for their last-16 demolition of Manchester United and they followed that up with a similarly impressive quarter-final success over Schalke, and their performances have not gone unnoticed across the Iberian peninsula in Portugal.
Speaking ahead of Thursday's semi-final first leg clash at the Jose Alvalade stadium, Sa Pinto said: "Athletic are very strong, both home and away. The Spanish press talk of them being a second Barcelona. They play the ball out from the back, but when they don't have that option they also go long.
Creativity
"They are a team with great mobility and creativity, who always try to play at a very high tempo. They are an aggressive, attacking side where up to six or seven players are ready to get on the end of a move. It seems like they are never tired, they give it everything."
The former Real Sociedad striker also hailed his counterpart Bielsa, saying: "Three of the best coaches in the world are in the Spanish league - Jose (Mourinho), Pep (Guardiola) and Bielsa.
"He has installed his own identity and a different type of play to which I faced from Athletic as a player."
Impressed though he is by Athletic, the Sporting boss is not ruling out his side's chances of knocking out the Primera Division side and preventing an all-Spanish Europa League final.
"It's true that Bilbao are a very strong opponent, and I read in the press that they are a 'superteam', a revelation who are already in the final...but we are going to face them with quality football, the right attitude and competitiveness. We're going to give it everything and fight until the end because we are Sporting and we have 100 years of history," he was quoted as saying by AS.
Whereas Athletic have only been sporadic participants in Europe in recent times, Sporting are regulars at this level and were UEFA Cup runners-up in 2005 prior to making the Champions League for five successive seasons.
Experience
Despite that clear disparity in terms of continental experience, Athletic midfielder Ander Iturraspe insists his side have no reason to feel inferior to the 18-times Portuguese champions.
He said: "We have experience of difficult games.
"We have two world champions (in the squad), several European Under-21 champions, players who have played in the Copa del Rey final and we play in probably the best league in the world."
He added: "We are full of confidence, we know that we have a good chance and the team has faith in itself."
Iturraspe played down any suggestion his side were favourites for the title, though, saying: "There are four teams, we all have our chances and it's difficult to predict. But we are going to fight for it."