World Cup qualifier: Germany coach Joachim Low will experiment against Sweden
Germany coach Joachim Low admits he will be experimenting with his side on Tuesday against Sweden.
Last Updated: 14/10/13 3:35pm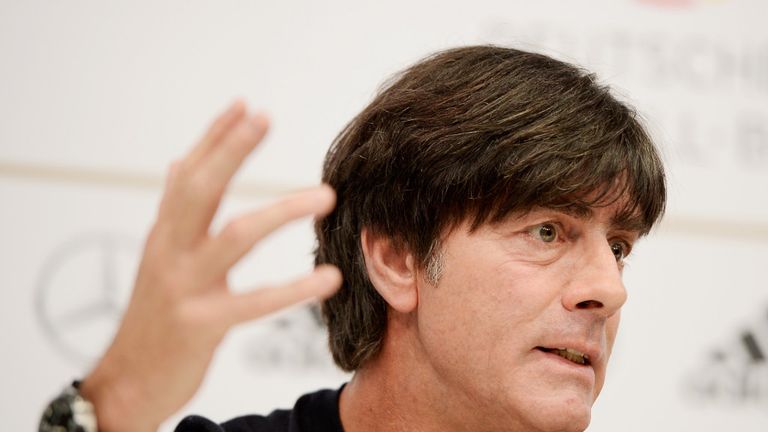 Germany coach Joachim Low admits Tuesday's final World Cup qualifier against Sweden will be one of three games in which he will be experimenting with his side.
With qualification for the World Cup already sealed, Low wants to see in Solna on Tuesday, as well as in two November friendlies next month, which other options he has going into World Cup year.
However, he has ruled out a massive overhaul of the team, like during the United States tour at the end of last season, and says the time has come for him to settle on the majority of his starting XI for the World Cup.
"It's not going to be eight positions because it's important that we maintain a certain rhythm now, but I think I will test in the next three games - Tuesday and the two in November," he said at a press conference in Stockholm.
"Sweden still need a point to be one of the top four second-placed sides, who are seeded (for the play-offs), and we go into the game wanting to win.
"We have won eight out of nine and now we want to win the 10th game so we do have motivation."
Sami Khedira misses out through injury and has not made the trip to Sweden but rather returned to Madrid, meaning one change is necessary. Low is expected to give Max Kruse a start up front, moving Mesut Ozil back into the midfield and dropping Toni Kroos back alongside Bayern Munich team-mate Bastian Schweinsteiger in a more defensive midfield.
That is dependent on Kroos being fit with both he and Per Mertesacker struck down by a cold on Monday and the Germany coach will monitor their fitness in the final training session, which leaves Mario Gotze on standby to add to his short appearance against Ireland on Friday.
"Gotze is an option for both - he could start, but he could start on the bench," Low said.
"We know he's not ready for a full 90 minutes as he's had very little match practice and rarely played 90 minutes in recent months."
Should Schweinsteiger play, he will reach the milestone of 100 games for Germany, something Low will also reach in the two friendlies next month.
"100 is a magic figure for all the players," Low said. "I think reaching 100 is incredibly good for Basti.
"As for me, I could not have imagined making 100 games and it fills me with pride to reach that in Italy."
Hosts Sweden will be without arguably their most lethal weapon, Zlatan Ibrahimovic, who is suspended on Tuesday night.
While that may be a blessing for Germany, Low believes it is also an advantage for Sweden.
"I think it's good for Sweden that he's not suspended in the play-offs as Sweden do benefit a lot from him and he's an eminently important player for them," he said.
"Maybe they're not so unhappy that he's not playing now, but that he's back for the play-off."